China to Suspend Entry for Foreigners as Coronavirus Continues to Spread Abroad
China has announced it will temporarily suspend entry for foreigners, including those with valid travel documents, as the coronavirus pandemic swells abroad.
The Chinese Foreign Ministry announced Thursday in a statement that the country "has decided to temporarily suspend entry of foreigners with currently valid visas and residence permits in China," beginning midnight on Saturday. Foreigners with diplomatic, service, courtesy or C visas will not be affected by the policy--and those traveling to China for necessary economic, trade, scientific or technological activities, or out of emergency humanitarian needs may still apply for visas, according to the ministry.
"The suspension is a temporary measure that China is compelled to take in light of the outbreak situation and the practices of other countries," the statement said.
"China will stay in close touch with all sides and properly handle personnel exchanges with the rest of the world under the special circumstances," it added. "The above-mentioned measures will be calibrated in light of the evolving situation and announced accordingly."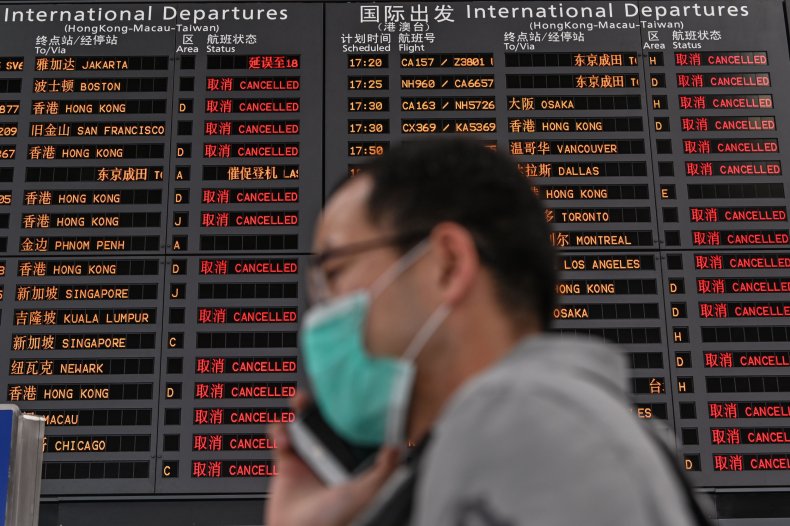 The number of confirmed coronavirus cases has neared half a million, of which more than 22,000 have died and around 120,000 have recovered as of Thursday. The illness was first observed late last year in Wuhan, capital of China's central Hubei province. It has since spread around the world, killing more people in Italy and Spain than China itself, and rapidly infecting throughout the United States.
The U.S. now hosts the highest number of known active COVID-19 cases and is set to soon be the most-afflicted country in the world. This comes despite President Donald Trump having banned in late January entry to all foreigners who had been in China within a two-week period. On March 12, Trump suspended for 30 days all travel from most countries in Europe.
Trump initially lauded Chinese President Xi Jinping's response to the growing coronavirus epidemic earlier this year but has since blamed the ruling Communist Party of China for not adequately informing Washington and other world powers and organizations of the disease's potential. China has rejected these accusations and has condemned the use of terms such as "Chinese virus" and "Wuhan virus" by U.S. politicians and officials, especially Secretary of State Mike Pompeo.
"I have to point out that the COVID-19 pandemic is wreaking havoc across the globe and the situation in the US is getting worse," Chinese Foreign Ministry spokesperson Geng Shuang told a press briefing Thursday. "Under such circumstances, if a politician keeps provoking political disputes and disrupting international cooperation in combating the virus, instead of focusing on containing the spread at home and contributing to global cooperation, what morality does he have?"
"People of the world have all witnessed that it is under the leadership of the CPC that the Chinese people achieved independence, freedom and liberation and made enormous progress in national development," Geng added. "It is also under the leadership of the CPC that the Chinese nation united as one and speedily fought against COVID-19, buying precious time for the global response. These are plain facts for all to see."
Even after Trump ditched the term "Chinese virus" on Tuesday, Pompeo continued to use the phrase "Wuhan virus" throughout his discussions Wednesday with fellow G7 members Canada, France, Germany, Italy, Japan and the United Kingdom. Pompeo defended the term in an interview Thursday with Hugh Hewitt.
"This virus began in Wuhan; I've referred to it as the Wuhan virus. It is important that the world understands how this began because we need transparency to save lives," Pompeo said. "It's that simple. We need facts and data. China has a special responsibility to be transparent because the outbreak started in China, in Wuhan, and the Chinese Government was the first to know about it."
As the U.S. braces for the worst of COVID-19, however, China has begun to step up its assistance abroad to hard-hit nations like Italy as the outbreak appeared to calm at home.
Hubei health officials announced Tuesday that the province would begin easing heavy restrictions on movement after recording no new COVID-19 cases outside of Wuhan for 19 days. The provincial capital itself has also managed to go days without newly reported cases in recent weeks as well and Wuhan's own lockdown was set to begin being lifted from April 8.