China Insists It Won't Take Over the Moon After NASA Comments
China has no plans to claim the moon as its own, a Chinese government spokesperson has said, after NASA Administrator Bill Nelson reportedly voiced concerns to the contrary.
Speaking to German newspaper Bild on Saturday, Nelson, who was sworn in as head of NASA in May last year, said there was a "new race to space" between the U.S. and China—a reference to the previous space race between the U.S. and the Soviet Union between the 1950 and 70s.
While that culminated in the U.S. becoming the first and only country to put a human on the surface of the moon, it has not been back since the Apollo 17 mission of 1972.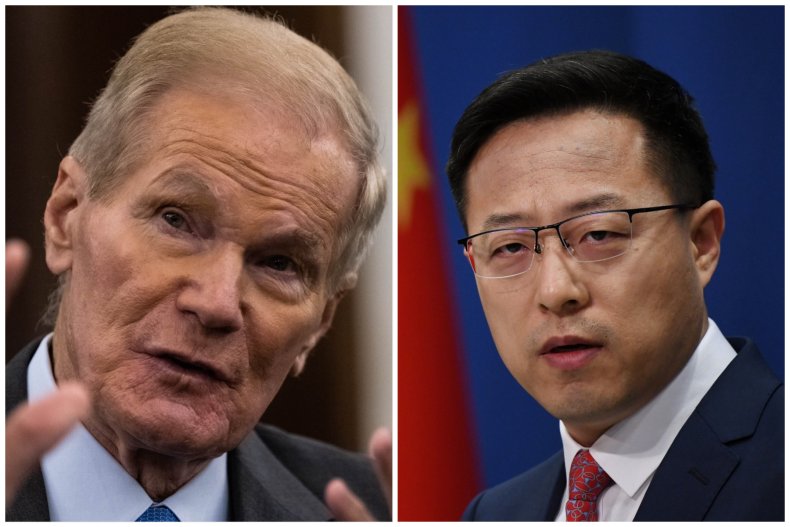 However, plans for a return to the lunar surface are in full swing once again with the likes of NASA's Artemis program, but again the U.S. is not the only country with the moon in its sights.
In April this year, the China National Space Administration (CNSA) space agency said it was entering a new phase of its lunar exploration program which would involve the launch of three lunar probes before 2030 and an international research base on the moon itself that could begin hosting crews in the 2030s.
Nelson told Bild on Saturday, translated from German: "We must be very concerned that China is landing on the moon and saying: 'It's ours now and you stay out.'"
However, Zhao Lijian, a spokesman for China's Foreign Ministry, hit back at the remarks during a ministry press conference on Monday.
"This is not the first time that the NASA administrator has lashed out at China in disregard of facts," Lijian said. "Some U.S. officials have spoken irresponsibly to misrepresent the normal and legitimate space endeavors of China. China firmly rejects such remarks."
Lijian went on to accuse the U.S. of having "defined space as a war-fighting domain" and said it had "obstructed space cooperation, willfully imposed sanctions on space agencies of other countries, and passed legislation to prohibit all forms of space cooperation and exchanges with China."
Nelson's comments also stoked the ire of China's Global Times state news outlet, which published a report in which Nelson was referred to as "colonial-minded".
Last year, Nelson congratulated China for successfully landing a rover on the surface of Mars but also used the achievement as a warning to Congress that China was an "aggressive competitor" to the U.S. in space and that the U.S. needed to "get off our duff" and work on manned missions.
Meanwhile, China's space development continues apace. Last month the country launched a new three-person crew to its Tiangong space station which is in the process of being constructed. Two more modules are due to be added to the station this year, which will mark its completion.