A Chinese spokesperson accused the United States of supporting Lithuania in its recognition of Taiwan as independent from China.
Lithuania opened a Taiwanese representative office in its capital, Vilnius, under the name Taiwan in November. To appease China, most countries open offices under the name Taipei. Lithuania became the first European Union nation to let Taiwan use its own name in a representative office, the BBC reported.
This upset the Chinese government, with Lithuanian and American officials reporting China has blocked imports from Lithuania ever since the Taiwan office opened.
Chinese Ministry of Foreign Affairs spokesman Wang Wenbin said the U.S. contributed to Lithuania's actions.
"The United States has instigated the Lithuanian authorities to undermine the 'one-China principle,'" Wenbin said. "It has supported, aided and abetted them in going further down the wrong path to achieve its political calculations to contain China."
The BBC reported that Lithuanian President Gitanas Nauseda expressed worry last week about the decision, telling a local news outlet "I think it was not the opening of the Taiwanese office that was a mistake, it was its name, which was not coordinated with me."
However, while the president showed doubt, the Lithuanian Ministry of Foreign Affairs told the BBC in a statement that it "stands firm" in its decision to open the office.
Taiwan has been ruled independently of China since 1949. However, China views Taiwan as part of its territory. Chinese officials refer to this view as the one-China principle. According to the Council on Foreign Relations, a nonprofit foreign policy think tank, China promised to eventually "unify" the island of Taiwan with mainland China.
The Chinese government thought Taiwan had agreed to the one-China principle in the 1992 Consensus and uses it to insist Taiwan should know its place as a part of China. However, the two sides cannot agree on what the 1992 Consensus meant, with Taiwan's ruling party at the time saying it meant "one China, different interpretations," the CFR reported.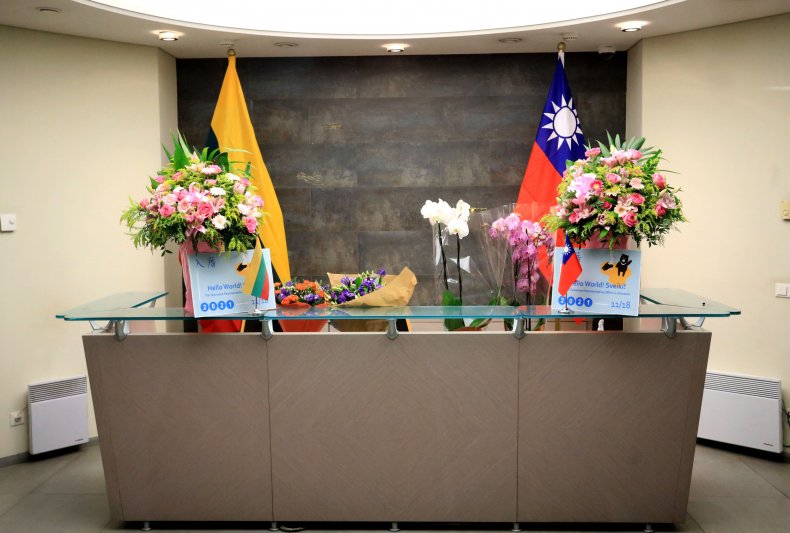 In a phone call last week, U.S. Trade Representative Katherine Tai expressed "strong support" to a European official for Lithuania "in the face of economic coercion," Tai's office said on its website.
The U.S. and most other governments, including Lithuania, have diplomatic relations only with Beijing but maintain commercial and informal political ties with Taiwan's democratically elected government. Most governments acquiesce to Chinese pressure by requiring Taiwanese entities to operate under the name Chinese Taipei.
Beijing retaliated for Lithuania's move by expelling the Lithuanian ambassador. Lithuania has closed its embassy in Beijing.
The Associated Press contributed to this report.