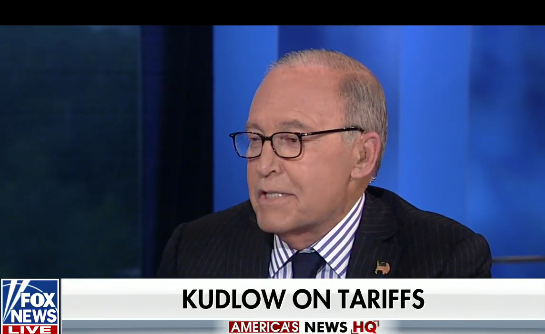 Economic analysts, including the White House's own adviser, appeared baffled by President Donald Trump's claim Sunday morning that the U.S. economy is doing well because of tariffs placed on Chinese imports and his assertion that China — and not U.S. companies — have paid billions because of these tariffs.
Trump tweeted that "China has been paying tariffs to the USA" of 25 percent on $50 billion of high tech and 10 percent on $200 billion of other traded goods. He vowed to raise that percentage higher this coming Friday as part of his administration's ongoing trade war with China.
However, economists and journalists immediately pounced on the claim, detailing how Trump's tariffs are, in fact, largely paid by U.S. importers of those affected Chinese goods.
In the past, Trump and several White House advisers had argued the tariffs are more of a negotiating tactic with China, rather than — as he claimed Sunday — a way to achieve a direct economic boost.
As The Tax Policy Center points out, neither China's government nor Chinese companies pay on U.S. tariffs on Chinese imports. Instead, the U.S.-based companies that import these goods pay the additional money, and often end up passing these costs onto American consumers or be faced with lowering their own profit margins.
In February, researchers from Princeton University, Columbia University and the Federal Reserve Bank of New York released a paper concluding that the cost of the Trump administration tariffs "have been almost entirely passed through into domestic prices."
Similarly, researchers from the Federal Reserve Bank of San Francisco in February concluded that while the "contribution of Chinese imports to overall personal consumption and business investment may appear small," the impact of tariffs as high as 25 percent on a broad range of products can still "lead to sizable upward pressures on prices."
"If all imports from China become subject to a 25% tariff, our estimates show the overall short-term direct effect on consumer prices and business investment price inflation would increase 0.4 percentage point and 1.4 percentage points, respectively," wrote the San Francisco Fed researchers in their paper.
This research showing that Americans, and not China, ultimately pay for tariffs appears to run counter to the president's claims from Sunday morning.
"For 10 months, China has been paying Tariffs to the USA of 25% on 50 Billion Dollars of High Tech, and 10% on 200 Billion Dollars of other goods. These payments are partially responsible for our great economic results. The 10% will go up to 25% on Friday. 325 Billions Dollars," Trump tweeted Sunday.
He continued, "....of additional goods sent to us by China remain untaxed, but will be shortly, at a rate of 25%. The Tariffs paid to the USA have had little impact on product cost, mostly borne by China. The Trade Deal with China continues, but too slowly, as they attempt to renegotiate. No!"
On Twitter, several economic analysts and journalists continued calling out Trump's apparent reversal of how trade tariffs work.
"China doesn't pay the tariffs. American consumers pay the tariffs," wrote New York Magazine's Josh Barro.
"For some reason, I'm feeling a sudden urge to tweet this explanation of who pays tariffs. (spoiler alert: It's not China.)," tweeted The Washington Post's Karen Tumulty.
Trump wasn't the only person getting fact-checked Sunday morning by economic analysts over his inversion of how tariffs work.
An adviser in his own White House, Director of the U.S. National Economic Council, Larry Kudlow appeared on Fox News, where anchor Leland Vittert confronted Ludlow with his own 2011 words about a Chinese tariff battle.
Vittert — who the president has previously called out for being critical of him — read back Kudlow's previous comments, which appear to contradict Trump's policies: "If you impose Chinese import tariffs, your consumers [meaning American consumers] are going to suffer from higher prices and lower living standards," Kudlow said in 2011 regarding the Obama administration.
Confronted by his own words, Kudlow pivoted to defending the Trump tariffs as a negotiation tool.
"Uh 2011, okay, I'll take your word for it," Kudlow began. "Look, I'm a free trade guy, the president's tariffs however have been extremely useful in negotating. They have brought China to the table. We believe China needs to deal more than we do."
"There are always some costs with these tariffs, they're very minor costs in the U.S.A. Farmers, and we help them out okay?..." Ludlow continued.
U.S. Trade Representative Robert Lighthizer and Treasury Secretary Steven Mnuchin are set to travel to Beijing this week in a final push for trade talks. The Trump administration's demand for an enforcement tool on any agreement has been a stumbling block between the two governments.
Kudlow continued, "What he's suggesting here is, we have these talks this week... We'll see how it clarifies but the president is I think issuing a warning here, we bent over backwards earlier. If the talks don't work out we've made great progress, structural issues and enforcement issues remain. I want to be very careful here we've made great progress and we want to be optimistic, but if it doesn't work then I think what the president is sayign in today's tweet that we will continue the tariffs we believe that's in the best interest of the United States."
Kudlow also demanded that China end what he called an "unfair, non-reciprocal trading system," accusing the country of breaking the law.
Last week, Kudlow said during an appearance on Fox Business, that the U.S. economy is "killing it," despite the ongoing trade spat.