Rep. Michael McCaul (R-TX), chairman of the China Task Force, has called for U.S. and U.K. cooperation to confront the actions of the Chinese Communist Party (CCP) in a similar spirit to the nations' joint endeavor in the Cold War.
McCaul, who is also Republican leader on the House Foreign Affairs Committee, wrote to British Ambassador to the United States Karen Pierce, to seek policy input in regards to what he branded the CCP's "malign behavior on the world stage."
He also asked Pierce for more details about the proposed "D10" club, a suggested grouping of 10 democratic nations, made up of the G7 nations plus Australia, India and South Korea, which would work on alternate supplies of 5G equipment to that from China, to reduce reliance on the nation's technologies.
McCaul's letter coincides with the anniversary of a 1982 speech to the British Parliament from then U.S. President Ronald Reagan, in which he rallied against the Soviet Union, speaking of his hope for "the march of freedom and democracy which will leave Marxism-Leninism on the ash-heap of history."
"I write to you on the anniversary of President Ronald Reagan's historic Westminster address to assure you that we in the United States stand ready to work with the United Kingdom and other like-minded allies to push back against the Chinese Communist Party's (CCP) malign influence on democracies around the globe, in the same spirit of our joint stand for liberty against Soviet tyranny," McCaul wrote.
Further invoking Reagan's speech, he added: "What President Reagan declared before the British Parliament on this day in 1982 remains as true today as it did then: the triumph of democratic governance, individual liberty, and internationally recognized human rights poses the greatest threat to authoritarian regimes like that of the CCP.
"We have harnessed our special relationship many times throughout history to ensure the triumph of democratic values and freedom. I hope to do so once again and begin a focused dialogue with you and your government on how our two countries can best work together and with like-minded allies on a renewed campaign to push back against the CCP's global malign influence."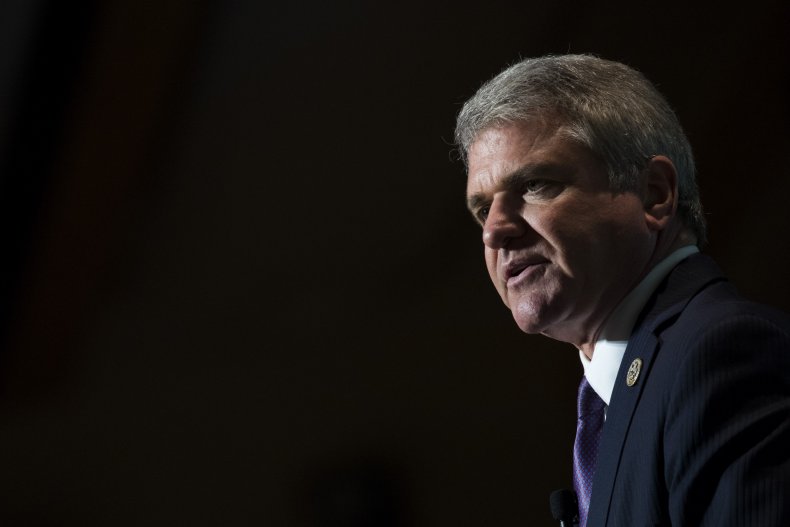 Newsweek has contacted McCaul for further comment.
Following the letter, a spokesperson for the British government told Newsweek: "The U.K.'s approach to China remains clear-eyed and rooted in our values and our interests. It's always been the case that where we have concerns we raise them, and where we need to intervene we will."
The letter comes amid tense relations between Washington and Beijing, with a continuing clash over the coronavirus pandemic damaging ties between the U.S. and China.
The U.S. has accused China of a lack of transparency, with particular criticism for the early handling of the outbreak when COVID-19 was first identified in the city of Wuhan.
Barbs have also been traded over the treatment of Hong Kong, with a clash over the terms under which the territory has autonomy amid China's suggestion of imposing a national security law in the region.
Hong Kong is granted the right to be a semi-autonomous under the one-country, two-systems principle. It was promised these freedoms for 50 years after Britain returned the territory, which had been a British colony, to China in 1997.
The fear this principle is under risk has also prompted criticism from Britain.
British Prime Minister Boris Johnson wrote, in a letter published in The Times of London, that "the National People's Congress in Beijing decided to impose a national security law on Hong Kong that would curtail its freedoms and dramatically erode its autonomy."
"If China proceeds, this would be in direct conflict with its obligations under the joint declaration, a legally binding treaty registered with the United Nations," he added.
Johnson also has said he would extend the right to live and work in Britain to the near 3 million Hong Kong citizens who are eligible for a British National Overseas passport.
"Many people in Hong Kong fear that their way of life—which China pledged to uphold—is under threat. If China proceeds to justify their fears, then Britain could not in good conscience shrug our shoulders and walk away; instead, we will honor our obligations and provide an alternative," he added.
"I hope it will not come to this. I still hope that China will remember that responsibilities go hand in glove with strength and leadership. As China plays a greater role on the international stage—commensurate with its economic prowess—then its authority will rest not simply on its global weight but on its reputation for fair dealing and magnanimity."
China has hit back at Britain, with Chinese State Councilor and Foreign Minister Wang Yi reportedly speaking to British Foreign Secretary Dominic Raab, according to the Xinhua news agency.
The news agency reported that Wang told Raab that "maintaining national security in Hong Kong concerns China's core interests."
It reports that Wang added that "Hong Kong affairs are purely China's internal affairs and no outside interference is allowed."
In a statement, a British Foreign Office spokesperson said Raab had raised concerns over the treatment of Hong Kong.
They said: "On Hong Kong, the Foreign Secretary outlined the U.K.'s deep concern at China's proposal to impose national security legislation. The Foreign Secretary made clear the UK's view that Hong Kong's high degree of autonomy and rights and freedoms must be preserved in line with China's international obligations under the Joint Declaration."
Newsweek has contacted the Ministry of Foreign Affairs of the People's Republic of China for comment.
This page was updated to include a comment from the British government.