A Chinese government official belittled the Biden administration for failing to tame America's stubbornly high inflation while U.S. arms companies have raked in profits from Russia's war on Ukraine.
Hua Chunying, China's assistant minister of foreign affairs, on Wednesday scoffed at U.S. officials in a tweet. Her taunt followed part of a back-and-forth between the two countries as China seeks to balance its alliance with Russia with blowback from its roundly condemned invasion of Ukraine.
"While top #US arms manufacturers boasted of the conflicts in #Ukraine as a boon for business, American people are suffering from soaring prices and higher inflation," Hua, who serves as the ministry's spokesperson, said in a Tweet.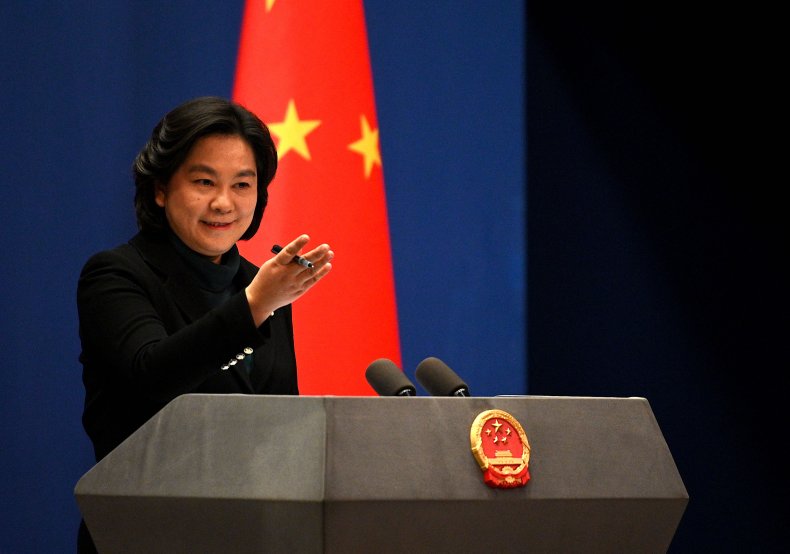 Hua's tweet included a chart showing how America's inflation rate rose to 7.5 percent in 2022, the fastest annual rise in the price of consumer goods on record since February 1982.
The high inflation rate has been a looming political liability for President Joe Biden who earlier in his presidency said the rise in prices for consumer goods would plateau as the economy emerged from the COVID-19 pandemic. An ABC News/Ipsos poll released earlier this week found that almost three-quarters of Americans are displeased with Biden's management of inflation, as the economy has eclipsed the pandemic as the country's most-pressing issue.
Biden on Wednesday announced another $800 million in military aid to Ukraine. Last week, Biden signed off on $200 million in military aid to the country on top of another $350 million approved earlier.
Lockheed Martin CEO Jim Taiclet said in a January earnings call that "there's renewed great power competition."
"And the history of United States is when those environments evolve that we do not sit by and just watch it happen," he said on the call.
Since the beginning of the year, the company's stock price has risen from around $350 a share to $466 last week.
Similarly, Raytheon Technologies Corp. saw its stock price climb from $86 a share to $95 a share.
Raytheon CEO Greg Hayes in January also said that escalating tensions created "opportunities for international sales."
At the start of the Beijing 2022 Winter Olympic Games, China and Russia issued a joint statement announcing a "no limits" partnership on a range of economic, defense and other issues.
As world opinion has turned on Russia for its invasion of Ukraine, China has called for dialogue to end the conflict. But China also hasn't condemned Russia and has continued to support Moscow's position that Ukraine not join NATO Western military alliance.
U.S. officials have expressed concern about reports that Russia has requested military and economic support from China as its invasion of Ukraine remains at a standstill and faces crippling sanctions.
"We are communicating directly, privately to Beijing that there will absolutely be consequences for large-scale sanctions evasion efforts or support to Russia to backfill them," National Security Adviser Jake Sullivan said earlier this week. "We will not allow that to go forward and allow there to be a lifeline to Russia from these economic sanctions from any country, anywhere in the world."
China's ambassador to Ukraine Fan Xianrong on Monday pledged to help Ukraine rebuild.
Newsweek has reached out to the White House for comment.