A senior Chinese government spokesperson warned the U.S. to "behave cautiously" on Wednesday after Washington's de facto ambassador to Taipei blamed Beijing for the collapse in relations across the Taiwan Strait.
Brent Christensen, the outgoing director of the American Institute in Taiwan (AIT), criticized China's multifaceted diplomatic, economic and military pressure against Taiwan during an interview given to Apple Daily on June 1.
"Only one side is violating the other side's air defense identification zone every day," Christensen was quoted as saying. "It is not Taiwan that has caused the deterioration in cross-strait relations."
Ma Xiaoguang, a spokesperson for the Chinese government's Taiwan Affairs Office (TAO), responded at a fortnightly press conference on Wednesday, laying the blame squarely at the feet of Taiwan's ruling Democratic Progressive Party (DPP).
The "root cause" of heightened tensions across the Taiwan Strait is the DPP, said Ma, who heads the TAO's information office. Taipei is seeking "independence" and stirring up "anti-China sentiment" on the self-ruled island, he added.
Ma accused the Taiwanese government of rejecting Beijing's offer to help control the ongoing coronavirus outbreak. China has said it is prepared to supply Taipei with its WHO-approved vaccines, but current Taiwanese law forbids the importation of serums from the neighboring country.
Beijing "will never allow anyone to split Taiwan from China," said Ma's statement, which included other explicit warnings for Washington—Taipei's strongest international backer.
"We urge the U.S. government and relevant individuals... to tell right from wrong on the Taiwan question, behave cautiously and not to send wrong signals to 'Taiwan independence' forces," he added.
An English-language readout of Ma's remarks omitted the phrase "behave cautiously," which can also be interpreted as "speak and act cautiously."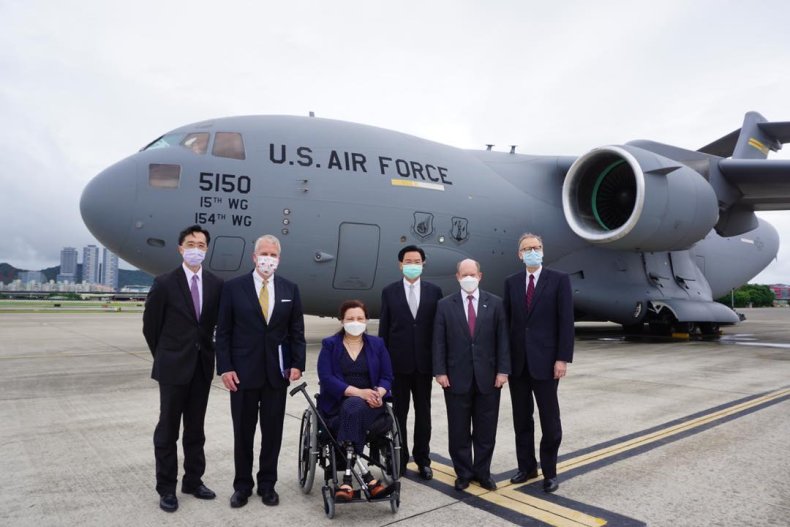 Director Christensen, who is stepping down this summer, has overseen one of the most consequential periods of U.S.-Taiwan relations during his three-year tenure.
During his Apple Daily interview, which was published in three parts on Tuesday, the AIT chief reaffirmed Washington's backing of Taiwan and its two-term president, Tsai Ing-wen.
He stressed U.S. support for "meaningful dialog" between the governments of China and Taiwan, while highlighting a raft of coercive measures Beijing has taken against the island nation it claims is part of its territory.
The Chinese-language Apple Daily report quoted Christensen's admiration for the Tsai administration's efforts to bolster Taiwan's defense.
"Stability in the Taiwan Strait is key to stability in East Asia," he said.
Christensen, who called his posting as AIT director "the highlight of my career," served the administrations of both Trump and Biden. He was also deputy director under the Obama administration.
In a farewell speech on May 26, Christensen recalled the tens of billions in defensive arms sales the U.S. has sanctioned for Taiwan during his term.
Placing a pineapple on the podium to reference China's ban on the fruit in March, Christensen said: "Lately the threats have felt relentless, but I think we can all remember a recent example of Taiwan demonstrating its resolve and unity in the face of bullying. Bullying that quickly backfired."
"I am confident that as Taiwan is tested again and again in the future, Taiwan will continue to come together and show the world its strength, resilience and resolve," he added.