Chinese officials are ramping up COVID-19 testing and putting forward new restrictions as the country fights the spread of the highly contagious Delta variant.
The country's latest COVID-19 outbreak began in Nanjing, a city of more than nine million people, in late July.
Officials have conducted three rounds of testing on the city's residents and put hundreds of thousands under lockdown.
The Nanjing outbreak, which was first detected at an airport, had spread to 15 other cities, according to the South China Morning Post.
Chinese media have reported that the Nanjing Lukou International Airport has suspended all flights until August 11, to curb the spread of the virus.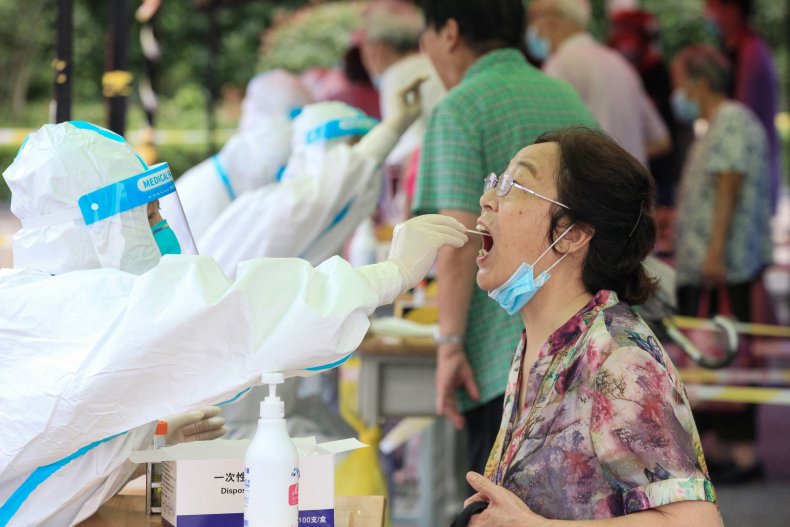 The city of Zhangjiajie in China's Hunan province has moved to lock down its residents. City officials put forward stay-at-home orders Sunday and have told people to avoid going in to work. Non-essential travel on roads in the city has also been banned.
China has linked the Nanjing outbreak to cleaners who worked on a flight that arrived from Russia carrying an infected passenger, according to Reuters.
On Sunday, the country reported 75 new COVID-19 infections, the news organization reported. The country currently has 1,022 cases of the virus overall.
Amid the outbreak, Chinese health officials continue to stress the importance of vaccination, says NDTV.
"The COVID vaccine's protection against the Delta variant may have somewhat declined, but the current vaccine still has a good preventative and protective effect against the Delta variant," said Feng Zijian, a virologist at the Chinese Center for Disease Control and Prevention (CCDC).
Chinese health officials are also weighing whether to give a third dose of the vaccine to some people, including older residents, the South China Morning Post reported Sunday.
"From initial observations, there is no need for a booster shot yet for the general public that has completed vaccination within a year," Shao Yiming, a researcher with the CCDC, told the publication.
"However, for the elderly with weaker immune systems and patients with underlying diseases, as well as people who need to travel to high-risk areas for work, or workers who face high exposure risks, [we] are studying whether there is a need for a third booster shot and when," he added.
In total, China has had more than 120,000 cases of the virus since the pandemic began, and about 5,600 deaths from COVID-19, according to the World Health Organization (WHO).
The country has administered more than 1.5 billion doses of the COVID-19 vaccine to date.