A State Department official this week controversially invoked race as a contributing factor for China being an unprecedented threat to the U.S.
Kiron Skinner, the State Department's director of policy planning, said at the Future Security Forum that challenging "the long-term threat" of China is difficult because the country is "not Caucasian" and there is also a lack of diversity in U.S. foreign policy circles. The comments come as concerns over espionage, both traditional and economic, have seen Chinese academics and other citizens report problems obtaining visas and racial profiling in the U.S.
"When we think about the Soviet Union in that competition [the Cold War], in a way, it was a fight within the Western family," she said. "This is a fight with a really different civilization, and a different ideology, and the United States hasn't had that before. Nor has it had an economic competitor the way that we have. The Soviet Union was a country with nuclear weapons and the Red Army but a backwards economy.
"In China we have an economic competitor, we have an ideological competitor, one that really does seek a kind of global reach that many of us didn't expect a couple of decades ago. And I think it's also striking that it's the first time that we will have a great power competitor that is not Caucasian," Skinner added.
When pressed by the moderator, New America CEO Anne-Marie Slaughter, about the focus on race—particularly considering the large number of non-white populations within the U.S. and projections that minorities will become the majority by 2050—Skinner focused on the makeup of the U.S.'s foreign policy community, with the implication being this will hamper future efforts to understand the world.
"I think it's extremely relevant because the foreign policy establishment is so narrowly defined, it's more homogenous than probably it should be, given our own demographics," Skinner said, adding that international relations "hasn't changed very much." "Having diversity in all dimensions really does help you get ready for the future."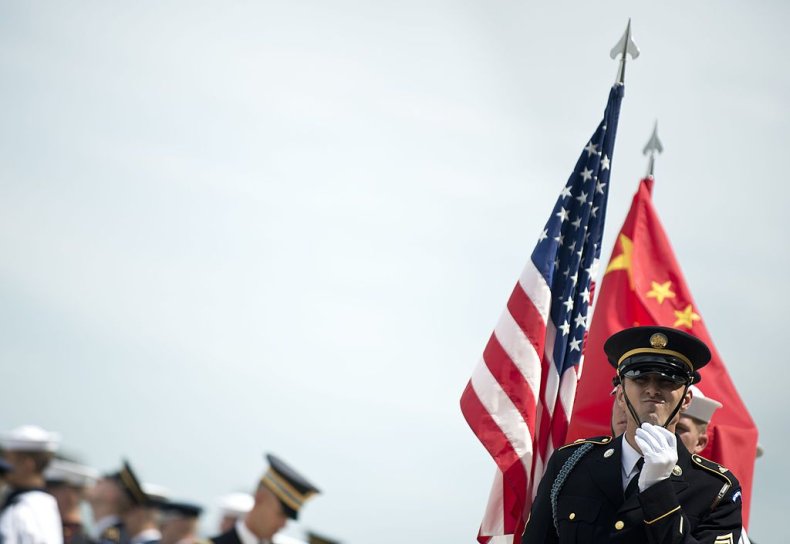 In placing the Soviet Union in the "Western family," Skinner spoke of Karl Marx's influence in Moscow, but seemingly ignored the role his work continues to play in Beijing. While it's an odd omission noticed by foreign policy experts, the decision to focus on race has been strongly criticized.
"Our foreign policy is not based on race," Cheng Li, the director of the Brooking Institution's John L. Thornton China Center, told Newsweek. The expert on U.S.-China relations said focusing on race or ethnicity is "un-American" and undermines the focus on much larger differences between the two countries such as differences in political systems and ideologies.
"You also alienate the vast number of people with Chinese ethnic background in China and outside China, including Chinese Americans, including many Chinese descendants in countries like Singapore, Australia, Canada, etc," he said. "Chinese Americans are no more, no less, they are American. And they are American by choice, Chinese by ethnic background. We should not single out one race, this is racial profiling, it is illegal, it is immoral, and it's certainly against American values."
Li agreed with Skinner's emphasis on diversity within foreign policy circles, but said that doesn't cancel out her racial-focused comments that, he says, can serve as "ammunition for the Chinese Communist Party."
Li also hoped Skinner would clarify her comments. "Otherwise we are losing the moral high ground," he said.
When asked to respond by Newsweek, the State Department declined to comment.