China Threatens to 'Hit Back' as Trump Warns of Strong U.S. Response to Hong Kong Law
Chinese Foreign Ministry spokesperson Zhao Lijian issued a stark warning to foreign governments attempting to intervene over a controversial national security law aimed at Hong Kong: China will retaliate.
China's legislature approved a resolution that broadens Beijing's power over Hong Kong, and once the law is drafted, it's expected to be enacted by decree, bypassing the local lawmaking process. China's increased influence over Hong Kong threatens the special treatment the autonomous region has had under U.S. law, and President Donald Trump is expected to announce America's response this week.
The president didn't share details of what the response would look like or whether it would include sanctions, except that the matter would be addressed "very strongly." Zhao said during Thursday's briefing that China's position on the issue of sanctions "has been very clear."
"If someone is bent on harming China's interests, China will take all necessary measures to hit back," Zhao said. "In response to the erroneous practices of external intervention, we will take necessary countermeasures."
Residents of Hong Kong, a former British colony, enjoy freedoms not found in mainland China, but Beijing is tightening its hold. The current proposal uses broad language that targets secession, subversion of state power, terrorism activities and foreign interference. It also allows mainland China's state security agencies to operate in the city.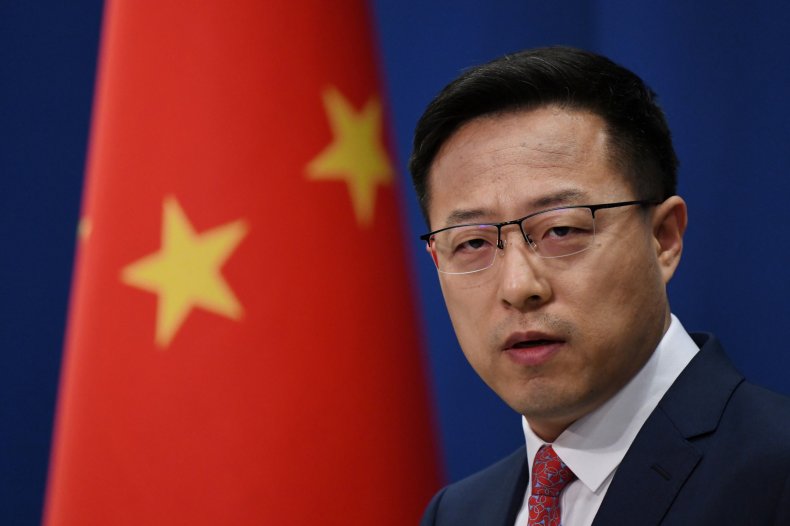 Hong Kong Chief Executive Carrie Lam dismissed concerns that the law would infringe on people's rights in Hong Kong and said it aims to penalize "an extremely small minority of criminals who threaten national security." The "one country, two systems" policy China and Hong Kong operate under would remain intact, according to Lam, but it's unlikely her comments have assured those who already feel their liberties slipping away.
Because Hong Kong is a special administrative reason of China, Zhao said Thursday, the central government has a responsibility to uphold "national security in China." The legislation is "purely China's internal affair," he added, and other countries do not have the right to interfere.
"The Chinese government is firm in its determination to safeguard China's sovereignty, security and development interests; to implement the principle of 'one country, two systems'; and to oppose any external interference in Hong Kong affairs," Zhao said.
Protests erupted in Hong Kong over the summer after the introduction of an extradition bill. By the time the proposed legislation was withdrawn, the protests turned into a wider call for democracy, and street protests resumed in light of the proposed national security law.
Pompeo labeled the national security legislation a "disastrous decision" on Beijing's part and called it the latest in a series of actions that undermines Hong Kong's autonomy and China's promises under the Sino-British Joint Declaration. That 1984 agreement between China and Britain handed control over Hong Kong to China but said that the region would retain a high degree of autonomy and that its legal and judicial system would remain unchanged.
Under the United States-Hong Kong Policy Act of 1992, the State Department must assess Hong Kong's autonomy. On Wednesday, Pompeo said that "given the facts on the ground...no reasonable person can assert" that autonomy still exists. Consequently, he certified to Congress that Hong Kong doesn't continue to warrant special treatment.
"Hong Kong and its dynamic, enterprising and free people have flourished for decades as a bastion of liberty, and this decision gives me no pleasure," Pompeo said. "While the United States once hoped that free and prosperous Hong Kong would provide a model for authoritarian China, it is now clear that China is modeling Hong Kong after itself."
Newsweek reached out to the State Department and the White House for comment but did not hear back before publication.
Without special treatment, Hong Kong could be treated exactly the same as any Chinese city, jeopardizing trade and economic relations. Pompeo said the U.S. stands with the people of Hong Kong as China increasingly denies the autonomy they were promised.