Farmers Union Vice President Says Farmers Have 'Pretty Much Lost All Our Markets Since Trump Took Over'
On Sunday, President Donald Trump's latest trade war maneuver went into effect, applying a 15 percent duty on approximately $110 billion in Chinese consumer goods.
But farmers have already been suffering the repercussions since the beginning of August when China — the fourth largest export market for American farms — suspended purchase of U.S. agricultural products in response to the tariffs' announcement.
Appearing on MSNBC, North Dakota wheat farmer Bob Kuylen provided a dramatic example of the trade war's effect on American agriculture, citing $400,000 in losses since Trump took office.
"We lost pretty much all of our markets since Trump took over," Kuylen said. "Older guys like us, we built up equities all our lives. Most farmers are land-rich and cash-poor, so we'll take out loss loans and stuff against our land and go backwards on the land that we paid for. But there's a lot of young farmers out there who don't have equity and I worry about them, because they're not going to be able to withstand this."
Since 2017, revenue from Chinese agricultural exports dropped by more than half, from $19.5 billion to $9.2 billion in 2018, according to U.S. Department of Agriculture figures. The USDA also found that farm income has dropped 45 percent over the same period. According to the American Farm Bureau, farm bankruptcies have increased 13 percent since 2018.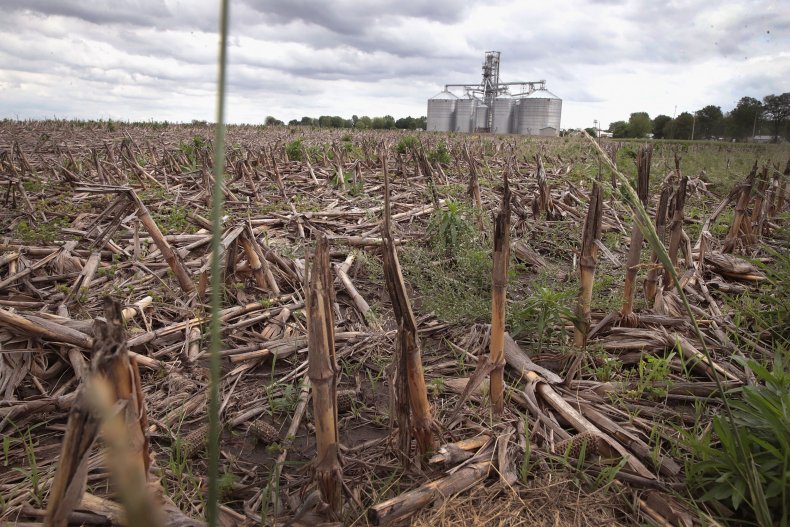 Kuylen, the vice president of the North Dakota Farmers Union, which has more than 50,000 member families, described his own farm's dire situation. Formerly, Kuylen could expect "up to a dollar bonus" on the high protein wheat crops he sold to Asain markets, but the additional margin has shrunk to five cents. "We're losing by harvesting a little bit above average crop right now," Kuylen told MSNBC, citing a per acreage cost that now exceeded the depressed prices he would earn in returns.
"One of my young neighbors told me the other day his banker said if wheat doesn't hit $4.50, there's going to be a bloodbath this fall," Kuylen said. "It's not looking good for farmers at all."
While Kuylen did not vote for Trump, he knows farmers who did and predicts their business interests will conflict with their loyalty to the president. "If it's between supporting the president or losing your family farm — this is something we've had in our family for four generations and I know there's families with five or six generations on the same farm — if they're going to lose that, I think they're going to lose their loyalty very fast."
The New York Times found widespread dissatisfaction among farmers in attendance at Farmfest in Minnesota in August, where attendees booed Secretary of Agriculture Sonny Perdue after he told telling a joke about how two farmers in a basement are called "a whine cellar."
The Trump administration has tried to mitigate some of the damage with a $16 billion direct aid package to farmers, complete with $14.5 billion going to cash payments and $1.4 billion in bulk purchases by the government. However, a review by the Environmental Working Group, an advocacy organization best known for promoting organic foods, found that more than half of payments made to U.S. farmers went disproportionately to the largest farms, with the top one percent receiving an average of more than $180,000, while 80 percent of subsidized farms were given less than $5,000.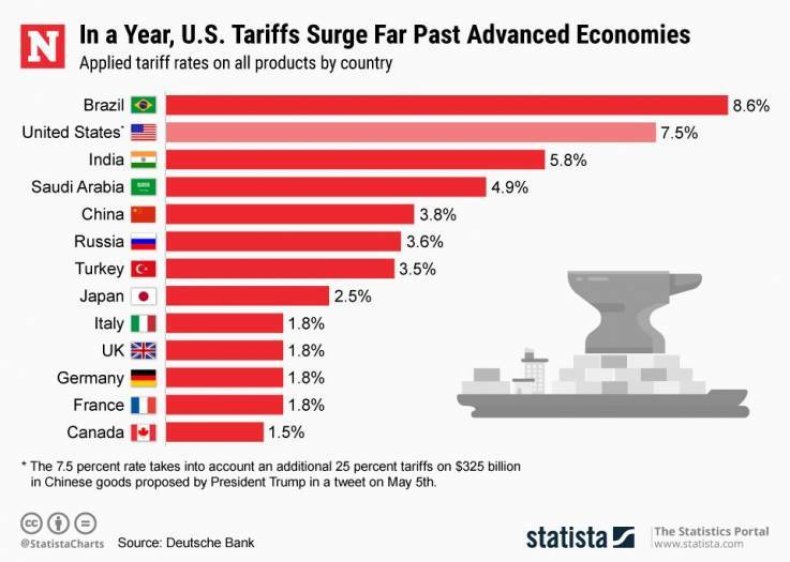 Global Times, a Chinese tabloid owned by the ruling Communist Party of China, described the latest wave of tariffs as a "turning point in the trade war," since it will directly affect U.S. consumers and potentially prompt a domestic backlash to Trump's trade policies.
"The Chinese products range from smart watches, shoes, diapers, sporting goods to meat and dairy products, all closely bound up in daily American life," the Global Times wrote in a Sunday editorial. "The Trump administration has shot Americans in the foot."
It's not just Chinese Central Committee mouthpieces projecting damage to the American economy — in August the Congressional Budget Office said it expects Trump's trade war policies will cut GDP by 0.3 percent by 2020, lowering household incomes by an average of $580. Bloomberg also cites a letter JPMorgan Chase sent to its clients in August, which estimates the average cost of Trump's trade war to U.S. households at $1,000 a year.
Trump plans to escalate the war, with a second wave of 15 percent tariffs on Chinese smartphones and laptops — totaling $160 billion in imports — expected to go into effect on December 15.
"It's really, really getting bad out here," Kuylen told CNBC. "There's no incentive to keep farming, except that I've invested everything I have in farming and it's hard to walk away."