China Trains to Shoot Down Planes as U.S. Aircraft Carrier 'Circling Near Taiwan'
Chinese forces have conducted anti-aircraft drills in the country's southeast overlooking Taiwan as a U.S. aircraft carrier sails nearby the self-ruling island that is increasingly becoming central to the feud between Washington and Beijing.
Chinese military-tied media aired footage Monday of troops conducting large-scale air defense drills in southeast Guangdong province, which lies across the Taiwan Strait from the self-ruling island still claimed by the central government in Beijing and borders semi-autonomous Hong Kong, also the subject of international tensions. The exercises involved advanced systems such as the double 35-millimeter-barreled PGZ-09 and the quadruple 25-millimeter-barreled PGZ-95.
Global Times, an official Chinese Communist Party publication, cited unnamed experts Wednesday saying the exercises displayed China's willingness to defend its territory amid heightened U.S. military activity nearby. The outlet also referenced ongoing observations of U.S. aerial and naval movements made by the South China Sea Probing Initiative, a project of Peking University's Institute of Ocean Research.
In its latest post, the Chinese think tank said Wednesday that the Nimitz-class aircraft carrier USS Ronald Reagan had been "circling near Taiwan" since August 8 and has been spotted heading toward the nearby East China Sea. The U.S. Navy Institute gave a similar position for the warship and accompanying strike group.
"The United States is an Indo-Pacific nation and committed to remaining engaged in the region," Pacific Fleet spokesperson Navy Lieutenant James Adams told Newsweek.
"U.S. Navy operations are designed to be conducted in accordance with international law and demonstrate that the United States will fly, sail, and operate wherever international law allows," he added.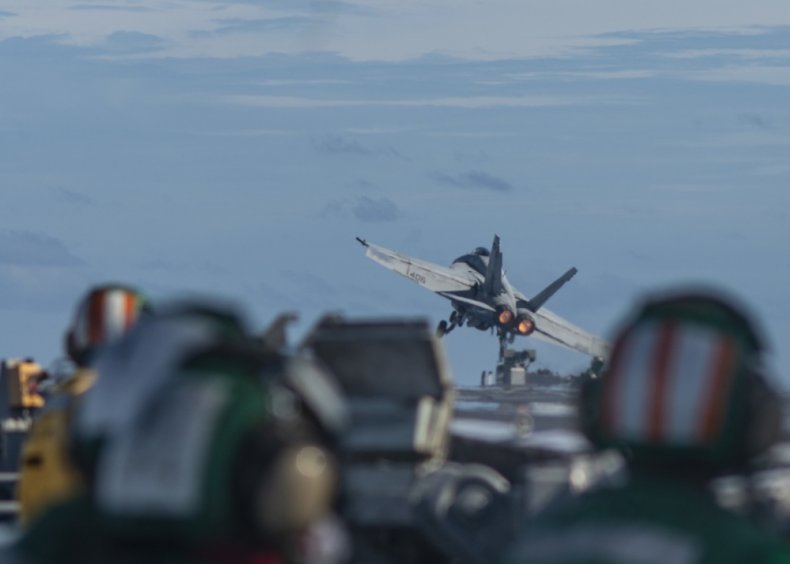 The rival military maneuvers come at a particularly politically-charged time for the Taiwan Strait. Health Secretary Alex Azar visited Taiwan on Monday, breaking precedent with four decades of U.S. policy that has foregone direct high-level contacts with Taipei officials since Washington instead recognized Beijing as the only representative of China.
The controversial trip was preceded by Chinese J-10 and J-11 fighter jets flying over the "median line" separating mainland China and Taiwan, a boundary crossed only three times since the end of their civil war in 1949. Taiwan's armed forces said it scrambled aircraft and broadcasting warnings to drive off the Chinese warplanes.
During Azar's trip, he disparaged the Chinese government's handling of the novel coronavirus, which was first observed in the central city of Wuhan and went on to become a major point of contention between the U.S. and China. The sudden overture by President Donald Trump's administration to Taiwan has infuriated China, whose Foreign Ministry spokesperson Zhao Lijian spoke out against the visit on Wednesday.
"We must repeat this solemn message to the U.S. side again that China firmly opposes official exchanges between the U.S. and Taiwan under whatever pretext," Zhao told reporters. "On issues concerning China's core interests, certain individuals in the U.S. should not have any illusions or imagine they can get away with inappropriate behaviors.
"Those playing with fire will end up burning themselves badly," he added.
The U.S. has also expanded activities in the South China Sea and nearby regions part of what the Pentagon refers to as the Indo-Pacific theater. Here, the U.S. has increasingly worked with partners Australia, India and Japan, all of whom have expressed concern about Chinese activities in the region.
The Trump administration has challenged the People's Republic geopolitically but also in trade and technology, imposing restrictions on U.S. businesses dealing with Chinese telecommunications companies affiliated with the Chinese Communist Party. Washington officials have accused Beijing of intellectual property theft, commercial espionage, and repressing political freedom among other charges.
"The United States calls on our allies and partners in government and industry around the world to join the growing tide to secure our data from the CCP's surveillance state and China's Great Firewall, where data comes in but does not flow out and, reciprocally, propaganda goes out, but the truth doesn't come in," the State Department said in a press release Wednesday. "By building a coalition of partners, we will enhance the protection of our citizens' data and our freedoms."
But in an interview published Wednesday by Chinese news site Guancha, Chinese Vice Foreign Minister Le Yucheng urged the U.S. to not wage a "Cold War in the 21st century" and criticized U.S. moves targeting China and Chinese firms.
"The U.S. repressive moves against China have no legal basis at all," Le said. "None of its actions conforms with international law—increasing tariffs, cutting off supplies to Huawei, banning TikTok, detaining Chinese citizens, selling arms to Taiwan, imposing sanctions on Chinese central government and Hong Kong SAR government officials, and closing Chinese Consulate-General in Houston."