Tram Collision Video Captures Moment Two Streetcars Smash Into One Another
At least nine people were injured in northeast China early on Thursday when one streetcar reversed at high speed into another, in its second crash within minutes on one of the country's oldest tram lines.
Security camera footage from Dalian, Liaoning province, captured the moment the fast-moving trolley car backed into the front of a stationary tram at Xinghai Square station on the city's 202 tram line. Videos taken by bystanders revealed extensive damage to both streetcars, which were later lifted off the tracks.
The tramcar branch of Dalian's public transport provider said the accident involving streetcar No. 2239, which witnesses reported happened at around 7:30 a.m. local time, was its second crash of the day, after it had first rear-ended a tram at 7:17 a.m.
No. 2239 was reversing back to the city's tram terminal when it collided with the other streetcar in the dramatic incident caught on camera, Dalian Passenger Transport Group said in a statement.
Video from Xinghai Square showed an ambulance and other uniformed staff at the scene of the crash, where witnesses said some injured passengers were treated inside the tram cars. Cellphone footage taken in the aftermath of the incident showed broken glass panes and mangled metal as both streetcars collided forcefully on the tracks.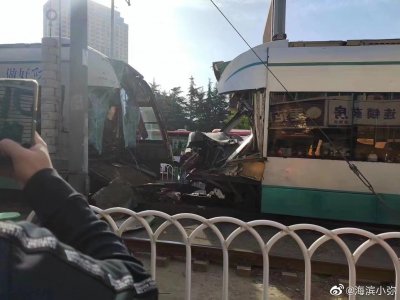 The public transport group said nine passengers were hurt and later taken to hospital by paramedics. None suffered any life-threatening injuries. Passengers delayed by the rush-hour accidents were ferried by bus to other operational stations, it said.
Tram line 202 was fully operational by 12:30 p.m. and an investigation was ongoing, the statement said. The reasons behind the first collision remained unclear.
The group didn't respond to local reports that said the first accident was caused by a power outage, which stalled the streetcar first struck by No. 2239. The statement also didn't say how many passengers were on board during either crash.
The company didn't return Newsweek's request for comment before publication.
Dalian, the second-largest city in Liaoning, currently operates two tram lines, 201 and 202. Both are part of the legacy of Japanese occupation and were built by the South Manchuria Railway, a company owned by the Empire of Japan, in 1909.
Following the merger of lines 201 and 203, the existing tram lines are among the oldest still operational in mainland China today, with a total length of 14.5 miles. The tram lines were the city's only form of urban rail transport before the Dalian Metro opened in 2003.
The east-west 202 line is 7.6 miles long and runs through a shopping district.