China Trolls Trump White House: Should Use Huawei Phones Instead of iPhones If Worried About Being Tapped
A Chinese official recommended on Thursday that President Donald Trump use a Huawei phone instead of an iPhone, after a report from The New York Times alleged that Chinese and Russian spies are eavesdropping on his phone calls.
Chinese Foreign Ministry spokesperson Hua Chunying told a press conference that the newspaper's report is "evidence that the New York Times makes fake news," and added that some people in the United States are "doing their utmost to win best script at the Oscars," according to Reuters.
"If they are really worried about Apple phones being bugged, then they can change to using Huawei. If they are still not at ease, then in order to have an entirely secure device, they can stop using all forms of modern communication devices and cut off all ties with the outside world," Hua said.
Huawei is a smartphone manufacturer and telecommunications company located in Shenzhen, China. It is considered one of the world's biggest tech companies and has attempted to crack into the U.S. market by opening its North American headquarters in Plano, Texas, in 2001, The Dallas Morning News reported in April.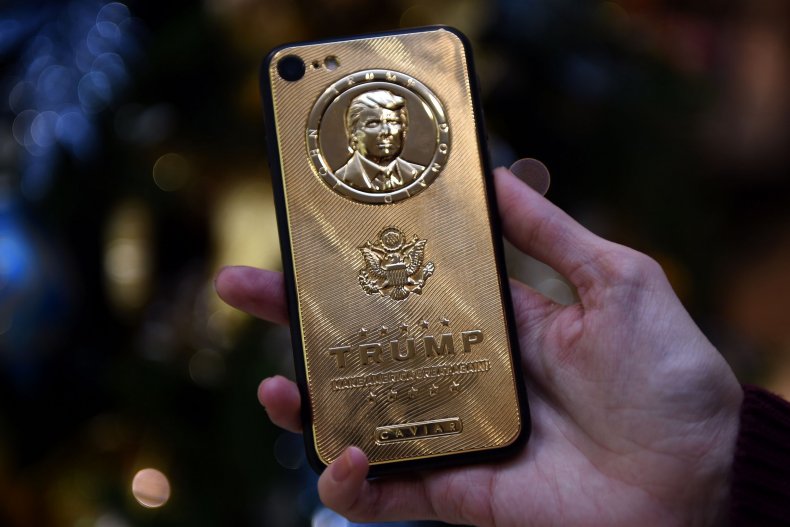 Kremlin spokesperson Dmitri Peskov responded to the report saying that "the newspaper probably has some detailed information on this subject that can be a justification for publishing such information," according to The New York Times citing Russian news agency, RIA Novosti.
Wednesday's report claims that China and Russia are listening in on calls Trump is making to a list of friends, despite his aides urging the president to ditch his device and use a secure landline in the White House.
"The so-called experts on Trump over at the New York Times wrote a long and boring article on my cellphone usage that is so incorrect I do not have time here to correct it. I only use Government Phones, and have only one seldom used government cell phone. Story is soooo wrong!" Trump tweeted early Thursday morning in response to the report.
In May, the U.S. banned the sales of phones made by Huawei and ZTE, another Chinese telecommunications company. The Pentagon said that phones sold by the two companies on U.S. bases around the world could pose security threats.
"Huawei and ZTE devices may pose an unacceptable risk to the department's personnel, information, and mission. In light of this information, it was not prudent for the department's exchanges to continue selling them," Pentagon spokesperson Major Dave Eastburn said, The Wall Street Journal reported.
In August. the Democratic National Committee warned candidates running in November's midterm elections to not use devices made by the manufacturers following a warning made by FBI Director Chris Wray, who said that Huawei and ZTE provide "the capacity to maliciously modify or steal information" and "to conduct undetected espionage," according to CNN.