China Is Winning, Not Donald Trump, Especially In Europe And Everywhere Else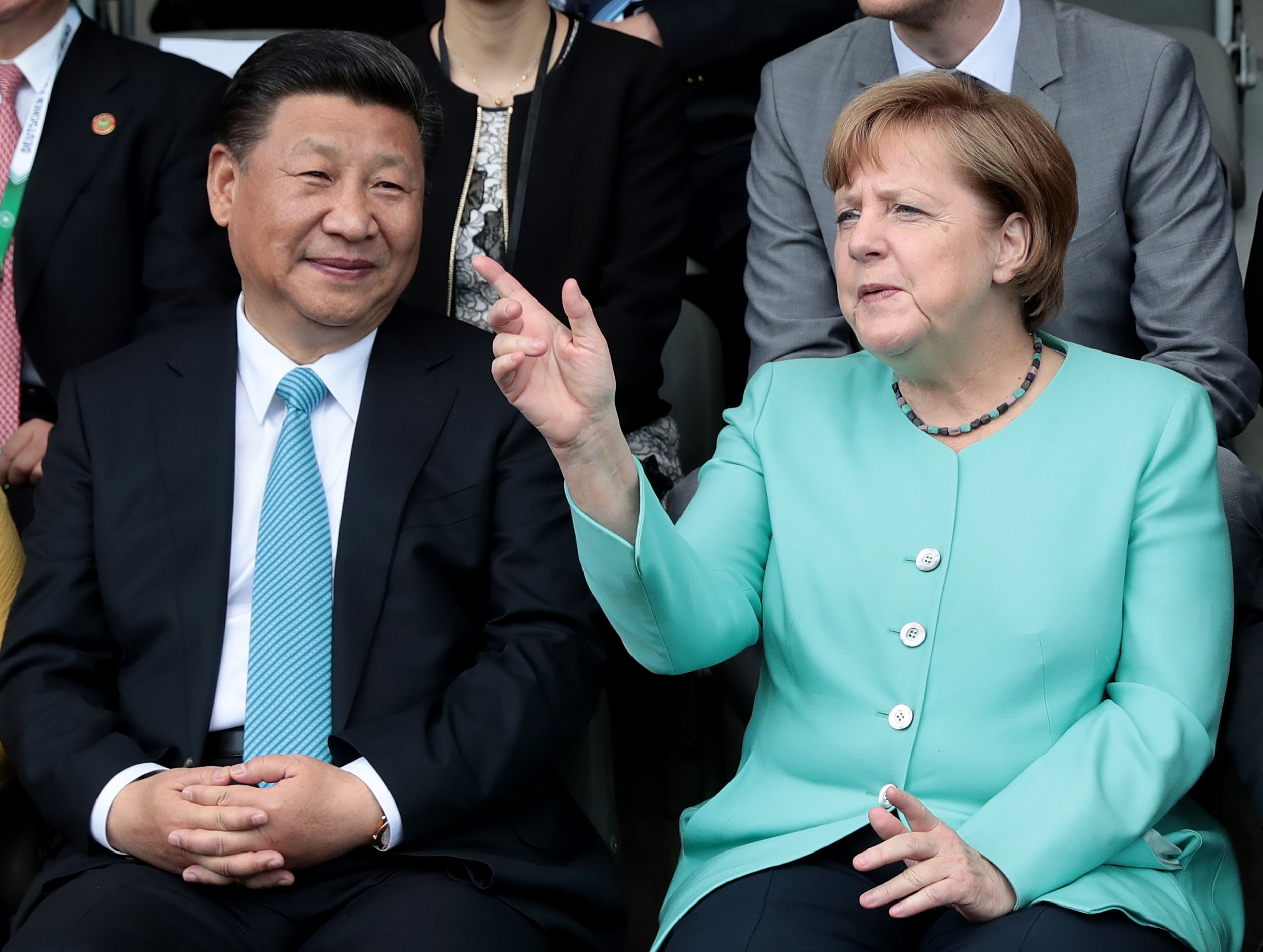 On the domestic front, President Donald Trump has correctly pointed to and taken credit for the U.S. stock market's record highs, the country's lowest unemployment rate in a decade and an increase in jobs throughout his first six months in office.
But Trump's early victory laps cease right at the country's borders. The president's tougher stance on defense expenditures from fellow NATO members, jabs at dangerous potential foes like North Korea, his announced withdrawal from the Paris Climate Accord, stance on immigration and even defunding of programs that help women across the world have instead allowed another major world power to step in and possibly replace the U.S.'s status as the world's ally, especially in Europe.
That would be China, as evidenced by President Xi Jinping's visit to Germany prior to and just ahead of this week's Group of 20 summit; the nation's economic expansion with its new Silk Road project to connect Europe and Asia; and longtime American allies like France angling for space in China's markets.
Perhaps it was no coincidence Xi came to Germany this week ahead of Trump's visit. He had a dinner with German Chancellor Angela Merkel, herself regarded more highly around the world than Trump, and participated in two events that were essentially to show ties between the two economic powers were strong, according to The New York Times.
Xi and Merkel together opened a new panda garden at the Berlin Zoo, thanks in part to two new Chinese pandas, and he also attended a soccer match between two Chinese and German youth squads.
"Trump facilitates China's narrative of being the new defender of multilateralism and especially global free trade, and China sees Germany as defending that, too, as a kind of sidekick," European Council on Foreign Relations in Berlin scholar Angela Stanzel told the Times. "And it fits into the Chinese idea of creating an alternative leadership to the United States."
China's improving economic relationship with Germany actually started to cement while Trump was running for office last year. In 2016, China was Germany's biggest trade partner at $180 billion, a milestone for China that saw the U.S. slip out of the top spot after just taking it from France the year prior, Fortune reported.
Speaking of France, after new President Emmanuel Macron won his seat in this year's highly contentious election against arch-conservative and anti-globalist Marine Le Pen, China Daily—part of the country's state-controlled media and thus essentially a direct endorsement from Xi—praised Macron's win.
"His triumph strengthens France's place as one of the central pillars of the European Union and bodes well for what it stands for: open trade, the free flow of people and cooperation," the editorial read.
And while fears of Trump starting a trade war with Europe intensified before his second trek to the continent, earlier this year, Xi began to tout China's $900 billion "Belt and Road" initiative that seeks to build up infrastructure from Asia to Europe, Africa and even the Americas. It's a far cry from Trump's decision to pull out of the Trans-Pacific Partnership trade deal and his threats to opt out of NAFTA.
"The Belt and Road initiative is rooted in the ancient Silk Road ... but it is also open to all other countries," Xi told 29 world leaders in Beijing in May.
All of this seems to point to China taking the U.S.'s place as the world's sole superpower. But Forbes made clear following Trump's TPP withdrawal in February that China does have a ways to go before it can create a "global hegemony." For one, China's economic growth has stalled of late and it faces significant questions over whether it can reform certain aspects of its economy, and investors have failed to see much come out of China's financial sector.
But should China make such reforms and open up its financial markets more, in the long run, it could excel and lap the U.S., as well as Trump.