China Says Donald Trump Wrong on Trade and Not Even Americans Support Him
China has hit back at President Donald Trump's recent tweet calling its economic slowdown a success for his trade war, which Beijing warned was bad for both countries—and their people.
Trump said Monday on Twitter that "China's 2nd Quarter growth is the slowest it has been in more than 27 years," touting his 25 percent tariffs on some $250 billion worth of Chinese goods as "having a major effect on companies wanting to leave China for non-tariffed countries."
"This is why China wants to make a deal with the U.S., and wishes it had not broken the original deal in the first place," the president tweeted.
The following day, Chinese Foreign Ministry spokesperson Geng Shuang called the allegation "entirely misleading" at a press conference, arguing that "China is not the only one that wants to conclude a trade deal."
"The U.S. wants it too. American people, especially consumers, strongly oppose the trade war and the additional tariffs on Chinese goods. Their voice speaks volumes," Geng told reporters. "Here I call on the U.S. to work with China, meet each other halfway, and resolve trade disputes through dialogue and consultation with mutual respect and equal treatment. By doing so we will work for a mutually beneficial trade deal. This serves the interests of the Chinese and American people and meets the aspiration of the world."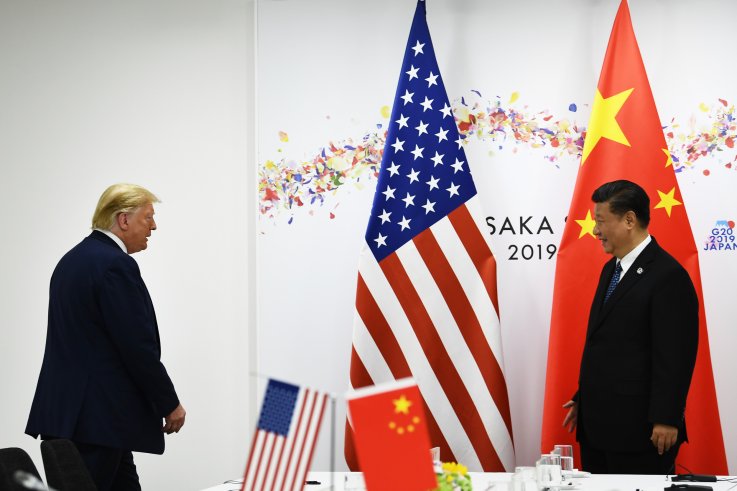 China's National Bureau of Statistics released a report Monday showing a 6.3 percent in GDP growth for the second quarter of 2019, down from 6.4 percent in the previous two quarters and from 6.7 percent a year ago. At a press conference following the figures' publication, China's State Council Information Office told reporters that "with the complicated situation at home and abroad, China's economic growth has maintained a generally stable, steady and progressive development trend."
At Tuesdays' briefing, Geng also defended the growth as "quite a good performance, especially when you compare it with that of other major economies."
"I need to stress that as the world's second-largest economy, for many years, China's contribution to world economic growth has been more than 30 percent," he added. "The stable growth of China's economy is good for the world. It is good for the U.S. economy, too."
Trump tweeted Monday that "we are receiving Billions of Dollars in Tariffs from China, with possibly much more to come" and that his tariffs were "paid for by China devaluing & pumping, not by the U.S. taxpayer!"—a claim that has been widely disputed. Official Chinese Communist Party tabloid Global Times dismissed these words, saying Tuesday that the president "continued picking his one-string banjo and offered an arbitrary conclusion on how the tariffs have been paid for by China, not U.S. taxpayers."

"Trump cannot accept reality as his new-found theory has been refuted by U.S. and international research institutes," the op-ed read, later adding: "U.S. media laughs at China's economic growth while ignoring how their country's growth lags behind. Such delusional behavior inspired by blind over-confidence cannot be easy to handle daily."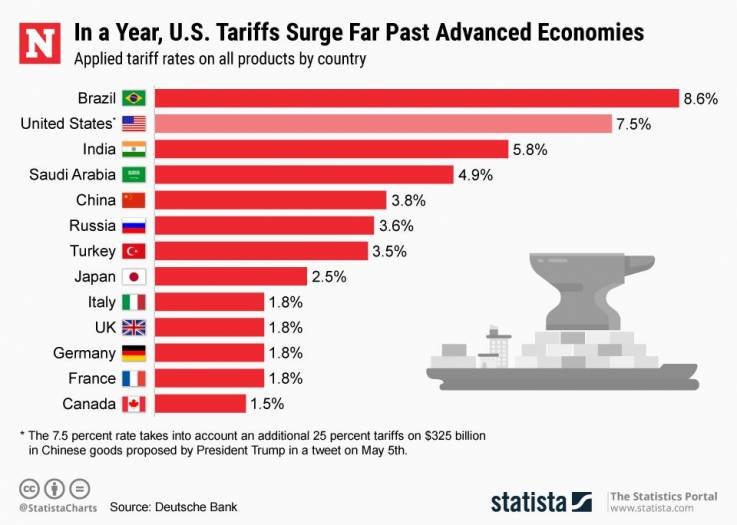 Despite successive rounds of trade talks, the world's top two economies have so far failed to reach a comprehensive agreement to roll back tit-for-tat import taxes first launched last year by Trump, who has accused China of dishonest economic practices that hurt the U.S. economy. Following Trump's meeting with Chinese President Xi Jinping late last month at the G20 summit in the Japanese city of Osaka, however, the U.S. leader appeared willing to backtrack on restrictions based on Chinese telecommunications giant Huawei.
When it came to the overall trade conflict, however, neither side has shown any recent sign of budging and Trump suggested Tuesday during a Cabinet meeting that both sides were not close to an agreement. In an interview given Monday to another official Communist Party newspaper, People's Daily, Chinese Commerce Minister Zhong Shan suggested his country was remaining steadfast in the face of Trump's threats to impose a 25 percent import tax on an additional $325 billion of Chinese products.
"The U.S. side has provoked economic and trade frictions against us and has violated the principles of the World Trade Organization," Zhong told the outlet. "It is typical of unilateralism and protectionism. We must carry forward the spirit of struggle, resolutely safeguard the interests of the country and the people, and resolutely safeguard the multilateral trading system."
A survey conducted last month by USA Today and Suffolk University found that 47 percent of those in the U.S. felt more tariffs on Chinese goods would hurt the U.S. economy, as opposed to 19 percent who said it would be beneficial.
China Says Donald Trump Wrong on Trade and Not Even Americans Support Him | World