Updated | Too bad Mark Swidan and Wendell Brown don't play basketball for UCLA. Unlike the three Bruins players China expelled after President Donald Trump intervened in November, Swidan and Brown could spend another Christmas behind bars in China.
While the UCLA players confessed to a shoplifting spree in Hangzhou, which got them arrested by Chinese police, Swidan and Brown are in Chinese jails after questionable trials and refuse to confess to what they say are spurious charges, even though doing so might gain their releases. Swidan, an erstwhile business consultant and aspiring artist, was detained in his hotel room in November 2012 by police looking to bust a drug ring. Brown, a onetime college football star who was coaching in China, was arrested last year and tried after a dispute in a bar. There has been no verdict in either case, and neither man can afford a lawyer.
"A troubling feature of China's criminal justice system is that a judgment in a criminal trial can be postponed indefinitely after the trial concludes," says John Kamm, an American businessman and human rights advocate who has taken up Swidan's plight.
Both men seem to be victims of evidence that is highly circumstantial at best. Swidan, now 42, was shopping for apartment furnishings in southern China, his mother says, and searching for a source of helium for a company in Houston when he was picked up along with two other people suspected of dealing methamphetamines. The case against him was weak, Kamm wrote on his Dui Hua Foundation blog. "No drugs were found on Mr. Swidan or in his room. No forensic evidence has been produced—no drugs in his system, no DNA on the packages, no fingerprints on the packages or drug paraphernalia—tying Mr. Swidan to the drugs. No emails, letters, or phone calls have been found that link Mr. Swidan to any drug transaction."
Even the indictment against him said he played only "a secondary role in the alleged crime," Kamm wrote, adding that some of the other defendants in the case may have fingered the American to improve their own chances at trial.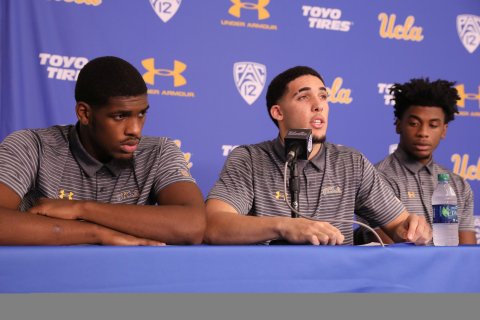 The case against Brown seems even thinner. Like many African-American athletes in China, who are often treated like celebrities, Brown stood out. On September 24, 2016, when he attended a friend's birthday party at a bar in the ancient city of Chongqing, some Chinese men there "wanted to drink with him, but Brown declined," Yahoo Sports columnist Dan Wetzel wrote in November, citing Brown's side of the story. "They got angry and a dispute broke out." The police arrested the American for assault, but Brown, who has a degree in criminal justice from Ball State University, insisted that, "he never hit anyone and only raised his arms to block bottles being thrown at him."
Related: American jailed in China holds little hope of being released
As Thanksgiving approached, Brown seemed to be holding up fairly well behind bars. In letters home to his distraught parents in Detroit, he wrote that he "tried to find peace with everything," through meditation, exercise, a vegan diet and Bible study. His stepfather, a barber, and his mother, a hair stylist, don't have the wherewithal to come up with the $100,000 "in restitution" that a Chinese lawyer told them could obtain his release. As of November 18, their GoFundMe legal defense account had raised $13,526.
Swidan's mother Katherine set up a GoFundMe account that has fared even worse. And he has suffered greatly from his five years in the Jiangmen Detention Center, where, he told his mother last year, prisoners "are forced to make silk flowers with harsh chemicals."
Once a stocky high school wrestler, by mid-2016 he had lost nearly half of his 220 pounds, Katherine says. Despondent, and with his health failing, he told a visiting U.S. consular official for the second time recently that he felt like killing himself. In October, Katherine wrote on Facebook that she had "just received [his] last will and testament from the U.S. consulate in China," and appealed for money to help send him "a box with long underwear, heavy socks [and] long sleeve sweaters," because "there is a harsh winter coming and there is no heat" in the prison. (The Chinese embassy did not respond to a Newsweek request for comment on his case.)
U.S. State Department officers make monthly visits to check on Swidan and Brown, but there's little else they can do without pressure on Beijing from the highest levels in Washington. The White House did not respond to a request for comment on Brown and Swidan.
In November, Brown's mother, Antoinette, was watching TV in her living room when a report came on about Trump complaining he hadn't gotten a public thank you from the three UCLA basketball players he'd claimed he helped get released. They eventually did thank him, but a few days later the president was in a snit again over a remark by Lavar Ball disputing Trump's intervention on behalf of his son and the other UCLA players. "I should have left them in jail!" Trump tweeted.
Brown's mother would be happy to express gratitude to the president. "If Trump helps us, if he helps Wendell, I won't stop thanking him," she says. After all, she told Wetzel, her son was innocent, while the UCLA kids admitted their guilt. "I pray [Trump'll] help get my innocent son out. And if he does, I'll thank him and thank him and thank him."
Swidan's mother says the same. "If he intervened and helped my son get home, I'd thank him," she tells Newsweek. "And I'd thank the president of China, too."
Correction: A previous version of this story mistakenly said that Brown's father was a barberg. Newsweek was referring to his stepfather.