Chinese Ambassador Says 'Destroyed' Uighur Mosques Were 'Being Renovated'
China's ambassador to the U.K. has rejected claims that the country is persecuting its Uighur minority, most of whom are Muslims, and says the country is renovating mosques instead.
Ambassador Liu Xiaoming said China's criminal law does not target specific ethnic groups or religions.
He also accused the U.S. and the West of attempting to scapegoat China.
He said: "The fact is there are about 24,000 mosques in Xinjiang which means there is an average one mosque for every 530 Muslims, this ratio is higher than many Muslim countries and is much higher than the number of churches in England."
He then went on to say that the mosques which were claimed to have been dismantled by the Chinese regime, were in fact "renovated and put to use again."
Throughout the press conference, the Chinese ambassador showed photos and videos which he claimed showed renovated mosques and Uighurs living happily as citizens of China, which Newsweek cannot independently verify.
Ambassador Xiaoming also rejected claims that there had been forced sterilizations of Uighur women in Xinjiang region.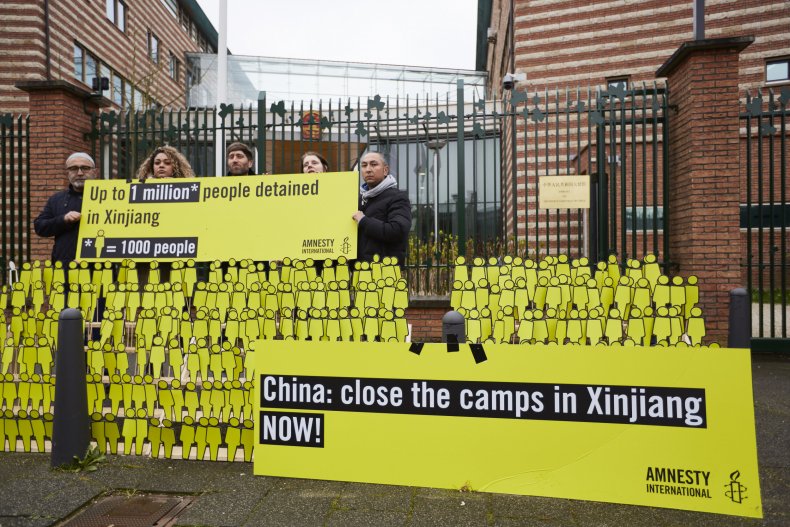 He said: "Over the years, Uighur peoples and other ethnic minorities have enjoyed preferential population policy."
The U.S. and U.K. have accused China of imprisoning more than a million Muslims in China.
Earlier this month, the U.K. accused China of "gross and egregious" human rights abuses against its Uighur population.
British Foreign Secretary Dominic Raab told the BBC that the forced sterilization and wider persecution of the Muslim group were "reminiscent of something not seen for a long time".
The ambassador's latest press conference comes at a time of increasing tensions between the U.K. and China, not only over the plight of Uighur Muslims but also over China's treatment of Hong Kong and Britain's decision to remove Chinese telecommunications company Huawei.
China passed a new security law for Hong Kong which criminalizes secession, subversion, terrorism, and collusion with foreign powers and which has seen widespread protests in Hong Kong, with opponents claiming it undermines democratic freedoms.
After Beijing passed the law, Boris Johnson said China was in "clear and serious" violation of its treaty with Britain and undermined Hong Kong's autonomy.
A former British colony, Hong Kong was handed back to China in 1997 following a 1984 agreement between China and Britain, under the understanding that Hong Kong would be governed under the principle of "one country, two systems", where it would enjoy "a high degree of autonomy, except in foreign and defense affairs" for 50 years.
Ambassador Xiaoming accused Britain of "seriously poisoned the atmosphere of China-UK relationships".
The U.S. had asked the U.K. to exclude Huawei from its 5G network over national security concerns, claiming that Huawei is answerable to the Chinese government, a claim that the company has denied.
Ambassador Xiaoming said: "The issue of Huawei is not about how the U.K. sees and deals with a Chinese company.
"It's about how the U.K. sees and deals with China. Does it see China as an opportunity and partner, or threat and rival? Does it see China as a friendly country or potentially hostile state?"