China Urges U.S. to Stop 'Playing With Fire' After Biden Admin Weighs In on Taiwan
China warned the U.S. on Monday not to play with fire over Taiwan after President Joe Biden's administration weighed in on the issue.
During a press conference, Chinese Foreign Ministry spokesperson Zhao Lijian said that China has noticed the joint statement from the U.S. and South Korea, following Biden's meeting with South Korean President Moon Jae-in.
"We noted the relevant content of the joint statement of the U.S. and the R.O.K. and are concerned about that. We believe that the development of U.S.-R.O.K. relations should be conducive to promoting regional peace, stability, development and prosperity, rather than the opposite, still less harmful to the interests of third parties including China," Zhao said during the press conference.
Zhao continued, "The joint statement mentioned issues related to Taiwan and the South China Sea. The Taiwan question is China's internal affair. It bears on China's sovereignty and territorial integrity and allows no interference by external forces. We urge relevant countries to speak and act prudentially on the Taiwan question and refrain from playing with fire."
The comments from China's Foreign Ministry come shortly after Biden and Moon met on Friday and issued a joint statement mentioning Taiwan.
"We pledge to maintain peace and stability, lawful unimpeded commerce, and respect for international law, including freedom of navigation and overflight in the South China Sea and beyond," the White House said in a U.S.-R.O.K. leaders' joint statement. "President Biden and President Moon emphasize the importance of preserving peace and stability in the Taiwan Strait. As democracies that value pluralism and individual liberty, we share our intent to promote human rights and rule of law issues, both at home and abroad."
Biden and Moon also spoke about Taiwan during a press conference at the White House on Friday.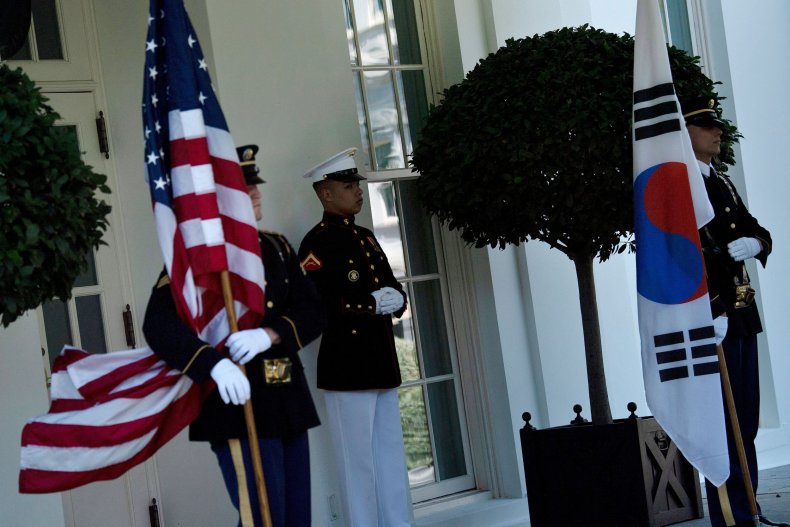 Moon was asked if he and Biden have offered assurances to Taiwan and if Biden has pushed Moon to take a tougher stance on "China's posture towards Taiwan."
In response, Moon said, "Well, fortunately, there wasn't such pressure. But, as for peace and stability in the Taiwan Strait, we agreed how important that region is, especially considering the special characteristics between China and Taiwan. We decided to work more closely on this matter going forward."
With the support of Western nations like the U.S., Taiwan has continued to operate as an independent nation but China has disputed this notion and proceeded to claim it as part of their own territory.
China made similar comments towards the U.S. in April Secretary of State Antony Blinken said that any attack from China on Taiwan "would be a serious mistake."
"What we've seen, and what is of real concern to us, is increasingly aggressive actions by the government in Beijing directed at Taiwan, raising tensions in the Straits," Blinken said during an interview with NBC News' Meet the Press. "All I can tell you is it would be a serious mistake for anyone to try to change the existing status quo by force."
Shortly after Blinken's remarks, Zhao warned the U.S. "not to play with fire on the Taiwan issue."
China also breached Taiwan's airspace with numerous warplanes in the days after Blinken's remarks.
Newsweek reached out to the White House and the Chinese Foreign Ministry for comment but did not receive a response in time for publication.