China Calls U.S. Navy 'Arrogant' After USS John Mccain Collision Accident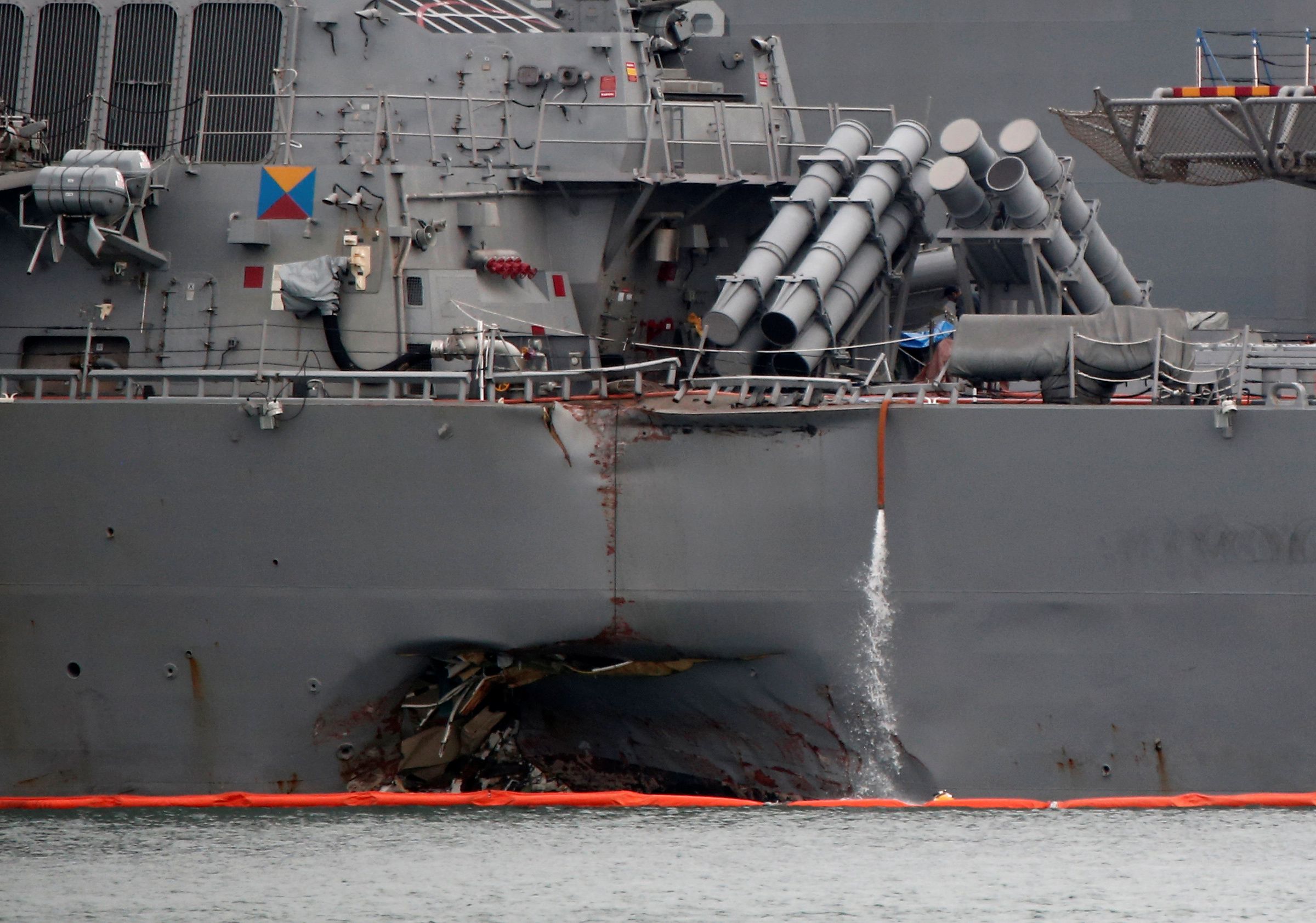 A Chinese state-run newspaper claimed Monday that the most recent collision of a U.S. Navy destroyer with a merchant ship was an example of the U.S.'s "arrogance" in conducting patrols in and around the South China Sea.
The nationalistGlobal Times ran an editorial Monday shortly after the USS John S. McCain was hit by an oil tanker east of Singapore in the Strait of Malacca, with 10 sailors reported missing.
While stating that the collision was an example of the U.S. military's decline and that Chinese society's "applause" indicated the nation's feelings toward the U.S. encroaching on its territory, the opinion piece also claimed the U.S. is not trying to avoid such collisions.
"U.S. warships are constantly involved in accidents around the South China Sea," the op-ed, which is often considered an expression of the Chinese government's opinion, read. "On the one hand, the U.S. Navy has behaved arrogantly in the Asia-Pacific region. It lacks respect for huge merchant ships and fails to take evasive action in time, thus resulting in serious accidents."
The Navy said Tuesday the remains of a number of sailors had been found in a compartment that flooded as a result of the collision. The names of the sailors have not been released yet. Five other sailors were injured and were receiving medical treatment for non-life-threatening injuries.
It was the fourth incident involving a U.S. warship in the Southeast Asian sea. There have been three collisions, and one ship ran aground.
The hotly contested waterway is not only one of the busiest in the world, with as much as a fifth of the globe's maritime trade making its way through the South China Sea every year. It's also one of the most lucrative and thus sought after.
The U.S., as well as the Philippines, Malaysia and several other countries, has contested China's outright claim to the sea. But China has gone a step further over the past several years, constructing man-made islands in the heart of the sea and reportedly installing military equipment and buildings like hangars for warplanes as well as weapons, the Pentagon announced in June.
Along with allies Japan and South Korea, the U.S. has been conducting drills and exercises throughout the South China Sea for some time, both as a way of testing China's territorial claim and to flex military might in the face of North Korean leader Kim Jong Un and his threats of missile strikes against the U.S.