China Slams U.S. Intel Credibility After FBI's COVID Lab Leak Assessment
A Chinese official on Wednesday questioned the U.S. intelligence community's suitability to make scientific judgements, after FBI chief Christopher Wray said COVID-19 likely started as a result of a laboratory accident.
"The FBI has for quite some time now assessed that the origins of the pandemic are most likely a potential lab incident in Wuhan," said Wray, who has been FBI director since 2017.
His comments about SARS-CoV-2, the virus that causes the disease, were made to Fox News on Tuesday. Beijing insists the international community should accept the March 2021 findings of a joint WHO-China report, which said a lab incident was "extremely unlikely."
Additional discussions about the topic amount to "political manipulation" aimed at smearing China, its officials say, despite the WHO's own insistence that origin-tracing work in China should continue.
"Here, you're talking about a potential leak from a Chinese government-controlled lab that killed millions of Americans," Wray said.
"The Chinese government, it seems to me, has been doing its best to try to thwart and obfuscate the work here, the work that we're doing, the work that our U.S. government and close foreign partners are doing. And that's unfortunate for everybody."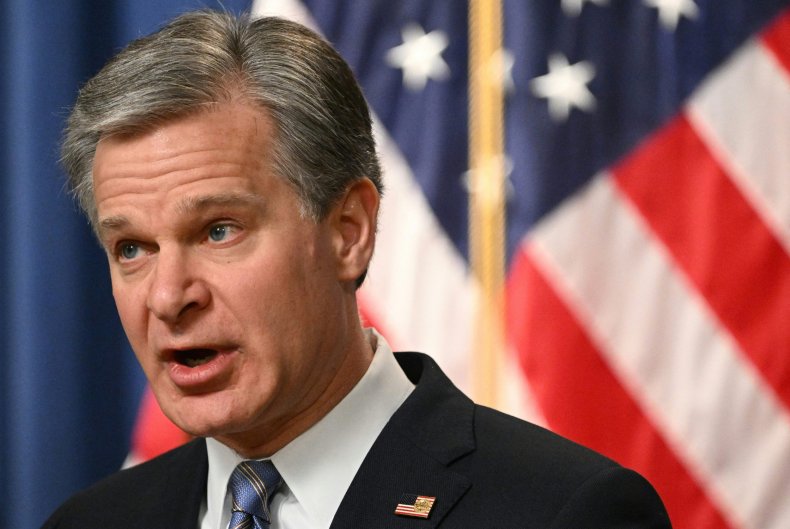 The FBI's assessment with "moderate confidence," along with a "low confidence" assessment by the Department of Energy, mean only two intelligence agencies believe the lab leak theory to be likely.
Two others in the community lean toward natural transmission, while another four are undecided. There's no consensus, but none of the agencies believe the virus was a bioweapon or was released intentionally.
"Putting the intelligence community in charge for a matter of science is a clear sign that the issue has been politicized," said Mao Ning, a spokesperson for China's Foreign Ministry. "Given the U.S. intelligence community's track record of making up stories, there is little, if any, credibility in their conclusions."
China has questioned U.S. intelligence assessments in the past.
In response to Western concerns about the buildup of Russian forces along Ukraine's borders, Chinese diplomat Zhao Lijian said online: "U.S. intelligence is a joke." The social media post, shared just five days before the invasion began, has since been deleted.
Compared to his predecessor, President Joe Biden and his administration have taken a more cautious approach to encouraging China's cooperation in origin-tracing efforts, for the most part aligning their calls with those of the WHO.
Tedros Adhanom Ghebreyesus, the director-general of the U.N. health agency, said last month that he had written to a Chinese official "asking for cooperation because we need cooperation and transparency and the information we asked in order to know how this started."
"So, I assure you that we will continue to push, we will continue to pursue until we get the answer because this is scientifically correct and morally correct to really pursue and understand the answer to the origins and how this pandemic has started," Tedros said at a press conference in Geneva.
Aside from rejecting Wray's assessment, Mao, the Chinese spokesperson, also revived Beijing's own lab leak conspiracy by asking the WHO to look into Fort Detrick, a U.S. Army base in Maryland, where China, in an attempt to draw equivalence with Wuhan, suggests the pandemic may have begun.
At a U.S. Chamber of Commerce virtual event on Monday, Nicholas Burns, America's top envoy to Beijing, said: "If we're gonna do something to strengthen the World Health Organization, then we're gonna have to push China to be more active in it, and to, of course, be more honest about what happened three years ago in Wuhan, with the origin of the COVID-19 crisis."
Do you have a tip on a world news story that Newsweek should be covering? Do you have a question about China? Let us know via worldnews@newsweek.com.