China, U.S. Spar Over Accusations of Vaccine Hoarding, 'High-Sounding' Slogans
The United States called for increased global cooperation at a G20 meeting on Tuesday, while a top Chinese diplomat hit out at countries he accused of hoarding vaccines and spoke of the need for "true multilateralism."
U.S. Secretary of State Antony Blinken joined foreign ministers from around the world at the meeting in Matera, Italy. He spoke of empowering multilateral institutions to defeat COVID-19, fighting global inequality and for nations to work together to battle climate change.
"On these challenges and many others, a strong multilateral system is essential," Blinken said to the group.
"That's why the United States is committed to supporting effective and accountable multilateral institutions," he continued. "We must deliver results—for our countries, our people, and the world."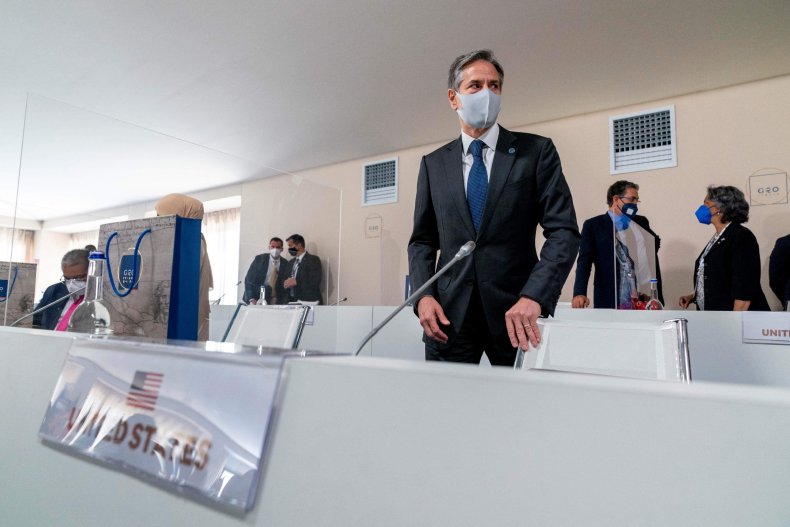 Chinese Foreign Minister Wang Yi appeared virtually for the conference, and his words seemed to address Blinken's message. Although he did not name the United States, Wang said, "It is important for the G20 to lead by example and practice true multilateralism."
"Multilateralism is not a high-sounding slogan, and it cannot become gift-wrapping for the implementation of unilateral action," he added.
Wang also said that "China calls on able countries to avoid export restrictions or excessive hoarding" of vaccines.
Wang noted his country has exported 450 million doses of COVID vaccines. However, the Chinese-made Sinovac vaccine has recently been called less effective than other options by some. Italian Prime Minister Mario Draghi, for one, said the Sinovac was "shown to be inadequate."
Sinovac has been widely distributed in Chile, but that country is currently weighing whether or not to introduce a third dose of the vaccine to protect against new variants.
Additionally, a recent report claimed at least 10 out of 26 Indonesian doctors who died from COVID-19 this month had been fully vaccinated with Sinovac. Although data is still being verified by the Indonesian Medical Association, the country's health experts are considering whether medics should receive alternative vaccine doses.
Also during the G20 meeting, Foreign Minister Christophe Lutundula of the Democratic Republic of Congo called for action to keep COVID-19 from spreading more widely through Africa. He asked for the G20 to aid developing countries in producing their own vaccines.
Italy is the final stop on a week-long European trip for Blinken. Prior to the G20 meeting, he attended a conference on Libya in Germany, as well as met with French President Emmanuel Macron in Paris and Pope Francis at the Vatican.
A meeting among G20 leaders is scheduled for in October in Rome, where U.S. President Joe Biden is expected to have his first summit with Chinese President Xi Jinping.