China Says U.S. Wants World For Itself And That's Why It Can't Accept Beijing's Role in Africa
China has defended its expanding role in Africa after lawmakers in Washington announced they would open an investigation into Beijing's push for economic and military influence in a number of countries there.
House Intelligence Committee Chairman Devin Nunes, a GOP representative from California, said on Fox News's Sunday Morning Futures with Maria Bartiromo that China was "a big problem" and that he and fellow Republican lawmakers were "running an investigation on many aspects of China," including allegations of intellectual property theft, currency manipulation and its "military footprint" in Africa. The following day, the Chinese Foreign Ministry denied charges of malpractice and called for cooperation rather than competition with the U.S.
Related: Russia's and China's Presidents Are Winning Big as They Challenge U.S. and Take Power From West
"There is a Chinese saying which goes 'one's mentality will determine how he perceives the world.' There is also another proverb that [goes] 'if one suspects his neighbor of stealing his ax, all the behaviors of that innocent neighbor appear suspicious to him,' which refers to someone that harbors groundless suspicions in disregard of facts," ministry spokeswoman Hua Chunying told reporters.
"We hope that relevant people in the United States can be more open-minded, and aboveboard and refrain from viewing normal cooperation with tinted glasses or interpreting other countries' goodwill to pursue win-win outcomes with a hegemonic mindset," she added.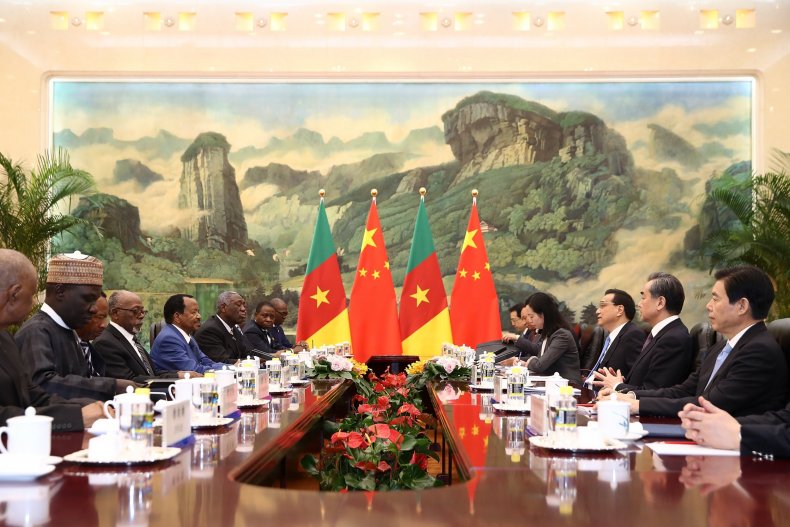 China has a long history of investing in African nations. In January, Chinese Foreign Minister Wang Yi visited the continent for a five-day tour, making it the 28th year in a row a top diplomat from Beijing has chosen the continent for the first annual trip abroad. In addition to investing billions of dollars in construction, infrastructure and energy projects, China opened its first overseas military base last August in the Eastern African country of Djibouti, where the U.S. maintains its own military installation.
Hua described China's plans for Africa as "fairly simple and transparent," saying, "China welcomes African countries aboard the express train of its development and is willing to make positive contributions to promoting the peace, security, development and rejuvenation of African countries."
Around the time Wang departed for his Africa trip in January, President Donald Trump was facing a wave of criticism over alleged remarks in which he referred to African and Latin American nations as "shithole countries." The widely reported comments were derided by African leaders and, though Secretary of State Rex Tillerson attempted to defend the administration and discourage Chinese influence during his debut Africa tour earlier this month, the diplomat was fired just a couple of days into the trip.
China's military and political outreach in Africa is part of Chinese President Xi Jinping's "One Belt, One Road" initiative, which sought to establish lucrative trading routes spanning across Asia, Africa and Europe. Navy Secretary Richard V. Spencer said that China's global spending "keeps me up at night" while speaking with the House Appropriations Committee earlier this month.
As Trump rolled out steep steel and aluminum tariffs earlier this month to punish China for what he said was intellectual property theft and a large trade deficit, Beijing has pledged to "take all necessary measures" to protect its interests, sparking fears of a trade war between the world's two largest economies.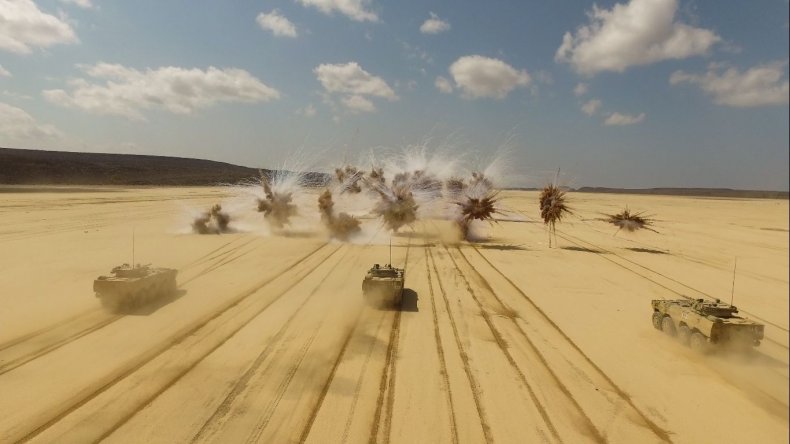 During his interview Sunday, Nunes also argued that Chinese investment "comes with a price" for African countries, claiming "they then want your vote in the United Nations." Top Washington officials and President Donald Trump himself, however, have publicly criticized nations receiving assistance for not supporting U.S. policy at the U.N., including during a vote last December to admonish the president's decision to recognize the disputed city of Jerusalem as the capital of Israel, despite Palestinian counterclaims.
U.S. ambassador to the U.N. Nikki Haley warned at the time that Trump "be watching this vote carefully and has requested I report back on those who voted against us." After losing 128-9, Trump later moved to cut support to the international body following threats that he would not let countries take "hundreds of millions of dollars and even billions of dollars" of U.S. money and then oppose him at the U.N.
China also voted against the U.S. at the time, about two weeks after Trump claimed China and Russia "challenge American power, influence and interests, attempting to erode American security and prosperity" in his "America First" National Security Review. Beijing and Moscow criticized the document, claiming it was a sign of Washington's unwillingness to cooperate with other leading powers.