China-U.S. War Odds 'Decreasing' as Xi Watches Russia: Ex-NATO Chief
Former NATO Supreme Allied Commander James Stavridis predicted on Saturday that the odds of a war between the United States and China are decreasing, thanks in large part to Russia's war in Ukraine.
Stavridis, a retired U.S. Navy admiral, served in the U.S. military from 1976 to 2013 alongside his work with NATO, and now works in the field of global investment and as an expert analyst on various topics for NBC News. On Saturday, he took to Twitter to rebut an NBC News article in which an active military official predicted a conflict with China is coming in the near future.
On Friday, Mike Minihan, a four-star Air Force general and head of Air Mobility Command, issued a memo to his commanders in which he predicted an armed conflict with China in 2025 and urged them to be prepared. The general wrote that, due to the fact that the U.S. and Taiwan will be holding presidential elections in 2024, China will most likely make a move on the latter while the former is "distracted."
A spokesperson for Air Mobility Command confirmed the veracity of the memo to NBC News, though the Department of Defense (DOD) said Minihan's "comments are not representative of the department's view on China."
"The National Defense Strategy makes clear that China is the pacing challenge for the Department of Defense and our focus remains on working alongside allies and partners to preserve a peaceful, free and open Indo-Pacific," Pentagon spokesman Patrick Ryder told the news outlet in a statement.
Stavridis also disagreed with Minihan's take on the situation, explaining that while the military should be ready for anything, Russia's increasingly dire situation in Ukraine has potentially made Chinese President Xi Jinping more cautious.
"The job of the military is always to be ready to fight, but in my view, odds of a war with China are decreasing not increasing at the moment," Stavridis wrote. "The reason? President Xi is watching the Russian debacle in Ukraine and will likely be more cautious as a result."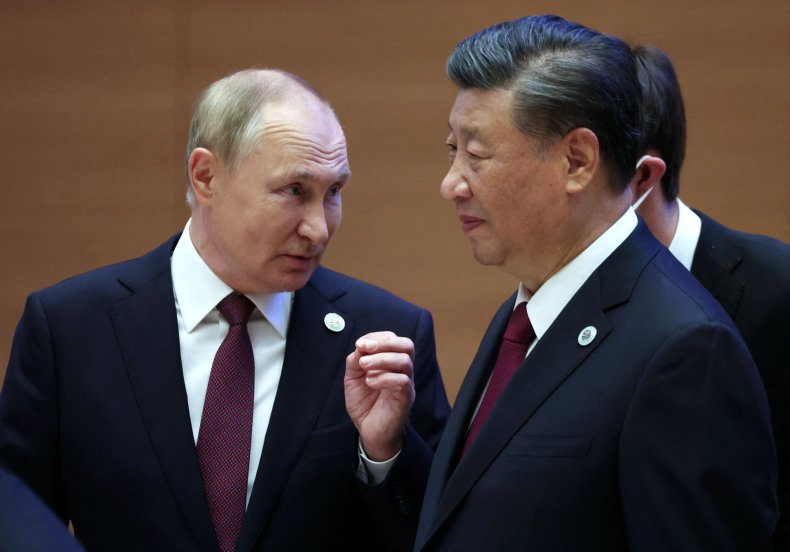 When pressed about the potential for a Chinese invasion of Taiwan, Defense Secretary Lloyd Austin said earlier this month that while China's recent actions have been provocative, an invasion remains a remote possibility in his view.
"What we're seeing recently, is some very provocative behavior on the part of China's forces and their attempt to re-establish a new normal," Austin said. "But whether or not that means that an invasion is imminent, I seriously doubt that."
Lyle Goldstein, director of Asia Engagement for the Defense Priorities think-tank, told Newsweek on Sunday that while Stavridis' take has some merit, it remains merely a hypothesis and other evidence exists to the contrary.
"Most of the evidence suggests that China's military continues its intensive preparations for a Taiwan scenario," Goldstein explained. "These preparations include not only building up its amphibious, airborne, drone, and naval forces, but also an intensive nuclear forces buildup as well. The August 2022 crisis, moreover, shows that Beijing is quite willing to push the envelope when it comes to pressuring Taipei, for example by shooting missiles directly over the island or sending aircraft across the median line of the Taiwan Strait."
Furthermore, Goldstein said that a conflict in Taiwan would not be comparable to Russia's invasion, since Taiwan occupies a much smaller landmass than Ukraine. China's military forces are also considered to be much more disciplined and well-trained than Russia's.
"We are all hopeful, along with Admiral Stavridis, that Beijing's military planners have been sobered by Russia's failures in Ukraine," Goldstein added. "However, it will be wise to apply all due caution in the very different circumstances of Taiwan. Active diplomacy is needed to avert an even worse catastrophe or "sleepwalking" into a great power war with China that could see escalation to the nuclear level."
Updated 01/29/2023, 5:53 p.m. ET: This article was updated with comment from Lyle Goldstein.