China Is Using Lasers to Target U.S. Pilots Flying Over Its Base in Djibouti
Updated | The U.S. Air Force has issued a warning to its pilots in Djibouti regarding Chinese laser weapons being used at a nearby base.
The Chinese facility is Beijing's first overseas military base, and sits just a few miles to the north of the American Camp Lemonnier at Djibouti's Ambouli International Airport. The U.S. military says Chinese troops are using high-powered lasers to interfere with U.S. flights in the area, the South China Morning Post reported.
The military issued a notice to its pilots, later published by the Federal Aviation Administration, urging them to "use extreme caution when transiting near" the Chinese base, citing the use of a "high-power laser" on multiple occasions.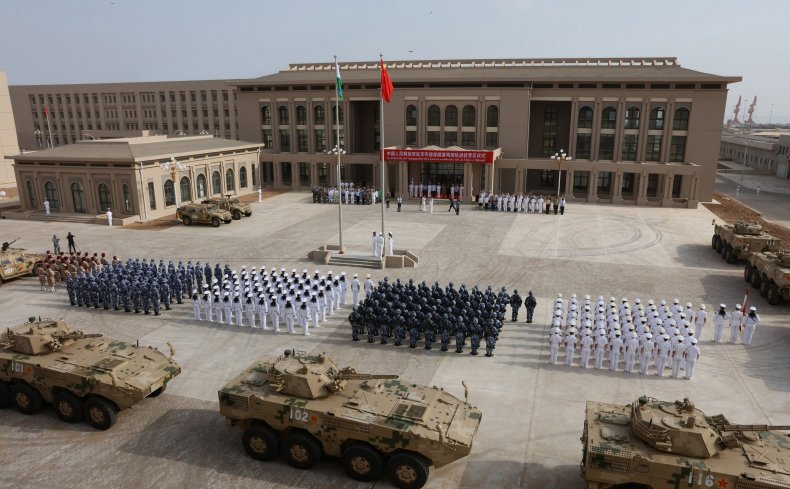 In a press briefing Thursday, Pentagon Chief Spokesperson Dana White told reporters that the "very serious incidents" had resulted in "two minor injuries," noting that Chinese laser use "poses a true threat to our airmen." White said the U.S. has asked China to investigate laser use in the area. "It's a serious matter. And so we're taking it very seriously," White explained. "We expect China to investigate it thoroughly."
Camp Lemonnier is the only permanent American base in Africa and is home to around 4,000 troops. Opened in 2001, the installation has become a vital staging point for U.S. counter-terrorism operations, especially as a regional hub for American drone missions launched from a network of other nearby bases. Initially an 88-acre base, an agreement was signed with the Djibouti government in 2006 to expand the facility to 500 acres.
Chinese military observers told the Post that China's laser use may be trying to scare off birds near its airfield or disrupting spy drones flying above, rather than targeting foreign pilots. Analyst Zhou Chenming told the newspaper, "The Chinese and U.S. bases in Djibouti are really close, so one could disturb the other if the two sides don't have a proper communication mechanism."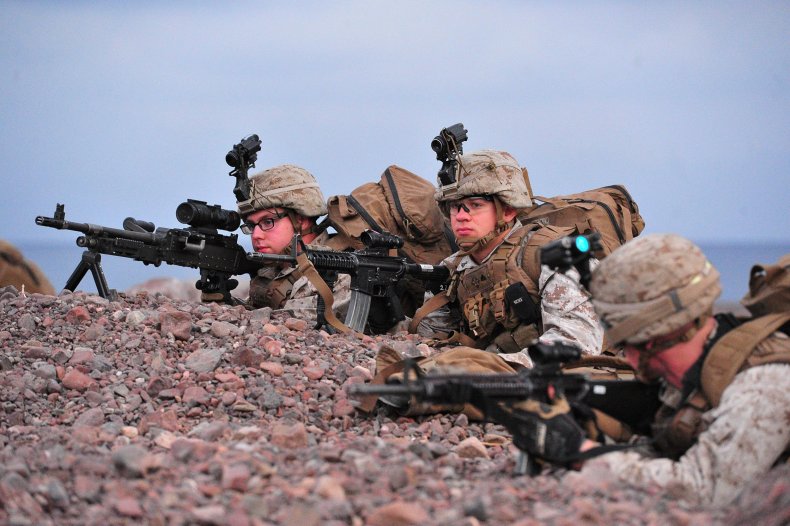 Work on the 90-acre Chinese base began in 2016. The facility was intended as a resupply hub for ships partaking in peacekeeping and humanitarian missions in the area. Troops were deployed within weeks of its completion and quickly began live-fire exercises. It is believed that around 1,000 troops will stationed at the base.
Its location in the Gulf of Aden and proximity to the Suez Canal makes Djibouti a strategically important location. The government has a liberal policy towards foreign bases, and France, Spain and Japan also all have facilities in-country. Some of the world's busiest shipping routes run past the country, and the region is a hotspot for piracy.
China is working on a network of naval and air bases in and around the Indian Ocean as Beijing invests to create a military capable of force projection and increased global influence. The U.S. is watching its strategic rival closely, well aware of China's superpower potential. Still, Beijing has some way to go before it catches up the the U.S., which maintains almost 800 overseas military bases worldwide.
This article has been updated to include comments from Pentagon Chief Spokesperson Dana White.