China Warns Biden Focus on Beijing Challenges Reflects 'Sinister,' 'Deep-Seated Cold War' Mentality
President Joe Biden is hoping pulling troops out of Afghanistan will help him focus on greater threats, including China, a strategy Beijing hit for being reminiscent of the Cold War.
While former President Donald Trump tried to build a new relationship between the U.S. and China, tensions mounted during his final year in office. Biden taking over has done little to temper heightened emotions and China's regularly issuing warnings to the United States that their rhetoric and actions have consequences.
On Thursday, foreign ministry spokesperson Zhao Lijan called remarks from the United States about the challenges China poses reflect a "sinister and deep-seated Cold War" mentality. He added that it was "detrimental" to mutual trust between the two nations and could harm bilateral cooperation on global issues.
Newsweek reached out to the White House for comment but did not receive a response in time for publication.
China and the United States have long had a complicated relationship that's intertwined in trade and certain global interests while being vocal critics of the actions and governing style of the other country. The pandemic only heightened China's status as a global superpower and when picking between the threat of the Taliban and China, Biden sees a need to focus on Beijing.
"Rather than return to war with the Taliban, we have to focus on the challenges that are in front of us," Biden said on Wednesday. "We have to shore up American competitiveness to meet the stiff competition we're facing from an increasingly assertive China."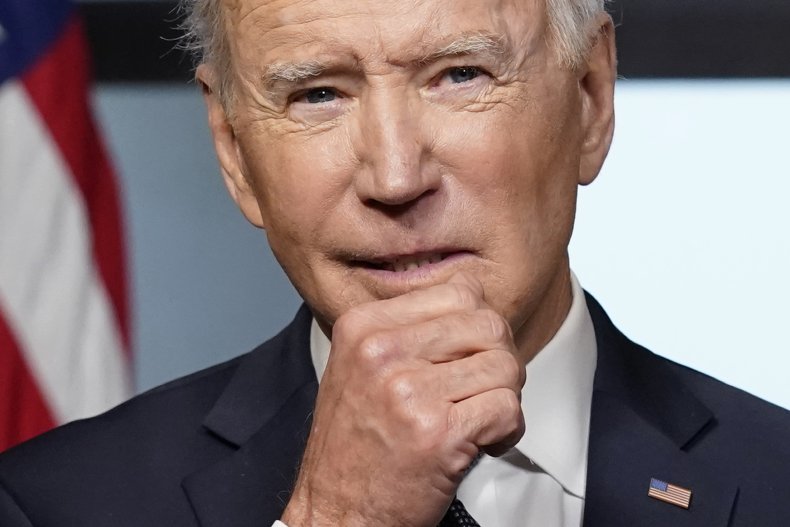 This isn't the first time Biden has shown he plans to focus on China and ensuring America can compete on a global scale. At a time when China was capitalizing on the unrest in the United States as evidence America's governing style is a failure and Russia was focused on autocracy, Biden said the U.S. has "to prove democracy works."
"We're going to invest in medical research…industries of the future," Biden said. "China is out investing us by a long shot, because their plan is to own that future."
Removing troops from Afghanistan could potentially free up billions of dollars each year to make the investments Biden feels are necessary to keep America competitive.
Making his announcement from the same room in the White House where former President George W. Bush announced the U.S. started striking terrorist training camps in Afghanistan in 2001, Biden said he supported the decision to enter Afghanistan. However, having accomplished the goal of ensuring Afghanistan won't be "used as a base from which to attack our homeland again," he said it was time to leave.
Along with accomplishing the goals that sent the U.S. to Afghanistan in the first place, Biden noted that the "terror threat" is in "many places" so keeping thousands of troops in one place "makes little sense."
"We cannot continue the cycle of extending or expanding our military presence in Afghanistan, hoping to create ideal conditions for the withdrawal, and expecting a different result," Biden said.
Biden plans to begin pulling forces out of Afghanistan on May 1 and will be fully out of Afghanistan by the 20th anniversary of the September 11 attacks.
The decision has been met with mixed reactions, with some backing Biden to get out of seemingly endless war, and others foresaw the pull-out fueling a Taliban resurgence.
Among those criticizing the plan was China, who called the situation in Afghanistan "complicated and grave." Zhao added that "terrorism is far from being eradicated," and withdrawing troops could give way to militant forces "taking advantage" of the "potential chaos."
The White House has assured pulling troops out of Afghanistan will be done in a responsible manner.