China Warns of 'Final Madness' in Last Days of Trump Presidency
Beijing has warned that President Donald Trump's administration is intensifying hard-line U.S. measures against China in the final days of the Republican leader's tenure in office, a period marked by political chaos and instability in Washington.
As the U.S. capital continues to assess damage dealt Wednesday to the Capitol Building by violent pro-Trump protesters and prepares to host President-elect Joe Biden's inauguration in less than two weeks, Chinese officials have been watching closely to assess the potential impact of these events on U.S. foreign policy.
The Trump administration has levied an unremitting barrage of criticism against China. Even as the nation was left reeling by the Capitol riots, Secretary of State Mike Pompeo released a salvo of statements criticizing the ruling Chinese Communist Party, which he has designated the top threat to global trade, human rights and international security.
In response, China has singled out the top U.S. diplomat as a troublemaker taking advantage of the last weeks of the Trump administration.
"We have noticed that for a period of time, a few anti-China politicians in the Trump administration, or Pompeo and his like if you will, have put on stage their 'final madness,'" Chinese Foreign Ministry spokesperson Hua Chunying told reporters on Friday.
She accused him of "unscrupulously using the remaining days in office to sabotage China-U.S. relations and serve their personal political gains."
She emphasized the importance of the U.S.-China relationship.
"We also urge the U.S. side to return to reason and stop any words and deeds that undermine bilateral relations," Hua added. "China will take all necessary measures to resolutely safeguard its own sovereign and security interests. If the U.S. side insists on going its way, it will pay a heavy price for its wrong words and deeds."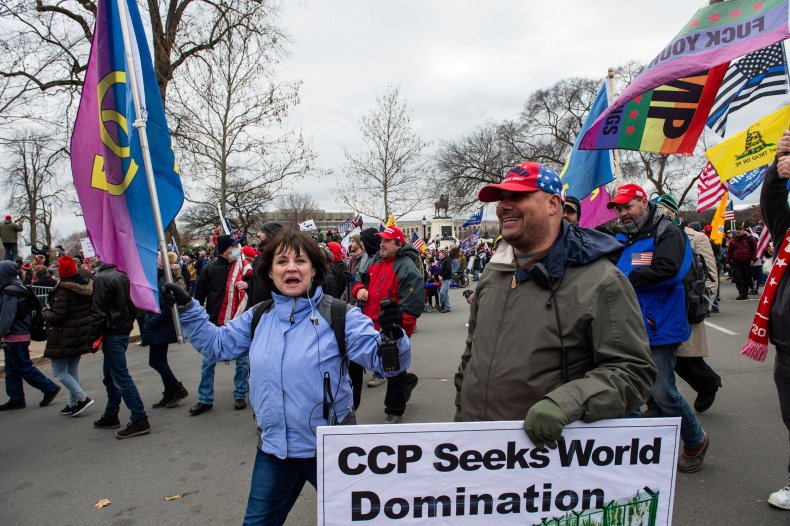 Much of Pompeo's recent rhetoric has targeted Chinese actions in Hong Kong, a former U.K. colony returned to China as a special administrative region in 1997. Legislation imposed by Beijing earlier this year consolidated central government control over the semi-autonomous city in response to long-running and sometimes violent demonstrations, which drew support from by Washington.
Hua said she saw contradictions in the enthusiastic U.S. support for Hong Kong protesters, who also stormed the city's legislature in July 2019.
"Similar scenes played out in the United States but were reported by some press in different words," Hua pointed out. "Protesters were 'thugs' and 'domestic terrorists' when they stormed the Capitol Hill, but were 'democratic fighters' and even 'heroes' when they stormed the Hong Kong LegCo. It would be difficult if not impossible to find a better definition for double standard."
But after up to 50 opposition politicians and activists were recently arrested in a sweep targeting those seeking greater independence from Beijing, Pompeo quickly censured the move, threatening sanctions and other harsh measures.
"The United States will not stand idly by while the people of Hong Kong suffer under Communist oppression," Pompeo said in a statement Thursday.
He then pivoted to another geopolitically sensitive region for China: Taiwan. The self-ruling island has been claimed by China ever since the communists' 1949 victory over nationalists. But the successors to the nationalists continue to receive political and military assistance from the U.S. despite losing formal diplomatic recognition from the U.S. more than four decades ago.
Trump, who first broke precedent with Taiwan by accepting a congratulatory phone call from Tsai Ing-wen upon his election in 2016, has expanded informal ties to Taipei. On Thursday, Pompeo stated that U.S. ambassador to the United Nations Kelly Craft would make an unprecedented visit to Taiwan next week, just days before Biden was set to take office.
Pompeo referred to Taiwan as "a reliable partner and vibrant democracy that has flourished despite CCP efforts to undermine its great success," calling it an example of "what a free China could achieve."
This has predictably infuriated Chinese officials, who consider the move a violation of Washington-Beijing agreements recognizing the People's Republic as the sole representative of China.
"China firmly opposes any form of official ties between the United States and the Taiwan region," Hua said. "This position is consistent and clear."
This stance was also shared by the Chinese Defense Ministry, where spokesperson Senior Colonel Tan Kefei condemned a recent "political-military dialogue" between U.S. and Taiwanese officials as interference in "China's internal affairs."
"We demand that the U.S. immediately stop any form of official and military contacts with Taiwan," Tan told a separate press conference. "The Chinese People's Liberation Army will use its firm will and strong ability to defeat any form of external interference and separatist plots for 'Taiwan independence,' resolutely defend national sovereignty and territorial integrity, and resolutely safeguard peace and stability across the Taiwan Strait."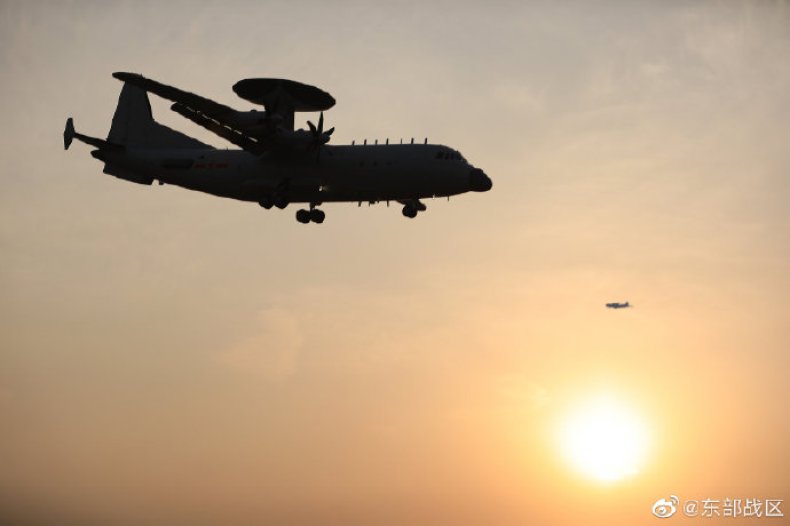 Last week, the U.S. conducted a rare double warship pass through the disputed waterway separating mainland China from Taiwan, both of whose forces responded in order to monitor the movements of Arleigh Burke-class guided-missile destroyers USS John S. McCain and USS Curtis Wilbur. Chinese officials then issued a strong warning against further U.S. military activities there.
But the Navy has asserted its forces "will continue to fly, sail and operate wherever international law allows."
This stance also applies to the nearby disputed waters and islands of the South China Sea, and a Navy spokesperson recently told Newsweek that "we expect the PLA to operate in accordance with the same."
"The vast majority of U.S. military interactions with the PLA, not just in the South China Sea but throughout the region, are safe and in accordance with international norms," the spokesperson said. "Attempts to misconstrue or sensationalize our operations are irresponsible and counterproductive."
But as the Trump administration is set to conclude, the South China Sea Probing Initiative warned Newsweek last month that "the risk of conflict is rising" between the U.S. and China.
The Chinese think tank composed of an international array of analysts offered a potential roadmap for tensions but was skeptical it would be followed given the tensions between the two nations.
"The U.S. needs: 1) to refrain from 'taking sides' on disputed issues and maintain necessary policy balance; 2) to avoid extreme moves on the front line," the initiative's team said. "However, under the backdrop of the great power competition, both mentioned above are hard to be seen."