China Warns Hong Kong Security Law Is 'Sword Hanging Over Heads' of Lawbreakers
China recently warned that the new Hong Kong security law will act as a "sword" threatening lawbreakers and those who endanger national security in the country.
"For the small minority who endanger national security, this law will be a sword hanging over their heads," said China's Hong Kong and Macau Affairs Office, according to the Hong Kong Free Press (HKFP).
China's state-run Xinhua News Agency said President Xi Jinping signed the law on Tuesday following a unanimous vote to adopt it by all 163 members of China's top legislative body, the HKFP reported.
Despite referring to the new law as a sword, the Hong Kong and Macau Affairs Office said that for the vast majority of Hong Kong residents and foreigners there, the measure is a "guardian spirit that protects their freedoms," according to the HKFP.
The office's statement added that the central and city governments would jointly ensure that the law is implemented and "usher in a turning point, for chaos to turn into governance," the HKFP said.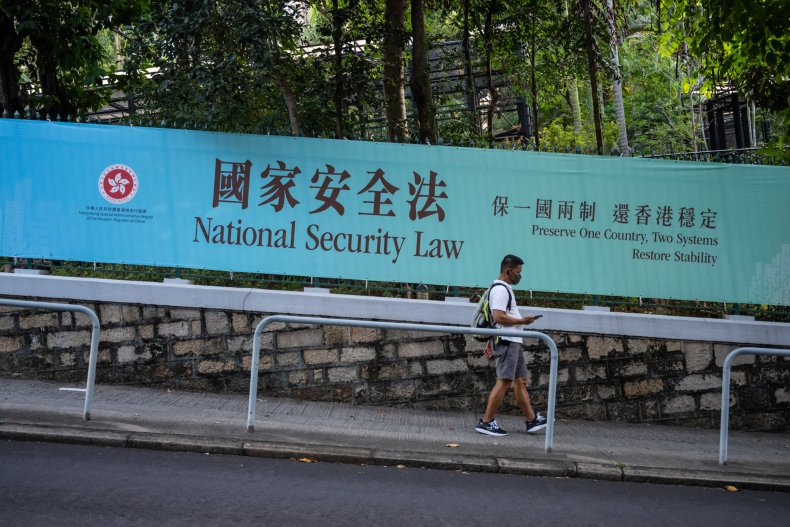 Exact details of the law were not fully provided, but according to Xinhua, it contains six articles and 66 clauses and will go into effect immediately. The news agency previously reported that the law would criminalize treason, sedition and secession in Hong Kong.
Hong Kong Chief Executive Carrie Lam recently spoke favorably of the new law, according to CNN. "Safeguarding national security is the constitutional duty of the Hong Kong Special Administrative Region. The HKSAR government welcomes the passage of the national security law" by China's National People's Congress Standing Committee, she said.
Lam added that the law "seeks to practically and effectively prevent, curb and punish four types of crimes seriously endangering national security." She confirmed that they include "acts of secession, subversion of state power, terrorist activities and collusion with foreign or external forces to endanger national security."
"I am confident that after the implementation of the national security law, the social unrest which has troubled Hong Kong people for nearly a year will be eased and stability will be restored, thereby enabling Hong Kong to start anew, focus on economic development and improve people's livelihood," Lam said in her statement, according to CNN.
Since the law was first introduced in May, it has received widespread criticism from human rights activists, lawmakers in Hong Kong and politicians across the globe. As a proposed measure, it sparked widespread protests by Hong Kong residents.
Newsweek reached out to the Chinese ambassador to the U.S. for comment on the law but did not receive a response before publication.