China Warns Japan Not to Incite Trouble Over 'Diaoyu Islands,' Says Situation Could Escalate, Deteriorate
As Japanese Prime Minister Yoshihide Suga prepared to join President Joe Biden for a joint press conference in Washington, China is issuing warnings to its East Asian neighbor over a territory at the center of a hostile dispute between the two nations. The contested islands are called the Diaoyu Islands by China and the Senkaku Islands by Japan.
Suga will appear with Biden in the White House's Rose Garden late on Friday following the two leaders' first face-to-face meeting, according to White House advisories. The conference is likely to include such topics as the coronavirus pandemic, climate change and China's repression of the Uyghurs, an ethnic group native to the Xinjiang region.
China's military expansion is also expected to receive mention, a prediction China is both counting on and already working to suppress. Beijing and Tokyo have clashed over the uninhabited islands as China expands its presence in the East China Sea.
Despite long-standing Japanese control of the archipelago, China began asserting its sovereignty over the islands in the late 1970s due to the discovery of oil reserves and their key location near shipping routes and fishing.
Chinese Foreign Ministry spokesperson Zhao Lijian advised Japan not to bring the conflict to a boiling point during a Friday press conference and accused the nation of trying to incite escalation by sailing its fishing vessels in the territory.
"Diaoyu Islands and its affiliated islets are China's inherent territory, and China is determined and resolved in safeguarding its territorial sovereignty," Zhao said, according to state-owned Chinese media. "We once again urge the Japanese side to honor its four-point principled agreement with China, effectively strengthen internal control and prevent the situation from deteriorating and escalating."
China has been subjected to sanctions for its human rights abuses by major world powers, except for its trading partner Japan.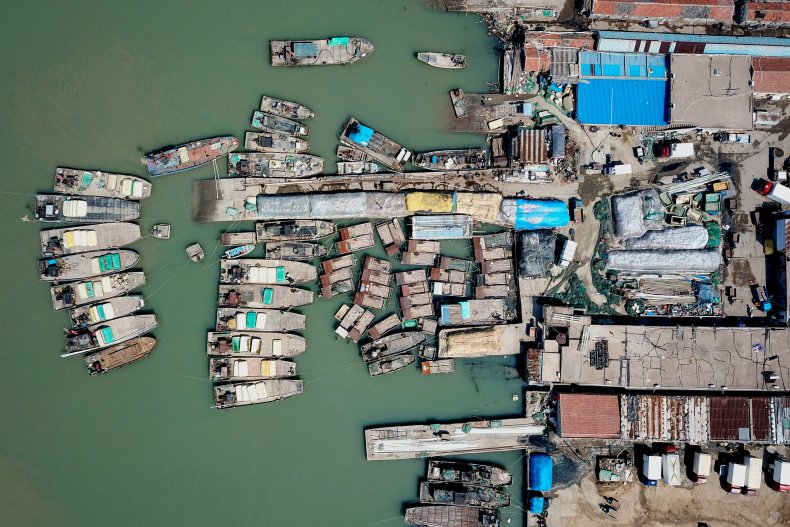 In February, Biden spoke on the phone with Chinese President Xi Jinping over concerns about Beijing's "coercive and unfair" economic practices, as well as abuses of power in Hong Kong and persecution of the Uyghurs. China's aggression in East Asia, including Taiwan, is also predicted to be part of Biden and Suga's joint statements on Friday.
Japan has received criticism for being noticeably silent on most of the issues Suga is expected to address with Biden, according to the BBC.
China's state-owned cable news service CGTN said Zhao is unhappy about possible "collusion" between Japan and the U.S. over Taiwan.
The White House did not respond to Newsweek's request for comment in time for publication.