China Warns Tourists in U.S. to Beware Mass Shootings, Robberies and Overpriced Healthcare
China has warned its tourists in America to beware "highly frequent" gun violence, robberies and expensive healthcare.
On Saturday, the Chinese Embassy in Washington issued a notice to travellers who are in the U.S. or planning a trip for the approaching summer, as reported by People's Daily.
The warning told Chinese citizens to purchase medical insurance due to high costs of care, prepare for strict immigration checks, and beware "frequent" shootings and robberies.
"During the U.S. tour, you should beware of surrounding suspicious individuals and avoid going out alone at night," the statement said. "If you are in danger, please calmly deal with it and call 911 to call the police."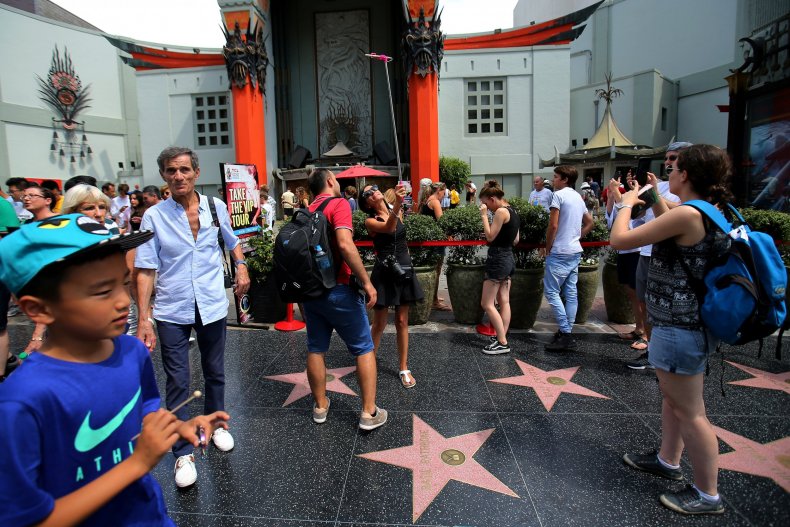 The notice then provided citizens with advice when confronted by law enforcement officials upon arrival. "The U.S. Border Customs law enforcement officers have the right to inspect all immigration personnel (including U.S. citizens), check their nationality, purpose of entry, and carrying articles, including luggage, electronic equipment, and automobile," the notice said.
"If the parties think that law enforcement officers have improper enforcement or discriminatory practices, please keep the relevant evidence and then make a complaint to their superiors in person."
The statement ended on a warning regarding global telecom fraud against Chinese citizens, which has reportedly soared in recent years. "If you receive a message from a stranger notifying you of a 'traffic accident' or 'kid kidnapped', you must be calm and wait until the situation is verified through other channels. If you are deceived, you should promptly report to the local police in the United States."
Last year, over three million Chinese citizens travelled to America, reported South China Morning Post. The U.S. Department of Commerce has predicted that the number will rise to 4.5 million by 2022. In 2016, Chinese travellers spent an estimated $261 billion abroad, a figure that more than doubles that of U.S. tourists.
The embassy warning comes amid a rise in immigration checks on visitors entering the U.S. and an increase in gun violence. Last year, a U.S. customs agency spokesperson revealed that 4,444 cellphones and 320 other devices were inspected in 2015.
In February, China's official ruling Communist Party newspaper, The Global Times, criticized the U.S. for its handling of gun violence after a school shooting at Marjory Stoneman Douglas High School left 17 people dead.
In the report, the paper urged the U.S. government to "impose harsh restrictions on gun purchases. The US has no other choice but to adopt gun control. The right of life is the most fundamental human rights. The right to bear arms cannot overpower the individual's right to live," the article said.
The Department of Homeland Security did not immediately respond to a request for comment.