China Warns Donald Trump There Will Be Consequences for Sanctions Over Arms Purchases From Russia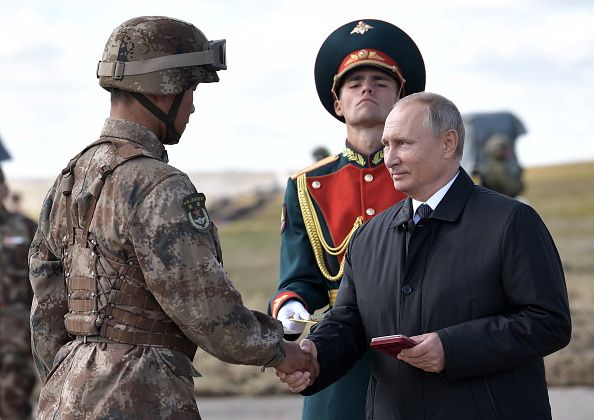 Hours after the State Department sanctioned China's Equipment Development Department (EDD) for having purchased weapons from Russia's military, Beijing has warned Washington of consequences.
The sanctions were issued under the Countering America's Adversaries Through Sanctions Act (CAATSA), which provides a blacklist of Russian people and entities that others can be sanctioned for doing business with. Because China's EDD had purchased a missile defense system and combat aircraft from Russia's state arms export company, which is on the CAATSA blacklist, the EDD and its director were sanctioned. It was the first time the government used CAATSA, which is aimed at decreasing the amount of money Russia's military can make.
The sanctions "seriously violated the basic norms of international relations, and seriously damaged the relations between China and the United States," Chinese Foreign Ministry spokesman Geng Shuang told reporters on Friday. "We strongly urge the U.S. to immediately correct the mistakes and withdraw the so-called sanctions. Otherwise, the U.S. must bear the consequences."
It is unclear exactly what consequences Cina has in mind. The U.S. and China are currently engaged in a trade war in which each country continuously raises sanctions on the other. Trump recently announced new tariffs on an additional $200 billion worth of Chinese goods, and China immediately responded by issuing tariffs on an estimated $60 billion worth of U.S. products. The escalation has been ongoing since January.
U.S. officials were quick to point out that Thursday's sanctions were more about Russia than China. But analysts say that Turkey, which is currently experiencing an economic crisis, is the country that should worry most about CAATSA.
The North Atlantic Treaty Organization (NATO) member plans to purchase the same S-400 missile defense system from Russia that China purchased. Other NATO members warned Turkey against buying the system, but Ankara has remained steadfast in its plan.
"I wanted to buy from the U.S. for the last 10 years; it didn't work. I couldn't buy from NATO allies, so Russia gave me the best proposal. And now I'm buying from Russia," Foreign Minister Mevlüt Çavuşoğlu told reporters on the sidelines of a NATO summit in July.
U.S. officials warned that Turkey could face sanctions if the purchase went through.
The two countries have a strained relationship. In recent months, Turkish President Recep Tayyip Erdoğan and President Donald Trump have traded insults over the incarceration of American pastor Andrew Brunson and the lira currency crisis.