China Warns U.S., Five Eyes Allies to Back Off Over Hong Kong Elections
The Chinese Embassy in Canada has hit out at the U.S. and its Five Eyes allies over a joint statement criticizing the postponement of local elections in Hong Kong, as the Anglosphere intelligence-sharing coalition continues to apply pressure on Beijing.
The foreign ministers of the U.S., U.K., Canada, Australia and New Zealand issued their statement Sunday condemning China for disqualifying a raft of pro-democracy candidates for the Legislative Council elections in Hong Kong and for postponing the poll.
Authorities said the election was postponed for a year over coronavirus concerns, but critics have argued that Beijing is using the pandemic as an excuse to suppress the region's pro-democracy movement, prominent members of which may now face long prison terms under Hong Kong's new controversial national security law.
The foreign ministers said the Chinese moves "have undermined the democratic process that has been fundamental to Hong Kong's stability and prosperity," and expressed their "deep concern at Beijing's imposition of the new National Security Law, which is eroding the Hong Kong people's fundamental rights and liberties."
Newsweek subscription offers >
Chinese embassies in Five Eyes nations have been at the forefront of Beijing's pushback against Western democracies. Beijing has attacked interventions by Five Eyes nations and accused its rivals of meddling in its domestic affairs and stirring up separatist and subversive activity in Hong Kong—both now illegal under the national security law.
The Chinese Embassy in Ottawa responded to the Five Eyes statement Monday, according to The South China Morning Post. "The statement made by Canadian and other foreign ministers ignored the facts, harboured ulterior motives and toyed with double standards, interfered in China's internal affairs, and was full of arrogance and prejudice," the statement said.
Newsweek subscription offers >
The embassy accused the foreign ministers of "seriously violating international law and the basic norms of international relations."
China's suppression of pro-democratic dissent in Hong Kong has galvanized liberal democracies to push back on Beijing's authoritarianism. It has helped push such nations to re-evaluate their ties with China, combined with the COVID-19 pandemic (which appears to have originated in China), Beijing's oppression of Muslim minority groups in Xinjiang, belligerence in territorial disputes, malign trade practices and concerns over Chinese technology companies.
Hong Kong and Chinese authorities have arrested prominent pro-democracy leaders and harassed media organizations, accusing them of violating the national security law which prohibits the broadly defined crimes of secession, subversion, terrorism and collusion with foreign nations.
Those convicted of the most serious crimes in these categories can be extradited to the Chinese mainland for trial, where they will almost certainly be found guilty. Those convicted may face life imprisonment.
Despite the danger, Hong Kongers have continued to protest encroachment from Beijing. Public demonstrations have continued despite arrests, while pro-democracy forces had been organizing to fight the now-delayed LegCo elections.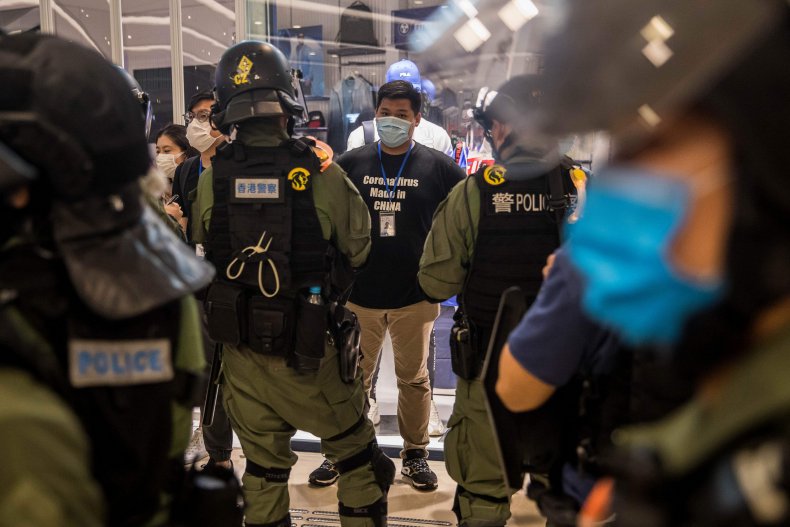 China Warns U.S., Five Eyes Allies to Back Off Over Hong Kong Elections | World