China Warns U.S. 'Not to Play With Fire' After Warplanes Descend on Taiwan Airspace
China warned the U.S. on Tuesday "not to play with fire" after the Asian nation sent warplanes into Taiwan airspace.
During a press conference, Chinese Foreign Ministry spokesperson Zhao Lijian was asked about the U.S. updating its guidelines with Taiwan encouraging engagement between the two nations.
In response, Zhao warned the U.S. "not to play with fire on the Taiwan issue, immediately stop any form of U.S.-Taiwan official contacts, cautiously and appropriately handle the matter, and not send wrong signals to Taiwan independence forces so as not to subversively influence and damage Sino-U.S. relations and peace and stability across the Taiwan Strait," according to Reuters.
The comments by the Chinese Foreign Ministry come amid increased tensions between the U.S. and China and their relations with Taiwan.
Taiwan has long operated as an independent nation with support from Western nations such as the U.S. but China has continued to claim it as part of their own territory.
On Monday, Taiwan's Defense Ministry said that China had sent 25 warplanes into the smaller Asian nation's air defense identification zone (ADIZ) including fighter jets and a nuclear-capable bomber, according to Reuters. China further breached Taiwan's ADIZ on Tuesday, when they sent four J-16 fighter jets and an anti-submarine warfare aircraft.
According to CNN, the breach of Taiwan's air defense identification zone on Monday was the largest since the Asian island nation began reporting airspace activity in September.
Prior to China breaching Taiwan's airspace on Monday and Tuesday the U.S. issued two different remarks showing support for Taiwan as a nation independent from China.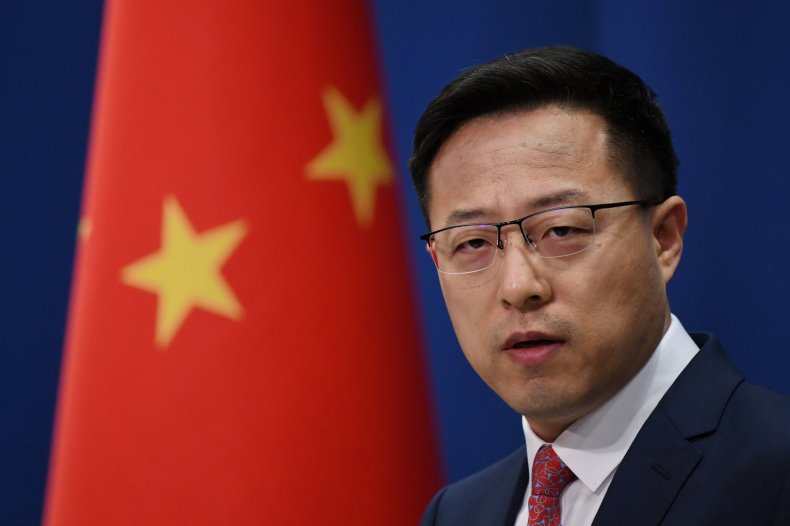 "The Department of State has issued new guidelines for U.S. government interaction with Taiwan counterparts to encourage U.S. government engagement with Taiwan that reflects our deepening unofficial relationship," the State Department wrote in a press release on April 9. "The guidance underscores Taiwan is a vibrant democracy and an important security and economic partner that is also a force for good in the international community."
On Sunday, Secretary of State Antony Blinken warned that any attack from China on Taiwan "would be a serious mistake."
"What we've seen, and what is of real concern to us, is increasingly aggressive actions by the government in Beijing directed at Taiwan, raising tensions in the Straits. And we have a commitment to Taiwan under the Taiwan Relations Act, a bipartisan commitment that's existed for many, many years, to make sure that Taiwan has the ability to defend itself, and to make sure that we're sustaining peace and security in the western Pacific," Blinken said while appearing on NBC News' Meet the Press. "We stand behind those commitments. And all I can tell you is it would be a serious mistake for anyone to try to change the existing status quo by force."
A State Department spokesperson echoed Blinken's comments telling Newsweek that the U.S. is committed to its relationship with Taiwan and will back the nation to preserve shared principles.
On the other hand, just last week, Zhao said that the U.S. sending warships around Taiwan and near the South China Sea "provoke and stir up trouble, sending gravely wrong signals."
Newsweek reached out to the Chinese Foreign Ministry for comment but did not receive a response in time for publication.