Giant Boulder Crushes Car With Children Inside in Dramatic Video
Rescuers in southern China said at least one person was injured when a giant boulder rolled off the side of a mountain and crushed a row of parked cars on Sunday.
Bystanders who witnessed the incident outside a market in the Lingui district of Guilin, a city in the Chinese region of Guangxi, said two young children were trapped in the back of one vehicle before being freed by firefighters. Their mother, who was in the market, had left them in the car, witnesses said.
Dashcam footage and surveillance video circulated on Weibo, China's main social media website, showed the moment pedestrians fled the area as the large boulder came tumbling down the mountainside at just after 5 p.m. local time on July 3.
One woman was seen running away just moments before the huge rock rolled onto several cars, including the black sedan in which the two children were said to have been trapped. Video taken in the aftermath of the incident showed at least two cars that appeared to have been completely flattened, but witnesses said the children survived in a space in the back of their mother's vehicle.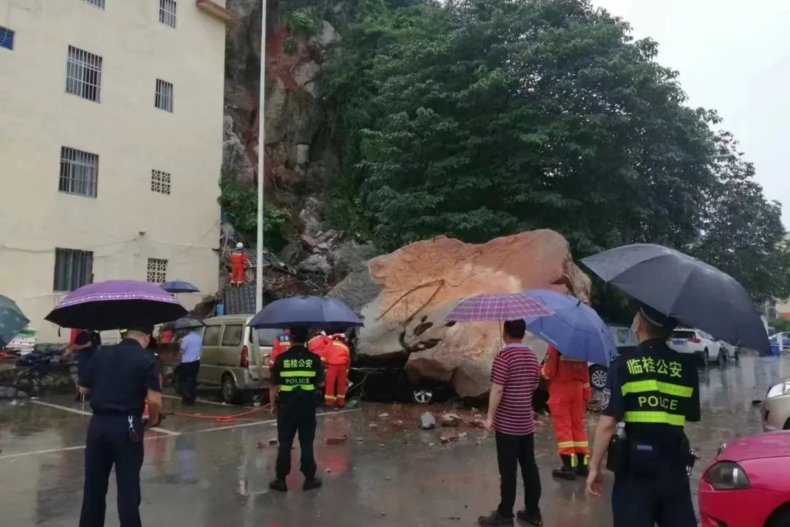 Officials with the district's emergency management office confirmed at least one victim was injured, although the individual's identity, including their age and gender, hadn't been disclosed to the press at the time of publication.
Guilin police did not respond to Newsweek's request for comment.
A spokesperson for the district government told local media on Monday that the victim's injuries were not serious and that the area where the boulder was had been cordoned off for safety reasons. She said the incident was likely caused by recent torrential downpours.
The market's owners were in discussions with the local government about how best to fortify the mountainside under which the market was operating, they said.
Guangxi has been battling heavy rains for weeks as China enters its annual flood season. The country's national weather service is tracking Chaba, a typhoon that was downgraded to a tropical depression this week.
At a press conference on Monday, officials of the China Meteorological Administration said Chaba's eye was above Guangxi and moving further inland at about 10 miles per hour.
The storm has already brought heavy rain and winds to much of southern China and was expected to cause more downpours through Wednesday.
China's flood season, which has arrived two weeks early this year, typically triggers widespread flooding and landslides across the southern and central parts of the country.