Beijing challenged President Donald Trump's basis for the ongoing trade war between China and the U.S., saying that America's trade deficit is actually 37 percent of the figure claimed by Washington.
U.S. government figures indicate that the trade deficit was nearly $419 billion in 2018. However, China's Ministry of Commerce published a statement Thursday claiming that, when accounting for services and processing trade, the gap between the two countries is actually $153 billion.
While questioning the basis for the trade war, China also signaled that it would not compromise key elements of its economic operations.
"There are principles in cooperation and there is a bottom line in talks," Gao Feng, a spokesman for the Commerce Ministry, said. "China will never give in on major issues of principle."
Edward Gerwin, senior fellow at the Progressive Policy Institute, said that the difference in numbers likely indicated that the Chinese government was using an another, nontraditional measure to calculate its figures. But he noted that Trump regularly talks about the trade deficit regarding import and export of goods.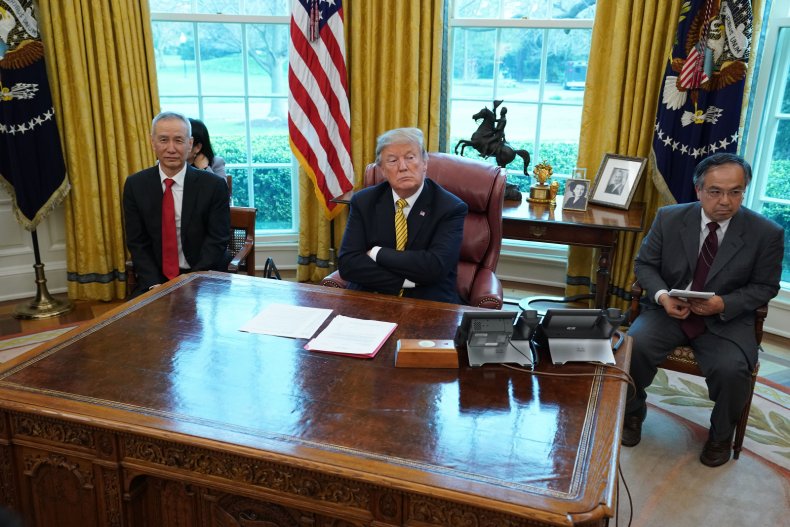 Robert Scott, senior economist at the Economic Policy Institute, was more skeptical of the numbers produced by China. "There's a lot of distortion in the trade data that China publishes," Scott told Newsweek. "The fact of the matter is China still imports about one-fifth from us as much as they export, and these numbers don't change that fact."
President Trump has regularly cited the trade imbalance as a reason for levying tariffs against Chinese goods.
Last month, Trump increased tariffs from 10 percent to 25 percent on $200 billion of imports from China, sparking an escalation of tensions that has since expanded beyond trade disagreements. Beijing retaliated by placing tariffs as high as 25 percent on $60 billion of goods it imports from the U.S.
But tensions have since spiraled, with the U.S. targeting pressure points that have previously generated disagreements between the two nations.
The U.S. has placed Chinese telecommunications company Huawei on a blacklist, dispatched a warship near the disputed South China Sea and is reportedly pursuing a sale of over $2 billion in tanks and weapons to Taiwan — a move sure to evoke anger from China, which has long maintained that Taiwan is part of its territory.
"We urge the U.S. to fully understand the high sensitivity and serious harm of the issue of arms sales to Taiwan and abide by the one-China principle," foreign ministry spokesman Geng Shuang said.
China has responded by preparing an "unreliable entity list," for companies that supposedly pose a threat to Chinese businesses. State media reports have said that Beijing may limit exports of rare earths, which are used in a panoply of products, including electronics.
On Thursday, Trump threatened to impose tariffs on another $300 billion of Chinese goods. "Our talks with China — a lot of interesting things are happening. We'll see what happens," he said. "In the meantime, we're getting 25 percent on $250 billion, and I can go up another at least $300 billion."