China Won't Condemn Russia Over Ukraine, Calls It Too Late to Take Sides
Chinese Foreign Ministry spokesperson Wang Wenbin has implied it's too late for China to take a side in Russia's full-scale invasion of Ukraine.
"We have stated China's position on many occasions," Wang told reporters on Tuesday. "I think it would be behind the curve for us to latch onto this issue. We hope the international community will say and do more that are conducive to dialogue and negotiation and make joint efforts for realizing peace and seeking a political settlement of the Ukraine issue at an early date, instead of setting up obstacles."
The comments come as China is set to virtually meet with the European Union this Friday. European leaders have uniformly denounced Russian President Vladimir Putin's aggression toward Ukraine and are reportedly going to pressure China on its position during the upcoming summit. China has called for peace but has yet to formally criticize Putin or the invasion.
Russia's full-scale invasion of Ukraine began on February 24, when Moscow's forces entered the Eastern European nation from three fronts. The conflict has spurred a refugee crisis, as millions of people have fled Ukraine. The United Nations' humanitarian office said earlier this week that more than 1,100 civilians have died in the conflict.
U.S. Secretary of State Antony Blinken has said Russia's military has committed war crimes amid the conflict.
"As with any alleged crime, a court of law with jurisdiction over the crime is ultimately responsible for determining criminal guilt in specific cases," Blinken said in a statement on March 23. "The U.S. government will continue to track reports of war crimes and will share information we gather with allies, partners, and international institutions and organizations, as appropriate. We are committed to pursuing accountability using every tool available, including criminal prosecutions."
U.S. President Joe Biden had called Putin a "war criminal," saying that the Russian leader "cannot remain in power."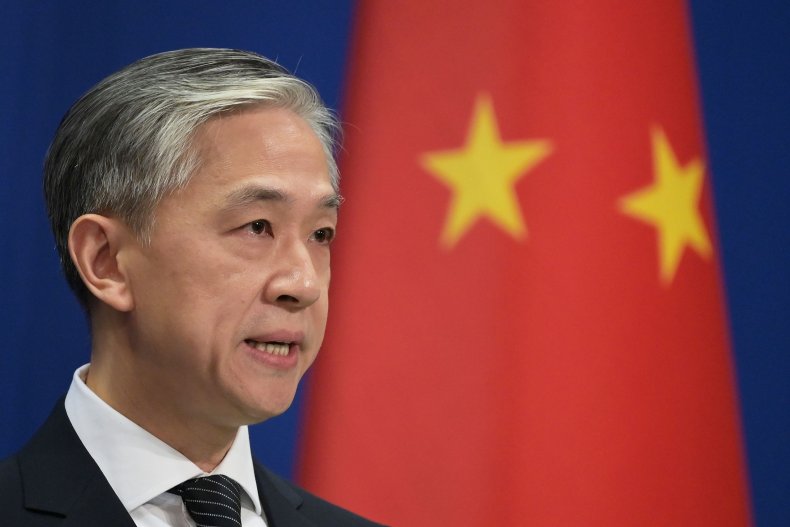 Last week, NATO leaders called on China to publicly oppose Russia's "brutal war."
"China must not provide economic or military support for the Russian invasion," NATO Secretary General Jens Stoltenberg said at a press conference. "Instead, Beijing should use its significant influence on Russia and promote an immediate peaceful resolution."
But Russian Foreign Minister Sergey Lavrov on Wednesday touted a new "world order" with China. Lavrov met Wednesday with Chinese Foreign Minister Wang Yi, their first meeting since the war began.
"We, together with you, and with our sympathizers will move towards a multipolar, just, democratic world order," Lavrov said in a video posted on Twitter.
Newsweek reached out to the Russian Foreign Ministry for comment but didn't receive a response before publication.