Wuhan Authorities Ban Eating Wild Animals After Wet Market Linked to COVID-19 Outbreak
Authorities in Wuhan have announced a comprehensive ban on eating wild animals and the hunting and trading of wildlife, according to a statement by the city's municipal government shared on Chinese social media.
A press release on Wednesday on the municipal government website of Wuhan, in Hubei province, and shared widely on Weibo, states a list of tough new prohibitions which go into immediate effect and will last for five years.
According to a translation of the edict, there will be a ban on the sale and eating of terrestrial wild animals that are both in the wild as well as bred and reared.
The statement also announced other prohibitions, including a complete ban on the hunting of wild animals and that "the administrative area of ​​the whole city is a wildlife sanctuary."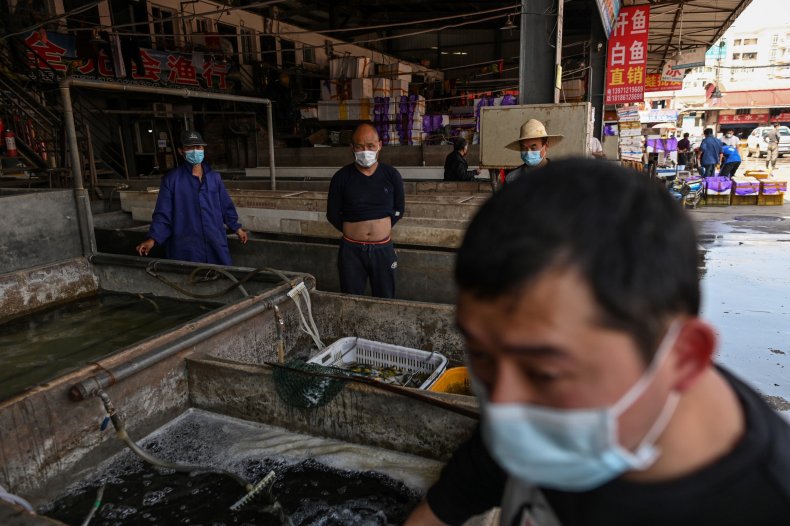 There will also be prohibitions on breeding terrestrial and aquatic wild animals for eating and bans on illegal wildlife trading, both in markets and online.
The statement also says that there will be tougher rules on the granting of licenses for wildlife hunting, breeding and sales.
"This notice shall come into force on the date of promulgation and shall be valid for five years," the translation of the statement said.
The news was reported on other Chinese media outlets such as the state-run newspaper the Global Times and CGTN. BBC's China correspondent Stephen McDonnell tweeted: "Wuhan has become the latest local government in China to introduce anti-wildlife trading laws.
"The city has banned the breeding of 'wild land animals' for eating. Initially a 5-year ban. Farmers who'd been breeding these animals legally will be compensated to shift industries."
The main theory about the coronavirus was that it originated in a wildlife market in Wuhan, possibly jumping from bats to humans via an intermediary animal such as a pangolin.
There has been a crackdown on illegal hunting since February with localities required to close and quarantine breeding facilities of wild animals.
Meanwhile, 122 of the World Health Organization's (WHO) 194 member states want an independent investigation into the cause of the outbreak.
However, Beijing continues to resist demands for an independent investigation. Steve Tsang, director of the China Institute at the London-based School of Oriental and African Studies (SOAS), said that China's ruling Community Party thinks it is being unfairly targeted by the international community.
"In the case of an independent investigation into the origins of COVID-19 or on how it became uncontrollable, it would go against the core interest of the Party," he told Newsweek.
The infographic below, provided by Statista, shows the countries with the most confirmed COVID-19 cases as of May 20.