Trump's Trade War With China Has 'Damaged Both Economies and the Global Economic System' Says Expert
The trade war waged by President Donald Trump against China has hurt the global economy even with the leaders of both countries expected to claim victory with the promise of an imminent partial deal, an expert has told Newsweek.
A "phase one" deal may be signed by Trump and Chinese President Xi Jinping and is expected to roll back tariffs on around $156 billion worth of Chinese imports from December 15. These would include cell phones, computers and toys, according to Reuters.
But Scott Kennedy, who is senior adviser and trustee Chair in Chinese business and economics at the Center for Strategic and International Studies [CSIS] in Washington, D.C., said there was "no chance" that the tariffs would be fully removed as the Trump administration needed them to ensure Chinese compliance.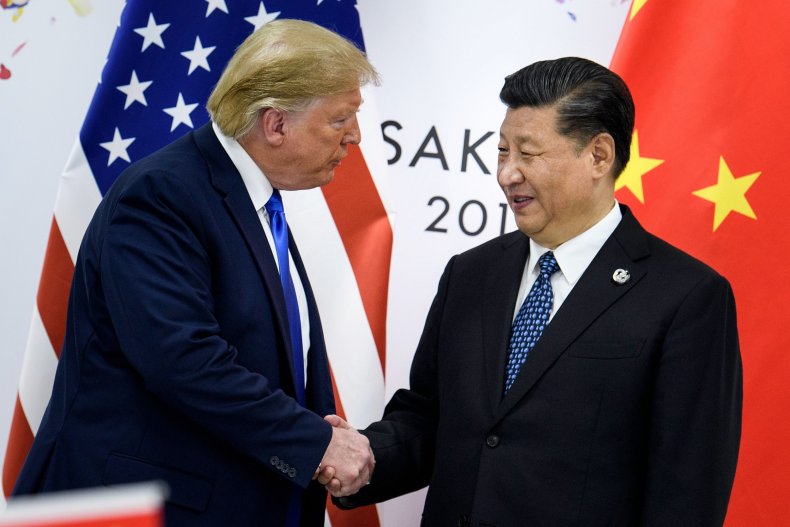 "Trump will be able to say he was tougher on China than anyone before him and obtained a range of concessions regarding purchases, market access and industrial policy.
"But Xi Jinping will be able to claim victory by saying China gave relatively little in exchange for restoring some degree of stability and certainty to the trade relationship.
"Despite both sides' claims, the trade war has damaged both economies and the global economic system," he told Newsweek, pointing out that "other countries and the WTO have also suffered."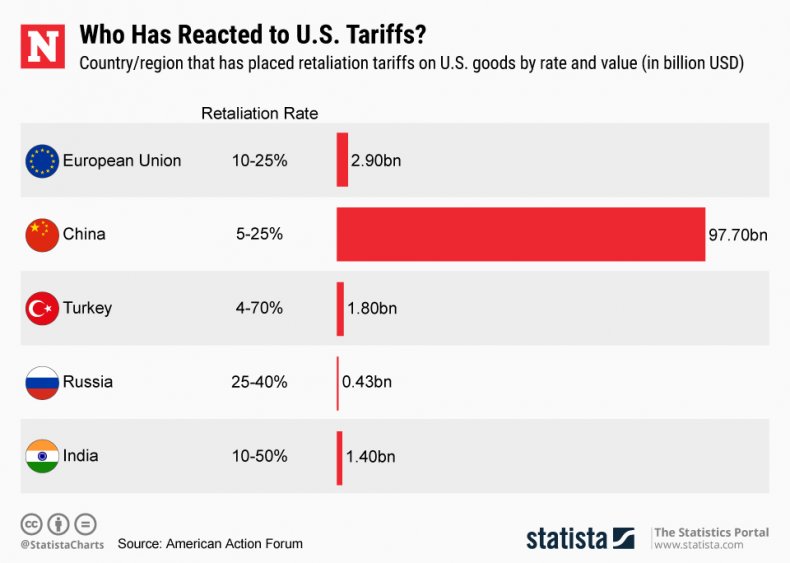 A United Nations report released this week concluded that the American consumers hit by "higher prices" has been the big loser in the trade war, while also detailing how the tariffs cost the Chinese economy around $35 billion in the first half of 2019.
Chief market analyst at markets.com, Neil Wilson, said it would be a "stretch" to think that all tariffs would be removed.
"Demands from China to remove all tariffs in order to complete a 'phase one' deal would be too much. The U.S. president would probably like a deal soon that he can sell to voters, whilst still looking tough," Wilson told Newsweek.
"[China's] backing down on all tariffs for some agri sales and vague commitments on intellectual property wouldn't achieve that," he added.
There is still uncertainty over where or when the phase one deal would be formalized.
It was cited that Xi could ink a deal en route to Brazil for a summit of emerging markets, but the South China Morning Post reported that it might be too soon. U.S. officials have also suggested Alaska, Hawaii and even Iowa, which is Trump's rural heartland, as possible locations.
In the meantime, Beijing is likely to continue pressing Washington to remove all tariffs as soon as possible, according to Reuters.
Scott Kennedy from CSIS, told Newsweek: "China now is simply seeing how much they can get removed. Whether they are satisfied depends on whether tariff reductions go beyond what has been expected and how other elements of the deal are structured."