China's Xi Jinping to Make His First Trip to North Korea As Both Countries Struggle to Deal with U.S.
Chinese President Xi Jinping is soon set to make his debut visit to North Korea at a time when both countries are struggling to make progress in separate talks with the United States.
The official Korean Central News Agency announced Monday that "at the invitation of Kim Jong Un" Xi will make a state visit to North Korea from June 20 to 21. A similar message was carried across the border by the state-run China Central Television broadcaster.
Xi has met with Kim four times, each time in China, and his upcoming visit would mark the first such Chinese state trip since Xi's predecessor, Hu Jintao, met with Kim's late father, Kim Jong Il, in North Korea in 2005. The younger Kim has had somewhat of a cooler relationship with his country's traditional ally, but he chose Beijing last March as the destination of his first official trip abroad since succeeding his father in late 2011.
Since then, he's also met with South Korean President Moon Jae-in a record three times and participated in the first two U.S.-North Korea summits alongside President Donald Trump. While the Republican leader has praised Xi and Kim at times, Washington is also locked with both Beijing and Pyongyang in complex negotiations that have so far failed to produce any major deals.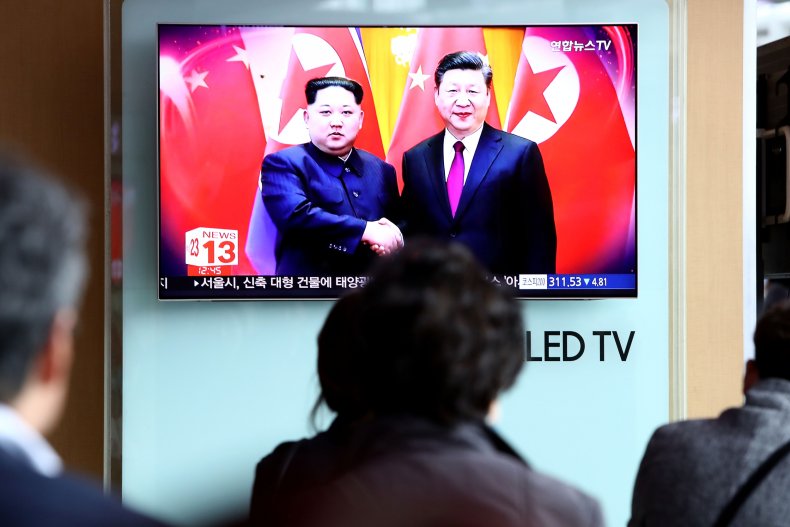 North Korea received extensive support from China, along with the Soviet Union, when the recently-formed communist state went to war in the early 1950s with its neighbor, South Korea, which was backed by the U.S. and its international allies. Beijing's development into an economic powerhouse in the decades since has proven vital for Pyongyang's survival.
At the same time, China has expressed wariness about North Korea's possession of nuclear weapons and has voted alongside the U.S. in enforcing international sanctions against the secretive, militarized state. Xi has welcomed Kim's campaign of international diplomacy, however, and has joined Russian President Vladimir Putin in calling for a "freeze-for-freeze" approach by which North Korea would formally suspend its nuclear testing in exchange for a pause on U.S.-South Korea military exercises.
When the last meeting between Trump and Kim in the Vietnamese capital of Hanoi ended without any deals in February, new doubts were cast on the unprecedented peace process between the two men. Kim went to Russia in April to meet with Putin for the first time, broadening his diplomatic horizons in his home region but again not signing any official agreements.
Putin and Xi are also set to see Trump at the G20 summit later this month in Japan, where it is widely anticipated that the two leaders would try to improve their difficult ties with the U.S. But Chinese Foreign Ministry spokesperson Lu Kang told reporters Monday "that the U.S. side has expressed publicly on many occasions its hope to arrange a meeting between the two heads of state on the sidelines of the G20 Osaka Summit" but did not confirm if such a meeting will take place.
Dominating the conversation on U.S.-China relations would be the ongoing trade war of tit-for-tat tariffs being waged by the two global economic leaders. The Trump administration has accused Beijing of unfair trade practices, such as intellectual property theft and currency manipulation, charges staunchly denied by Chinese officials as they responded in kind to import taxes on billions of dollars worth of goods.
Commerce Secretary Wilbur Ross and Treasury Secretary Steven Mnuchin have both warned that Trump was willing to expand these measures if a deal with China was not reached. The policy has proven controversial at home, however, and critics including business owners, trade unions and interest groups are scheduled to share their misgivings this week at a series of hearings in Washington.