China's Xi Warns of 'Unstable, Uncertain' Times, Military Must 'Be Prepared'
Chinese President Xi Jinping has called on his military to be ready to safeguard the country's territory from external and internal threats amid unpredictable developments plaguing the region and the globe at large.
Addressing a plenary meeting of the fourth session of the 13th National People's Congress on Tuesday, Xi emphasized self-reliance, innovation and optimization among the world's largest standing armed forces, the People's Liberation Army, in order to realize national goals.
He praised the military's successful achievements of last year's goals, as well as its contribution to the defeat of COVID-19 in China, but warned of more troubling times ahead as the People's Republic continues its rise to superpower status.
"The current security situation of our country is largely unstable and uncertain," Xi said, according to a readout published by the People's Liberation Army information portal.
"The entire military must coordinate the relationship between capacity building and combat readiness, be prepared to respond to a variety of complex and difficult situations at any time, resolutely safeguard national sovereignty, security and development interests, and provide strong support for the comprehensive construction of a modern socialist state," he added.
Xi also called for efforts to accelerate the establishment of "high-level strategic deterrence and a joint combat system," along with other advanced projects.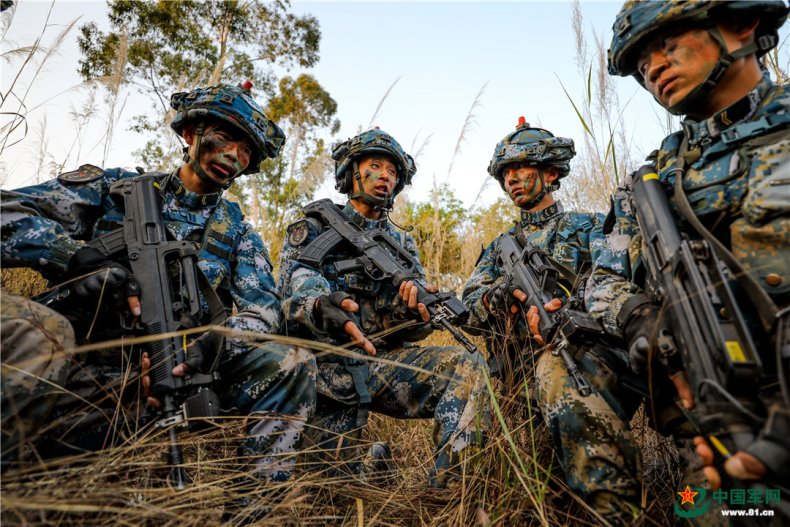 Owing to its swift action against COVID-19, a disease first observed in the Chinese city of Wuhan, China managed to continue economic growth throughout a year in which most economies were paralyzed by extended lockdown measures, which continue to plague many major trading nations.
But 2020 also saw a sharp decline in China's relationship with its top competitor, the United States, as then-President Donald Trump attempted to pressure and isolate Beijing.
So far, President Joe Biden has also endorsed a number of tough tactics on China, while at the same time calling for cooperation in certain key fields. When it comes to security, Biden and Xi remain at odds on key issues, including Chinese claims to the contested waters of the South China Sea, and Taiwan, a self-ruling island with informal political and military ties to the U.S.
The Biden administration has also called Beijing out on alleged human rights abuses in Hong Kong, Tibet and Xinjiang.
"Our China policy is predicated on our core sources of strength," State Department spokesperson Ned Price told reporters on Monday, "and we've talked about those sources of strength from this podium before."
He then proceeded to detail the differences between the two powers.
"Two important ones I would flag in this context: number one, our values. They give us, together with our international partners and allies, a comparative advantage," Price said. "Two, it is that system of partnerships, that system of alliances that in many ways is the envy of countries, especially our competitors and our adversaries the world over, because our competitors know that our system of partnerships and alliances is unrivaled."
The U.S. has increasingly fostered ties with allies and partners in the Asia-Pacific region such as Australia, India and Japan, which, alongside the U.S., comprise the Quadrilateral Security Dialogue. The four countries have also experienced downturns in relations with Beijing over the past year, as Canberra entered into a trade conflict, New Delhi had border clashes, and Tokyo saw an increase in challenges at a contested series of islands in the East China Sea.
The four powers were set to have their first-ever leader-level meeting virtually on Friday.
But Chinese officials have repeatedly disparaged what they call a "Cold War mentality" in bloc-building among major powers, and have cautioned the U.S. and others not to interfere in China's domestic affairs. On Taiwan especially, Beijing has lashed out at greater support in Washington for Taipei.
"China remains resolutely determined to defend national sovereignty and territorial integrity, and opposes Taiwan independence and external interference," Chinese Foreign Ministry spokesperson Zhao Lijian told a briefing Tuesday.
He blamed "the current tension and turbulence in cross-strait relations" on Taiwan's ruling Democratic Progressive Party and its appeals for international support, but said talks were still possible.
"We are willing to carry out dialogue and consultation with all parties, groups and personages in Taiwan on cross-strait political issues," Zhao said, "and issues related to promoting the process of peaceful reunification of the motherland on the political basis of adhering to the 1992 Consensus and opposing Taiwan independence, so as to build up consensus and resolve differences."
With that consensus having so far failed to bring the two rivals together through diplomacy, Xi has warned that military action remains an option,one that People's Liberation Army spokesperson Senior Colonel Wu Qian reaffirmed on Sunday, even as Washington appealed to Beijing to renounce it.
Zhao urged U.S. officials on Tuesday to adhere to America's decade-old commitments that developed from the normalization of relations with China in the 1970s.
"We urge the U.S. side to earnestly abide by the one-China principle and the provisions of the three China-U.S. joint communiques, stop official interactions with and arms sales to Taiwan, handle Taiwan related issues prudently and properly," he said, "and avoid sending any erroneous signals to the Taiwan independence forces, lest it should damage China-U.S. relations as well as peace and stability across the Taiwan Strait."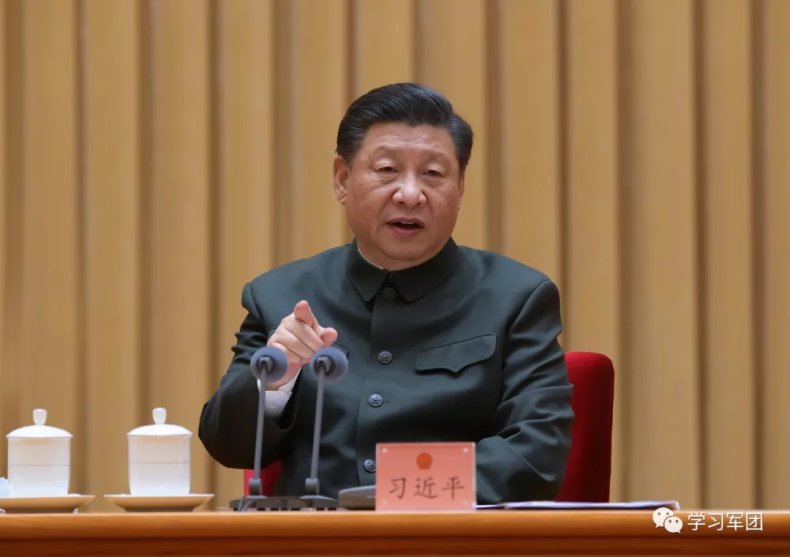 Meanwhile, the People's Liberation Army continues to undergo rapid transformations in meeting Xi's goal of becoming a "world-class" warfighting force by 2050. The Pentagon has acknowledged that it has already "exceeded" the U.S. military in certain key areas, and last month established a task force specifically designed to analyze the challenges posed by Chinese power.
Top priorities, according to Deputy Secretary of Defense Kathleen Hicks, include "force posture, technology, intelligence and partnerships."
China's top brass continues to appeal for greater investment throughout the high-profile, ongoing Two Sessions gatherings in Beijing involving China's two top political bodies, the National People's Congress and the Chinese People's Political Consultative Conference.
These meetings are dedicated to the development of the country's 14th five-year plan, which includes military, economic and political goals through 2026. This July also marks the 100th anniversary of the ruling Chinese Communist Party, over which Xi presides as general secretary.
The Chinese leader said it was up to the People's Liberation Army to ensure a "good start" to his five-year plan and to greet the upcoming summer centennial "with outstanding results."