China's Army Steps Up War Prep With Civilian Mobilization Exercise
Workers in Chinese car factories were mobilized by the People's Liberation Army on Saturday as the country stepped up its wartime preparedness with joint military and civilian drills.
The PLA Army conducted its strategic military-civil "deep fusion" exercises in conjunction with the municipal government of Chongqing in southwestern China, Beijing's official military news site JS7tv reported the day after.
Among the protocols simulated was a requisition order for large platform trailers.
Automobile factories temporarily repurposed their equipment and staff in order to convert 20-ton semi-trailer trucks into wider, sturdier vehicles capable of transporting a 40-ton Type 59 main battle tank across China's large, integrated network of highways, the report said.
The modification reportedly took eight hours and would be key for the strategic deployment of heavy armored vehicles, which typically sacrifice speed and distance for off-road maneuverability.
Other national defense protocols practiced on the day included the shifting of car production lines to make all-terrain light combat vehicles, which are low in armor but capable of rapid troop and equipment transport, the PLA website reported.
The exercise demonstrated the country's "industrial potential during wartime," Chinese state media said, adding that the same ability to improvise could also be used for disaster relief.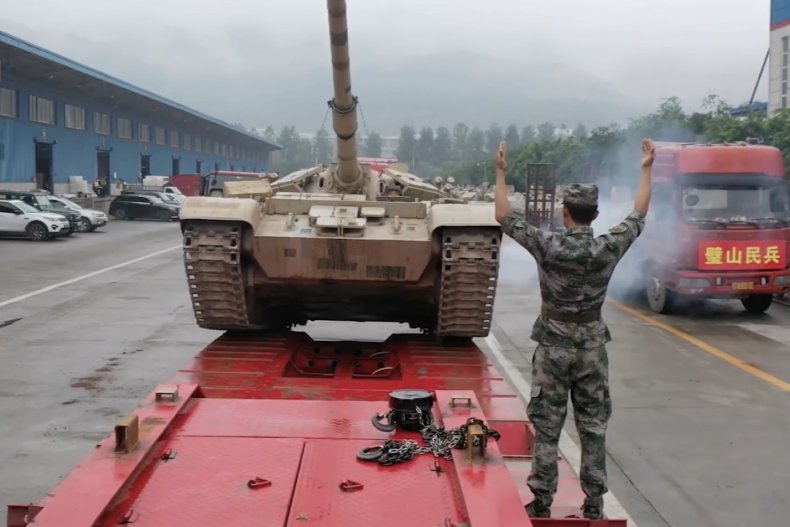 On Tuesday, the PLA Navy released footage showing a large-scale amphibious landing drill being conducted in the South China Sea off the southern Chinese province of Guangdong.
The exercise, which showed tanks and soldiers storming a beach in an invasion-like scenario, is part of the navy's joint operations drills taking place in the region between November 17 and 30, state-run tabloid Global Times reported.
A military expert told the tabloid that President Xi Jinping, who is chair of China's Central Military Commission, had demanded improvements to the armed forces' joint combat capabilities in response to the "intensifying situation and increasing risk of military conflicts" in sensitive regions including the Taiwan Strait, South China Sea, and its border with India.
In its annual report to Congress published last year, the U.S.-China Economic and Security Review Commission highlighted the Chinese government's "military-civil fusion policy," which Beijing is implementing in order to achieve its goal of turning the PLA into a "world-class" fighting force comparable to the United States.
The November assessment had described Chinese fighter jets crossing the Taiwan Strait median line for the first time in 20 years as a "sharp escalation" in military pressure" from Beijing.
PLA warplane incursions into Taiwanese airspace are now an almost daily occurrence, Taiwan's defense ministry's public records show.