China's Claim About U.S. Biological Weapons in Ukraine Gets Traction Online
China's reiteration of a Russian conspiracy theory that the U.S. is funding biological weapons labs inside Ukraine has been proliferating online.
The unsubstantiated claim has been promoted by government officials and in stories like "Russia reveals evidence of U.S.-funded bio-program in Ukraine" on the website of the state-run China Global Television Network, the Associated Press reported. "This Russian military operation has uncovered the secret of the U.S. labs in Ukraine, and this is not something that can be dealt with in a perfunctory manner," Foreign Ministry spokesperson Zhao Lijian said Thursday.
The U.S., China and Russia have all signed global agreements against leveraging biological weapons, and Pentagon press secretary John Kirby has described the claim as "a bunch of malarkey." Yet even as the U.S. rejects the conspiracy theory, Russia and China have been doubling down on the claim, which has redirected at least some attention in certain parts of the world from Russia's attack on Ukraine to America's alleged financing of weapons labs in the nation.
Other recent headlines in China on the claim include "China urges U.S. to disclose more details about biolabs in Ukraine," which was also on China Global Television Network's website. A story published Thursday by the Communist Party's Global Times newspaper had the headline "US tries to refute 'rumors' about its biolabs in Ukraine, but can we believe it?"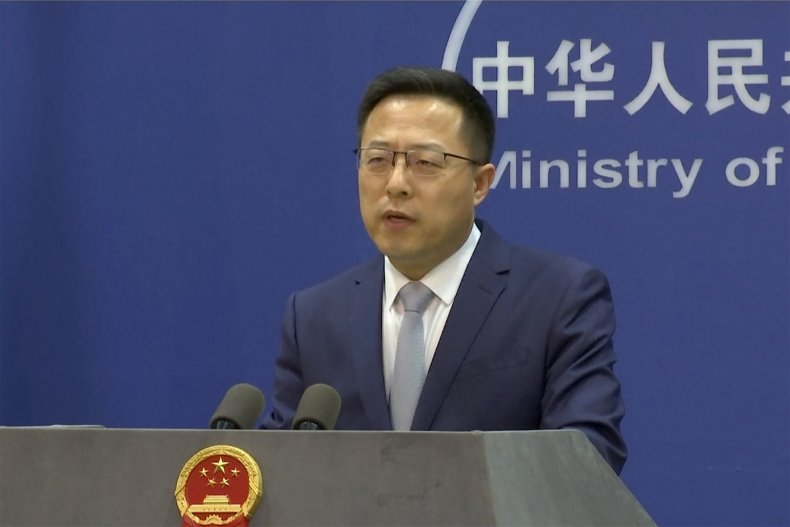 Civilians in China have seen anti-U.S. messages from state media and the Communist Party for years, according to the AP. On Sina Weibo, a popular social media platform in China, a video of a Russian Defense Ministry news conference that echoed the accusations against the U.S. has accumulated more than 10 million views and more than 90,000 likes.
Some far-right groups and media outlets in the U.S. have also repeated the claim, the AP reported.
Since Russia launched its attack on Ukraine, President Vladimir Putin has refused to refer to it as an "attack" or "war" and has even said that the military action was for the "denazification of Ukraine." Russian Foreign Minister Sergey Lavrov has called Ukrainian President Volodymyr Zelensky, who is Jewish, a "Nazi."
David Fishman, a professor of Jewish History at the Jewish Theological Seminary, recently told the Anti-Defamation League that the "propaganda is an attempt to delegitimize Ukraine."
Some U.S. officials have warned that Russia's claims of U.S.-financed weapons labs in Ukraine may be laying the groundwork for a more sinister act of aggression.
While testifying to the Senate Intelligence Committee Thursday, CIA Director William Burns said that Russia's allegations could foreshadow its own attack with chemical or biological weapons that they could potentially then blame on the U.S. or Ukraine, the AP reported.
"This is something, as all of you know very well, is very much a part of Russia's playbook," he said. "They've used these weapons against their own citizens, they've at least encouraged the use in Syria and elsewhere, so it's something we take very seriously."
Newsweek reached out to the Pentagon for comment but did not hear back before publication.
Update 03/11/22, 9:50 a.m. ET: This story was updated with additional information and background.