China's Communist Party at 100: No More Foreign Rescues | Opinion
"The CPC, founded within a poor and weak semi-colonial period in China, has created a unique path of development through the past 100 years," writes the Global Times, marking the July 1 centennial of China's ruling organization, the Communist Party of China.
"Unique?" The official Xinhua News Agency then continued the exceptionalism theme by issuing "Why Western Political Theories Can't Explain Success of Century-Old CPC."
On the contrary, it is easy to explain the Communist Party's "success," especially in recent decades.
For about a half-century, Western democracies, especially the United States, supported the Party and even rescued it on occasion. The international community fell in line with continual economic, technological and diplomatic assistance.
China's current rulers in the last few years, however, have been fast alienating the rest of the world. As a result, they are facing mounting opposition from abroad. Two sets of horrendous Chinese crimes will make it impossible for countries to maintain supportive relations with Beijing. The beginning of its second century, therefore, will be especially difficult for China's ruling group.
To celebrate the centennial, the Party, through Xinhua, is bragging about "miracles of rapid economic growth and long-term social stability." At the moment, China's economy has not recovered from COVID-19, something evident from persistently soft consumer spending. The country also faces a debt crisis, caused by years of excessive government and corporate spending.
As for Xinhua's boast about miraculous social stability, it is hard to know what the Chinese people really think. The Party, revealing its deep insecurity, goes to extraordinary lengths to control them—proof they do not freely accept top-down Communist rule. The latest project to coerce the population is a totalitarian-style nationwide social credit system, made possible by facial-recognition software and some 626 million surveillance cameras.
The Party's other claims of success seem greatly exaggerated. After all, the environment is severely degraded, water is scarce, the people are increasingly unable to feed themselves and long-term trends undermine the state's structural viability. China, due to the Party's draconian and long-maintained one-child policy, is on track to experience history's sharpest population decline in the absence of war or disease: a projected drop of about a billion people by the end of the century.
In short, the "invincible" Chinese party-state, thanks to Communist Party policies, is under severe stress.
In the past, when Chinese leaders got in over their heads, American presidents came to the rescue. Richard Nixon did so in 1972, near the end of Mao Zedong's decade-long Cultural Revolution—a de facto civil war that almost brought down the regime. Nixon's visit to Beijing signaled to the Chinese people that America stood with Communist rule. George H. W. Bush threw Deng Xiaoping a lifeline after nationwide protests and the murderous Tiananmen Square crackdown in 1989. Finally, there was Bill Clinton's trade deal in 1999, which came at a low point for a country then struggling to emerge from the Asian Financial Crisis. The trade deal paved the way for China's fabulously beneficial 2001 entry into the World Trade Organization.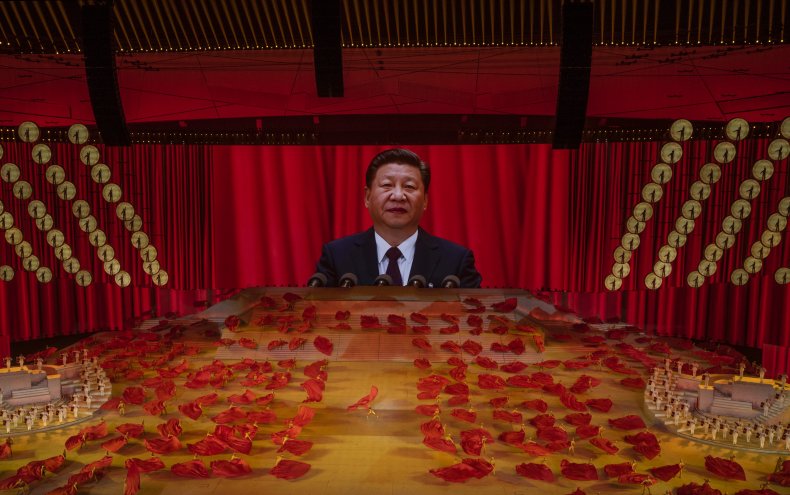 This time, there can be no American rescue for Chinese Communism. Yes, U.S. elites—especially at Nike headquarters and in the rest of the business community—still want to support Beijing, but that support will become politically impossible. China's regime has for decades engaged in a range of hostile and disgusting behavior, but now there are two reasons why another rescue is not in the cards.
First, Beijing is committing genocide and other crimes against humanity—mass detentions, killings, torture, rape, organ harvesting and slavery, to name only the most gruesome—in what it calls the Xinjiang Uygur Autonomous Region.
Criticism of these heinous acts has moved Beijing to retaliate against critics. In March, Beijing's imposed tit-for-tat sanctions on European Union officials and parliamentarians, and the European Parliament in May struck back by indefinitely freezing implementation of the Comprehensive Agreement on Investment, a crucially important pact for the Chinese economy. The agreement, announced in December, was a notable diplomatic win for Beijing, so its freezing just five months later was a big setback.
Beijing, in defending atrocities in Xinjiang, has also created spats with others and hurled explosive charges at critics. For instance, China is at this moment engaged in a bitter exchange with another longtime friend, Prime Minister Justin Trudeau's Canada. In a June 29 blast at Ottawa, the Communist Party's Global Times charged that "Anglo-Saxons" are genetically genocidal.
Second, Beijing has been roundly condemned for failing to stop the spread of COVID-19. Chinese efforts to hinder the World Health Organization's mission to Wuhan in January and February look like a tipping point, causing an evident shift in global opinion. Now, elites are no longer ignoring evidence that SARS-CoV-2, the pathogen causing this disease, escaped from a biological weapons facility—probably the Wuhan Institute of Virology.
Whether SARS-CoV-2 started out as a biological weapon, Chinese officials turned it into one, lying about contagiousness and, while locking down their own country, pressuring other countries to not impose travel restrictions and quarantines on arrivals from China. Soon, there will be general acceptance of the notion that China deliberately spread the coronavirus beyond its borders.
With 3.9 million succumbing to this disease outside China, the impossible-to-deny maliciousness of the Chinese regime will rule out further economic integration and cooperation. American views of China have soured, something especially evident in recently conducted Pew and Gallup surveys.
Jake Sullivan, America's national security advisor, last month announced that President Biden wanted to meet Chinese ruler Xi Jinping. But given the circumstances, there is little America can do to aid the Chinese Communist Party. The political cost for the White House would be far too high at this moment—and for many moments to come.
Gordon G. Chang is the author of The Coming Collapse of China. Follow him on Twitter: @GordonGChang.
The views expressed in this article are the writer's own.