China's 'Debt Bomb' Is Going off Under Xi Jinping | Opinion
"It would take a middle-class couple 47 years to buy a small apartment—about 90 square meters—in Beijing or Shanghai if both husband and wife were able to save 100% of their salaries for the purchase," Anne Stevenson-Yang of J Capital Research tells Newsweek.
"Want to Buy a House in a Big Chinese City?" asked the Sixth Tone website late last month. "Try Winning the Lottery First."
Real estate prices in China are out of whack, so the market is "frozen," with buyers and sellers far apart. As a result, the number of transactions in recent months has fallen. Prices month-to-month are starting to come down, as well. Total sales of the country's top 100 developers plunged 39.6% year-on-year by value last month.
Stevenson-Yang, also the author of China Alone: The Emergence From and Potential Return to Isolation, reports in Forbes that around 30 Chinese cities are refusing to register transactions at prices below government-set levels.
"The model on which the real estate boom is based is unsustainable," said George Soros at a Hoover Institution webinar on January 31.
Unsustainability is an emergency for China. The real estate sector accounts for an unusually high 25% to 30% of Chinese gross domestic product. Moody's last July estimated that between 70% to 80% of the household wealth of the Chinese people is in real estate.
An "economic crisis," as Soros suggests, is coming. Trapped by strong currency walls—the renminbi is not convertible on the capital account—the Chinese people cannot readily invest in foreign assets. They have few places to put cash inside China, so they purchase apartments. Apartments, as a result, have for many become more than just investments; they are stores of value, similar to paper currency or gold coins.
Many apartments across China—the ones infamously dark at night—have in fact been sold by developers, but remain vacant. They are in the hands of first-time owners, who do not rent them out because that would result in a diminution of value.
Ultimately, prices have to come down to levels people can afford. As Stevenson-Yang's example from the leading Chinese cities shows, the drop will be large. Incomes, artificially suppressed by Beijing for more than four decades, cannot support current real estate prices.
Property developers are starting to default, especially since last September. The most prominent of these is Evergrande Group, which has accumulated a staggering $305 billion in liabilities. About a dozen other developers have not met bond and other obligations since then, either.
Behind China's currency wall, Chinese officials believe they have time to unwind the "debt bomb," avoiding a sharp correction in prices. But the hope for recovery is illusory. As Stevenson-Yang tells Newsweek, "when investment slows, as is happening now, property cannot recover."
Chinese officials have continually defied dire predictions, so many analysts think they will be able to muddle through this time. The problem, however, is that by muddling through in the past, officials postponed crises by taking on additional debt and thereby making the problem even more difficult to resolve. "They may have postponed dealing with it for too long, because people's confidence has now been shaken," Soros said.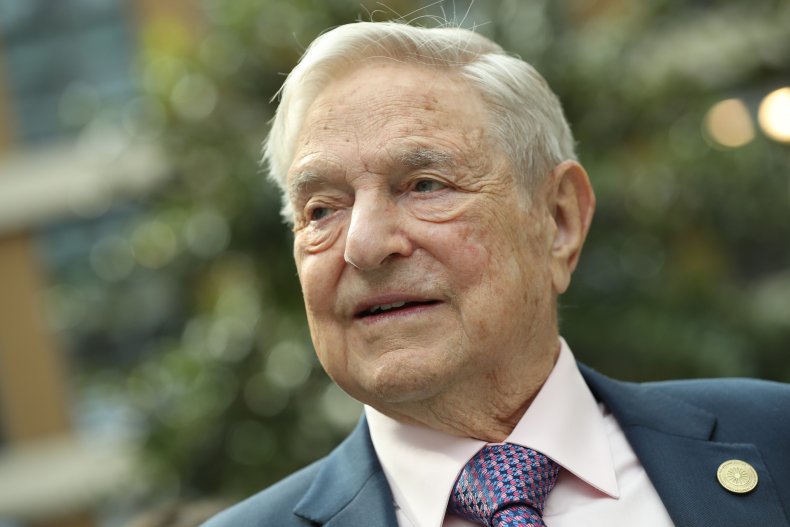 That debt, by some estimates, has now reached 350% of GDP. The true percentage is unknowable because provincial and lower-tier officials, with various stratagems, have not reported obligations they have incurred. No one knows the extent of China's so-called "hidden debt."
Many analysts have said the world should not worry because property developers and other borrowers, by and large, have incurred relatively little foreign debt. At the end of last September, China's external obligations amounted to $2.70 trillion, according to China's State Administration of Foreign Exchange. That's a manageable sum.
Confidence that China can still avoid an impending crisis is, however, misplaced. History says the most severe and long-lasting financial crises involve countries that owe money to themselves.
Why? In external-debt crises, foreign parties suffer when debt is compromised. The reduction of debt, of course, is politically popular in debtor countries. In China's case, every solution involves domestic losers—the borrowers are largely domestic—so the crisis will not end until the Communist Party forces local parties to bear severe consequences.
Settlement of China's debt, therefore, will require political will in Beijing—more political will than China's leaders have exhibited in decades. "Xi Jinping has many tools available to reestablish confidence—the question is whether he will use them properly," Mr. Soros said at the Hoover event.
Xi's tools to deal with out-of-control property prices are limited, in large part because of something else Soros mentioned at Hoover: out-of-control disease. COVID-19 is ripping through the country and, with ineffective Chinese-produced vaccines, the country's only defense against the coronavirus is isolation.
Isolation is the enemy of economic growth. Xi's "zero-COVID" policy of draconian lockdowns has made maintaining the internal Chinese economy exceedingly difficult.
So far, exports, which jumped 29.9% last year, have kept China going, but disease-control measures have undermined consumption. And as long as consumption, touted as the core of China's growth machine, is weak, Xi will not be able to generate the growth necessary to pay back debt.
The highly respected Diana Choyleva, the chief economist at London-based Enodo Economics, argues China's economy is headed for "stagnation," not "collapse." Her reasoning is highly persuasive; nonetheless, the issue for Beijing today is whether, in the middle of a debt crisis, stagnation must inevitably lead to outright collapse.
An economic slowdown—or worse—will also have political implications. Xi is seeking a precedent-breaking third term as the Communist Party's general secretary at the 20th National Congress, expected to be held this fall. He has staked his bid on the claim he has made China strong. Yet the economy is fragile, and Xi does not have the means to keep it going.
The mighty-looking Chinese leader is now hostage to developments beyond his control.
Gordon G. Chang is the author of The Coming Collapse of China. Follow him on Twitter: @GordonGChang.
The views expressed in this article are the writer's own.