China's Diplomat to Russia Calls U.S. Olympic Boycott a 'Senseless Desecration'
The United States' diplomatic boycott of the 2022 Winter Olympics and Paralympic Games is being criticized by Chinese diplomats.
Liu Mingche, counselor of the Chinese Embassy to Russia, said Tuesday that the decision hurts the spirit of the event.
"The so-called boycott damages the interests of athletes and fans of winter sports, and it is a senseless desecration of the sacred Olympic spirit," he said, according to Tass, the Russian government's news agency.
But the diplomat said China is "confident that boycott attempts will hardly make any dent and that any opposition that violates the true democratic spirit will not be approved."
China's Foreign Ministry spokesman, Zhao Lijan, has promised "resolute countermeasures" from the nation in response to the U.S. boycott. Zhao said at a press conference Monday that the boycott is "political posturing and manipulation."
The Biden administration confirmed on Monday the U.S. will not send any diplomatic or official representation to the winter games, set to start in Beijing on February 4, citing the "ongoing genocide" in the province of Xinjiang.
U.S. athletes are not included in the boycott and are free to compete in the event.
"We will be behind them 100 percent as we cheer them on from home," White House press secretary Jen Psaki told reporters. "We will not be contributing to the fanfare of the games. U.S. diplomatic or official representation would treat these games as business as usual in the face of the [People's Republic of China's] egregious human rights abuses and atrocities in Xinjiang, and we simply can't do that."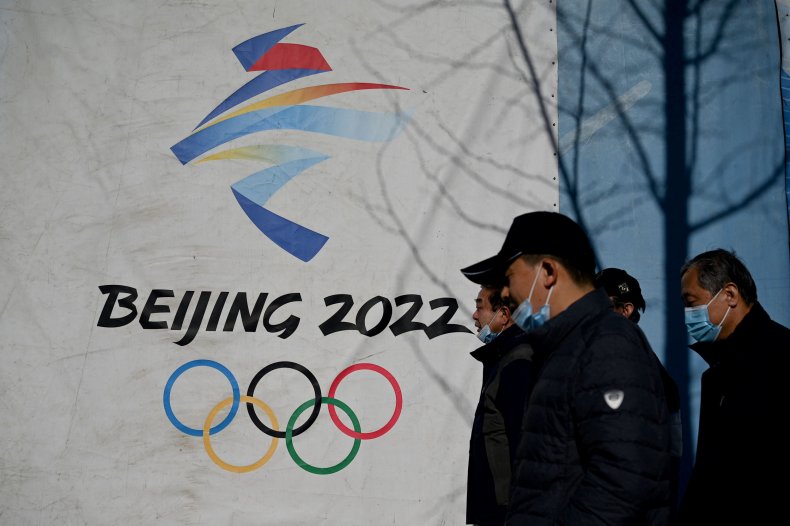 The White House's decision was applauded by lawmakers on both sides of the aisle. The Biden administration had been pressured for months to boycott the event because of China's targeting of Uyghur Muslims in Xinjiang and democratic activists in Hong Kong.
"As one united international community, we have the opportunity and responsibility to hold Beijing to account and to stand up for human dignity and freedom in the region and around the world," House Speaker Nancy Pelosi said in a statement. She added that allowing China to host the games is a "mockery" of the Olympic Charter.
Republican Senator Mitt Romney of Utah praised the administration's decision, saying it was the "right" one.
"America will not turn a blind eye to China's predation, persecution, and genocide," Romney tweeted.
Newsweek reached out to the White House for comment on the criticism from Chinese diplomats on the boycott but didn't receive a response before publication.