China's First Female Astronaut: Liu Yang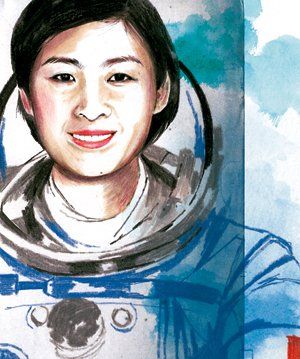 Chinese Air Force Maj. Liu Yang, 33, made history June 16, when she became her country's first female astronaut to blast off into outer space—following in the footsteps of the first female Soviet cosmonaut in 1963 and the first female American astronaut in 1983.
Though Liu began astronaut training only two years ago, she's become a Chinese media sensation; her liftoff triggered saturation coverage not seen since the 2008 Beijing Olympic Games. Suddenly the country was obsessed with learning the intimate details of her private life (she's married and a proficient cook) and professional history (she won first place in a military speech contest in 2010). Liu's popularity is so great that a viral video of her speaking in a high-school English class has become "the hottest thing on the Internet," says space analyst Chen Lan.
The brouhaha over Liu is a stark departure from the more controlled atmosphere of the launch of China's first astronaut, Yang Liwei. While Yang's 2003 flight was not broadcast live, Liu's was covered by more than 250 media outlets, which flocked to the remote Gobi Desert to watch the blastoff. Indeed, space-program officials seemed keen for Liu to fan the flames of the public's imagination, calling her journey a "must" not only "for the development of human spaceflight, but also for the expectations of the public."
Not so long ago, PR was the last thing on the minds of China's space gurus. But that's changing—and with it, the culture of opacity that has long cloaked the country's space efforts. (Mao Zedong hid China's launch facilities deep in the hinterland, far from prying eyes.) For decades China was a distant third in the rocket race. But as budgetary constraints and shifting priorities have crippled the space programs in the U.S. and Russia, there's an opening for Beijing to dominate the field—at least as far as state-financed endeavors go. While NASA is retiring its shuttles, China is working to launch a space station by 2020.
Yet just as China is catching up to the West, private-sector efforts in the U.S.—like Elon Musk's SpaceX Dragon craft—are creating a paradigm shift in space travel. As a result, China's leaders are, for the first time, facing public calls to justify the expense of a government space program. Growing criticism, mostly online, portrays China's program as a costly "white elephant" for a country still racked by poverty. "China's spent too much money and sacrificed too much," says Liu Junning of the China Cultural Research Institute of the Ministry of Culture.
Still, most Chinese continue to support Beijing's efforts, which bolster national pride and highlight China's technological achievements. "It's worth the expense," argues Zhong Dajun, head of the China Civil Economic Observation Research Center. "If China doesn't make its mark in space, it'll cede control of space in the future."
Next year China is expected to finish building its new launch site on Hainan Island, the "Hawaii of China." Modeled after NASA's Kennedy Space Center in Florida, it'll have arrangements for thousands of tourists who want to observe future launches—and maybe even another flight by the now legendary Liu Yang.