In the so-called Xinjiang Uygur Autonomous Region, China is committing the world's most abhorrent crimes. "An unspeakable evil is taking place," Nury Turkel, a commissioner on the U.S. Commission on International Religious Freedom, told Newsweek.
What can be done? For starters, the International Olympic Committee (IOC) can move the 2022 Winter Olympics away from Beijing and immediately ban the participation of China's athletes from Olympic competition. If the IOC does not make both of these moves, the U.S. and other countries should boycott next year's Games in the Chinese capital.
It is hard for many to fully conceive of the Chinese regime's inhumanity. Uyghur women are routinely tortured and raped by government officials, clearly with the approval of the state. Girls from minority groups have been sexually violated.
More than a million—and perhaps over three million—Uighurs, Kazakhs and other ethnic minorities are held in concentration camp-like facilities termed "vocational education and training centers." "Their goal is to destroy everyone," said Tursunay Ziawudun, who was interned for nine months in these camps in Xinjiang, to the BBC. "And everybody knows it."
Everybody should know the Chinese state forcibly transports Muslims to locations across the country to work in guarded compounds for domestic and foreign companies. Call this by its proper term: slavery.
There are persistent and credible reports of organ harvesting. Call this murder—and murder, that is, on a mass scale.
Children are often separated from their parents and housed in prison-like "orphanages."
Muslims face prohibitions or severe restrictions on the practice and teaching of their faith. Chinese officials force them, despite their religion, to eat pork and drink alcohol—even during Ramadan, a month-long period of strict fasting.
Forced abortions, forced serializations and killings constitute "genocide," as that term is defined in Article II of the Convention on the Prevention and Punishment of the Crime of Genocide, signed in 1948.
The IOC once was concerned about human rights. In 1963, at its meeting in Germany, the organization finally expelled South Africa from Olympic participation and stated the country would remain banned until it would "abide by the IOC's policy of non-discrimination" and change its racial policies as they pertained to sporting competition. The country's apartheid policies in place at the time did not permit black athletes to participate in athletics.
As a result, South African athletes were banned, beginning with the 1964 Summer Olympics in Tokyo. The prohibition lasted until 1992, when the country participated in the Barcelona Summer Games. By then, South Africa was in the process of ending white-minority rule.
China's monstrous policies directed against minorities, like South African apartheid, result today in the almost-total exclusion of minorities from sporting competition.
Those few minority members who have somehow managed to participate are sometimes put in concentration camps, such as 19-year-old Uyghur Erfan Hezim, who had signed a five-year contract with Jiangsu Suning Football Club. Hezim, known in China as Ye Erfan, was incarcerated in February 2018 "for visiting foreign countries"—a reference to a three-week stay in Spain and two weeks spent in Dubai for training and match purposes.
Hezim was eventually freed, but the IOC should ban China's national teams until all of Beijing's various impediments to participation in sports, which are in some cases more extreme than the South African discrimination it cited in 1963, are lifted for the country's minority groups.
For similar reasons, the 2022 Winter Games should be moved to another location. The IOC cannot afford another spectacle like the 1936 Olympics in Berlin—or, for that matter, the 2008 Beijing Games.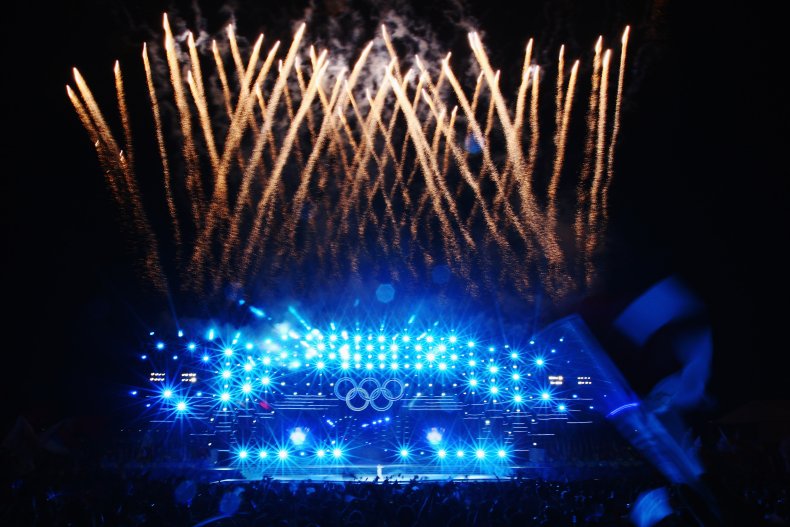 Beijing, in its bid for the 2008 Olympics, pledged to improve human rights for the Chinese people and argued that a winning bid would facilitate that progress. Yet before that event, the Chinese Communist Party, in the words of The New York Times, "expanded its crackdown on dissidents, tightened controls over nongovernmental organizations and rounded up 'undesirables,' such as migrants and the mentally ill."
After the Olympic flame was extinguished in Beijing, the Party struck hard against human rights across the country and, in particular, instituted even more draconian social controls over Tibet. Those controls in Tibet served as the very model for the extraordinary measures in place today in Xinjiang.
Beijing, far from liberalizing after the 2008 Games, was emboldened by its Olympic success. The regime violated all its human rights pledges to the IOC. The 2008 Games did not facilitate progress; rather, they paved the way for even more repression. China is now moving back to full-on totalitarianism with its near-total surveillance state, its social credit system and its internet lockdowns.
"In 2008, the international community made a mistake, thinking that giving Beijing that opportunity to shine on the international stage would compel China to improve its human rights record," Turkel, also a co-founder of the Uyghur Human Rights Project, told Newsweek.
"We were talking about human rights then, but we're talking about genocide today."
On January 19, then-Secretary of State Mike Pompeo issued a determination that the People's Republic of China, at the direction and control of the Chinese Communist Party, was committing genocide. "I believe," he stated, "this genocide is ongoing, and that we are witnessing the systematic attempt to destroy Uyghurs by the Chinese party-state."
Joe Biden himself, then as candidate for president, said last year that China was committing genocide—as did Antony Blinken during his confirmation hearing to succeed Pompeo at Foggy Bottom.
The U.S., China and 150 other countries are parties to the 1948 Genocide Convention. Parties, pursuant to Article I, have the obligation "to prevent and to punish" genocides.
Moving next year's Olympics away from Beijing will not be sufficient to prevent further genocide or punish it, but it will be valuable because China will see such action as a critical threat to Communist Party rule. "In 1936, the IOC, including American sports leaders, convened the Olympics in Berlin, giving the international legitimacy Hitler coveted," Rabbi Abraham Cooper of the Simon Wiesenthal Center told Newsweek. "Tyrants read such gestures as signs of weakness, apathy and, yes, cowardice."
"What must the Uyghurs, Hongkongers and Christians in China be thinking right now?" Rabbi Cooper asked. "They've been silenced, but we know what they pray for: moving the Games."
And if the IOC cannot answer those prayers, countries have a moral obligation—and an obligation in international law—to boycott the 2022 Beijing Olympics.
"Generally speaking," British Foreign Secretary Dominic Raab told a parliamentary committee last October, "my instinct is to separate sport from diplomacy and politics, but there comes a point when it is not possible."
We have already reached that point because Beijing itself has mixed sport with genocide and other crimes.
Secretary Pompeo also determined that China was committing, in addition to genocide, "crimes against humanity" since at least March 2017. "The Nuremberg Tribunals at the end of World War II prosecuted perpetrators for crimes against humanity, the same crimes being perpetrated in Xinjiang," he wrote.
The international community is unlikely to organize a Nuremberg-like tribunal between now and February 4, 2022, the first day of the Beijing Winter Games, but the IOC can adopt moral—and effective—actions at this time.
No one wants to mix sport with politics, but everyone has an obligation, at the very minimum, to not support rape, murder, mass detainment, slavery and other atrocities.
Gordon G. Chang is the author of The Coming Collapse of China. Follow him on Twitter: @GordonGChang.
The views expressed in this article are the writer's own.