China's 'Global Times' Editor Revels in U.S. Election Uncertainty, Says Chaos 'Win-Win' for Beijing
As votes continue to be counted in key states, and with no sign either presidential candidate is ready to concede defeat, Beijing is reveling in the uncertainty of Tuesday's election.
Hu Xijin, editor-in-chief of Chinese Community Party newspaper Global Times, tweeted side-by-side images of boisterous statements by both Donald Trump and Joe Biden.
"Chinese netizen's comment: Win-win situation in the US election," Hu wrote, referring to confidence in both the Trump and Biden camps that the election was there for the taking.
In social media posts hidden by Twitter and marked by Facebook as potentially misleading, President Trump said: "We are up BIG, but they are trying to STEAL the Election. We will never let them do it. Votes cannot be cast after the Polls are closed!"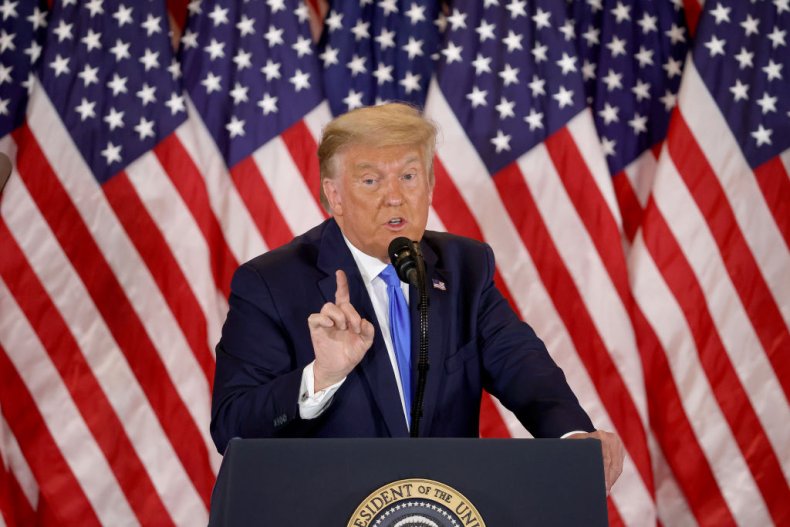 In a speech, former Vice President Biden said he felt "good about where we are," adding: "I'm here to tell you tonight we believe we're on track to win this election."
The head of Beijing's most hawkish newspaper has spent the night watching the votes come in. He ridiculed pre-election polling which had suggested Biden was set to easily topple the incumbent in the White House.
Some observers had speculated that Chinese leadership would prefer a Trump re-election due to his chaos factor, but Hu's tweet appears to suggest that any amount of uncertainty and political strife during election week will serve Beijing well.
Trump declared a premature victory early Wednesday morning and told supporters in front of the White House he was prepared to ask the Supreme Court to intervene in the election process.
"We were getting ready to win this election. Frankly, we did win this election," the president said.
"We want the law to be used in a proper manner, so we'll be going to the U.S. Supreme Court," he added. "We want all voting to stop. We don't want them to find any ballots at four o'clock in the morning and add them to the list. This is a very sad moment."
Meanwhile, Democratic challenger Biden had told supporters: "It ain't over until every vote is counted."
Vote counting in several key states is expected to continue, with several million ballots yet to be tallied.
In a recent editorial by Global Times, the state-run media outlet had suggested the Chinese public was not interested in the 2020 elections, which it described as a "show."
At the time of publication, the U.S. presidential election was trending at 11th on China's Twitter-like social media service Weibo. America's formal withdrawal from the Paris Agreement on climate change was top of the list, as illustrated in the graphic below from Statista.