China's Military Vows to 'Bury Any Invading Enemies' as Pelosi Reaches Asia
The Chinese military command on the front line of the Taiwan Strait has threatened to neutralize any foreign foes entering the disputed waterway without permission as tensions mount over a potential visit to the island by U.S. House Speaker Nancy Pelosi.
Coinciding with the 95th anniversary of the People's Liberation Army, China's Eastern Theater Command published a video Monday showing off the nation's military might, including depictions of missiles launches, amphibious landings and other displays of force on air, land and sea. Attached to the clip, which was posted on the social media website Sina Weibo, were a number of slogans such as "bury any invading enemies" and "always ready to fight."
That first phrase was also soon shared on Twitter by Cao Yi, a Chinese diplomat in Lebanon.
That same day, China's Hainan Maritime Safety Administration announced that military exercises would be held in the South China Sea from August 2 through 6.
Meanwhile, Taiwan's Defense Ministry announced that four Chinese warplanes flew through the island's claimed Air Defense Identification Zone, the latest in a long-running series of aerial incursions from the mainland. A number of U.S. military assets are also operating in the region, including the Nimitz-class aircraft carrier USS Ronald Reagan, among other ships.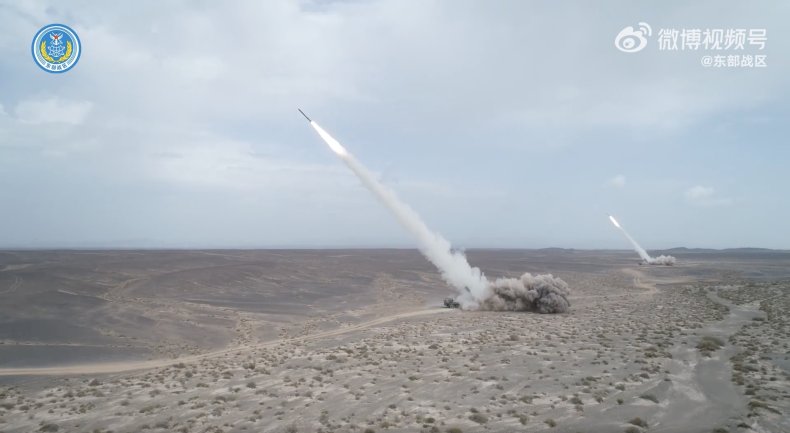 The latest flurry of military activity takes place as Pelosi visits the region on a tour that was officially set to take her to Singapore, Malaysia, South Korea and Japan, but also came after weeks of speculation as to whether or not she would visit Taiwan, a self-ruling island claimed by China, making her the first in her position to do so in a quarter of a century.
Pelosi arrived in Singapore alongside a delegation on Monday but neither she nor her office has made no official confirmation or denial of her possible travel to Taiwan. Chinese officials have, however, reacted with increasingly bellicose rhetoric to reports she would arrive as soon as Tuesday.
Chinese Foreign Ministry spokesperson Zhao Lijian told reporters at a press briefing Monday that "the Chinese side has repeatedly made clear to the U.S. side our serious concern over Speaker Pelosi's potential visit to Taiwan and our firm opposition to the visit.
"We have been stressing that such a visit would lead to serious consequences," he added.
Zhao also recited a warning reportedly delivered directly to U.S. President Joe Biden by Chinese counterpart Xi Jinping during their call last Thursday.
"As President Xi Jinping stressed to U.S. President Joe Biden in their phone call, the position of the Chinese government and people on the Taiwan question is consistent, and resolutely safeguarding China's national sovereignty and territorial integrity is the firm will of the more than 1.4 billion Chinese people," Zhao said.
"The public opinion cannot be defied," he added, citing the readout. "Those who play with fire will perish by it. We believe that the U.S. side is fully aware of China's strong and clear message."
Zhao said Beijing would be "closely following the itinerary of Speaker Pelosi" and that "a visit to Taiwan by her would constitute a gross interference in China's internal affairs, seriously undermine China's sovereignty and territorial integrity, wantonly trample on the one-China principle, greatly threaten peace and stability across the Taiwan Strait, severely undermine China-U.S. relations and lead to a very serious situation and grave consequences."
He also repeated Chinese military warnings, saying that "the Chinese side is fully prepared for any eventuality and that the People's Liberation Army of China will never sit idly by, and we will make resolute response and take strong countermeasures to uphold China's sovereignty and territorial integrity."
"What the U.S. should do is to abide by the one-China principle and the stipulations of the three Sino-U.S. joint communiqués, fulfill President Biden's commitment of not supporting 'Taiwan independence' and not arrange for a visit by Speaker Pelosi to Taiwan," Zhao said.
The U.S. does not have official relations with Taiwan, having broken off ties in 1979 when Washington switched its recognition from Taipei to Beijing. But the U.S. has maintained informal relations, including political and defense support that has expanded in recent years, angering China, which has vowed to retake the island by diplomacy or by force, if necessary.
Neither the White House, the State Department nor the Pentagon has offered any confirmation of Pelosi's potential visit to Taiwan, though the National Security Council Strategic Communications Coordinator John Kirby has said that U.S. officials routinely provide information and security to legislators traveling overseas.
Asked about Biden's assertion last week that "the military thinks it's not a good idea right now," Kirby declined to say Monday whether or not Pelosi was advised not to go. He emphasized that "the Speaker makes her own decisions."
He accused Chinese officials of using "irresponsible rhetoric" in recent years and said there has been "no change" in U.S. policy on the Taiwan Strait issue.
Newsweek has reached out to Chinese diplomat Cao Yi, the office of House Speaker Nancy Pelosi, the Taipei Economic and Cultural Office in New York and the U.S. Navy for comment.
This is a developing news story. More information will be added as it becomes available.