China's New Nuclear Missile Silos Confirm U.S. Defense Officials' Fears
The Department of Defense is warning of the "growing threat the world faces" from China's seemingly expanding nuclear arsenal after U.S.-based researchers discovered its vast new missile fields in July.
Nuclear arms analysts combing through satellite images of the desert plains in northwestern China have now found what they believe are 230 silo-based intercontinental ballistic missile (ICBM) launch sites in Yumen, Gansu, and Hami, Xinjiang, respectively.
The Chinese government has not signed on to arms control treaties like New START, despite the wishes of co-signatories the U.S. and Russia. Beijing says it plans to keep its nuclear arsenal at a "minimum level," but the buildup of its silos deep inland—beyond the reach of most conventional weapons—has experts questioning China's stated commitments.
Independent researchers at the James Martin Center for Nonproliferation Studies (CNS) in California and the Federation of American Scientists (FAS) in Washington, D.C., published their respective discoveries just weeks apart on July 1 and 27.
Responding to the reports, U.S. Strategic Command (STRATCOM) tweeted on Tuesday that the public had now "discovered what we have been saying all along about the growing threat the world faces and the veil of secrecy that surrounds it."
The Pentagon typically does not comment on the intelligence it has gathered or provide details of its assessments, but the Twitter post appeared to confirm what the State Department has termed a "concerning" development.
Commenting on the earlier discovery of 119 under-construction nuclear silos in Yumen—made by Decker Eveleth and Jeffrey Lewis of the East Asia Nonproliferation Program (EANP) at CNS—State Department spokesperson Ned Price said at a press briefing: "These reports and other developments suggest that the PRC's nuclear arsenal will grow more quickly, and to a higher level than perhaps previously anticipated."
"It raises questions about the PRC's intent. And for us, it reinforces the importance of pursuing practical measures to reduce nuclear risks. We encourage Beijing to engage with us on practical measures to reduce the risks of destabilizing arms races—potentially destabilizing tensions," he added.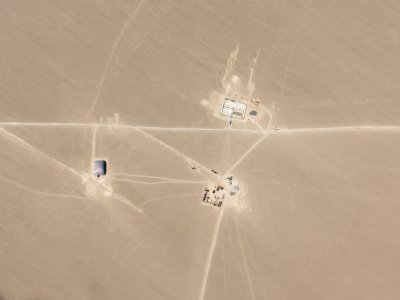 Price did not elaborate on what the U.S. government's anticipated rate of growth constituted, but a September 2020 report by the Defense Department stated China was likely to expand its nuclear capabilities this decade.
"China's nuclear weapons policy prioritizes the maintenance of a survivable nuclear force that can retaliate against an adversary's first strike," the DOD document said. "Over the next decade, China's nuclear warhead stockpile—currently estimated to be in the low-200s—is projected to at least double in size as China expands and modernizes its nuclear forces."
Although China maintains a "no first use" policy—and a commitment never to use nuclear weapons against non-nuclear states—the Pentagon report said there exists "ambiguity over the conditions under which China would act outside of its NFU policy."
Both the CNS and FAS findings emphasize that the precise motivations behind China's nuclear buildup remain unclear. It is most probably the result of a combination of factors, chief among which could be the numerically superior stockpiles already yielded by the U.S. and Russia, as well as India's developing nuclear ambitions.
Lewis, who is director of EANP, told Newsweek at the time that China may not arm every silo with an ICBM, suggesting Beijing may be employing the U.S.' "shell game" tactic from the Cold War. It involves "shuttling a smaller number of missiles among a larger number of silos" to obscure the true location and quantity of one's stockpile, he explained.
Hans Kristensen, who leads the Nuclear Information Project at FAS, said to Newsweek: "It is unknown at this point whether all silos will be filled. Some analysts favor the 'shell game' hypothesis while others, including officials we have talked to, assume that the silos will eventually be filled."
The missile fields in Yumen and Hami, plus an existing base in Inner Mongolia, bring China's silo-based sites to roughly 250, while the country also operates around 100 road-mobile ICBM launchers, according to the FAS study published by Kristensen and his research assistant Matt Korda on Tuesday.
Their report explains: "It is unclear how China will operate the new silos, whether it will load all of them with missiles or if a portion will be used as empty decoys. If they are all loaded with single-warhead missiles, then the number of warheads on Chinese ICBMs could potentially increase from about 185 warheads today to as many as 415 warheads."
"If the new silos are loaded with the new MIRVed DF-41 ICBMs, then Chinese ICBMs could potentially carry more than 875 warheads (assuming 3 warheads per missile) when the Yumen and Hami missile silo fields are completed," it adds.
"Although significant, even such an expansion would still not give China near-parity with the nuclear stockpiles of Russia and the United States, each of whom operate nuclear warhead stockpiles close to 4,000 warheads," Kristensen and Korda wrote in the report.
FAS estimates put China's current nuclear warhead count at 350.
Despite multiple failed attempts by the U.S. to bring China into arms control dialogue, the Pentagon continues to keep its official assessments out of public view.
On Wednesday, Kristensen tweeted: "STRATCOM seems to confirm silos we have described under construction in China...are indeed nuclear missile silos. If STRATCOM knew, why didn't it say? To help lift 'veil of secrecy,' tell us: is it 'shell game' or you think all/most silos will be loaded?"
Also on Wednesday, a DOD spokesperson told Newsweek the Pentagon would not comment on matters of intelligence or the analyses by CNS and FAS, but added: "The construction is not a surprise to us.
"However, as was made clear in the 2020 China Military Power Report, China continues to grow their silo-based nuclear capability. We specifically noted then that China had constructed an ICBM silo at one of their western training ranges smaller than China's existing CSS-4 (DF-5) silos," the spokesperson said in a written statement.
"Additionally, numerous Defense Department leaders have testified and publicly spoken about China's growing nuclear capabilities, which we expect to double or more over the next decade. This is certainly one reason Secretary Austin has identified China as the Department's pacing challenge," the statement added
The Chinese Foreign Ministry did not return Newsweek's requests for comment before publication.